Typical Seating Arrangement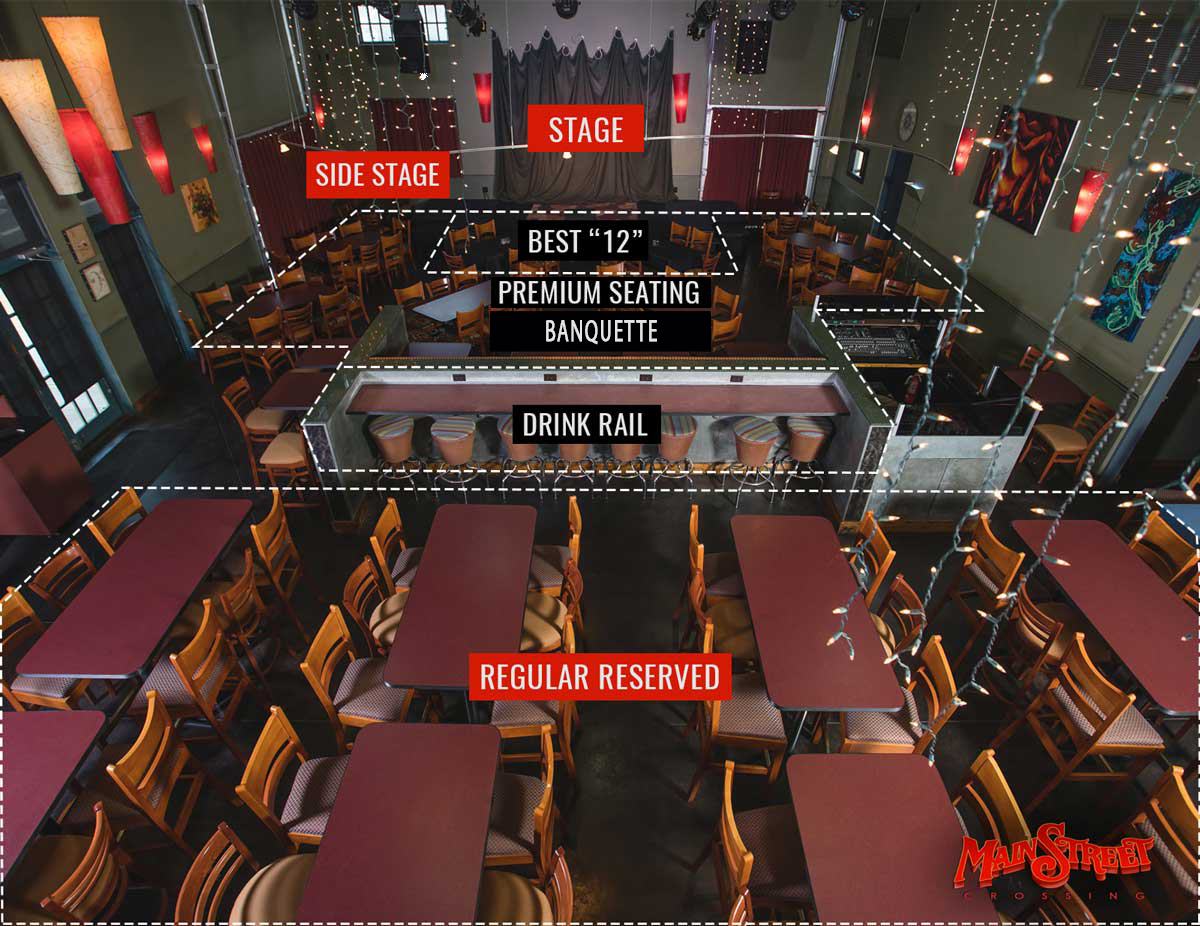 We work extremely hard to make sure every patron has the best seat in the house. There truly isn't a "bad seat". However, we also do community seating based on the number of tickets purchased; our tables are large and usually shared with other parties. Figuring out the seating for each guest is a top priority at Main Street Crossing.

BEST 12 – Best 12 seats are only sold for select shows. On shows that do not offer best 12 as an option, the best 12 tables become a part of the premium ticket selection.
SHARED TABLES – At MSC, all the seats are great!  With approximately 150 seats, the furthest is only 45 feet from the stage and there are no structural viewing obstructions.  Most tables seat 6 or 8 people and are shared by multiple parties who are not yet friends.
PREMIUM VS. REGULAR – For most shows we sell both premium reserved and regular reserved seating.  The premium seats are in the front half of the venue and are regular dining room height tables and chairs.  The drink rail with cushioned, bar height bongo stools in the center of the room are also considered premium seats.  Most of the regular reserved seats are bar height tables and chairs with backs and cushions on the chairs.  This makes it very easy to still easily see the artist.
SPECIAL SEATING REQUESTS – There is a comments section when purchasing your tickets online where patrons are able to make specific requests about their seating.  We try our best to honor the requests, but of course, this can not always be done.
ASSIGNED SEATS – Seats are all assigned before you arrive at the venue.  Arriving earlier does not affect a patrons placement.  However, 30 minutes into the start of the headliner's concert, we reserve the right to release seats.
HOW TO SIT WITH FRIENDS – If you are hoping to sit with friends who are purchasing tickets separately, please include request in the comments section when purchasing tickets.  Tickets that are purchased together are always seated together.  Of course if a party is too large to be accommodated with one table, we will seat at multiple tables in immediate proximity.
HOW TO PURCHASE – The best way to purchase tickets is to click the ticket link and purchase online.  It is safe and secure.  Tickets can also be purchased by calling the venue.  However, we still purchase through the same online ticketing methods.  The price of tickets is not affected by calling, but we are happy to help.  If you do not reach us, please leave a message and we will return your call.
HOW DO I GET THE TICKETS I BOUGHT? – Tickets are sent by email.  If you do not receive your tickets, please check your spam folder.  We do have a list of every ticket order at the ticketing table upon your arrival.  Most frequent patrons have learned to save the paper and ink and simply give us their name upon arrival.
SERVICE CHARGE – Like most venues, there is a service charge on each ticket.  Service charges are applicable on ticket pre-sale purchases regardless of the method of payment.
BUY TICKETS AT DOOR? – If there are tickets remaining the night of the show, walk-up customers are able to pay cash for them at the door.  If they must be purchased with a credit card, a small fee will apply.
PLEASE ARRIVE HUNGRY AND THIRSTY – In most cases, most of the ticket dollars are used to pay the artist.  That being said, MSC is very appreciative of patrons who dine with us.  Typically, the kitchen opens a couple hours before the show and remains open about an hour into the headliner's performance.  Drinks are available for the duration of the evening.  Our professional waitstaff will gladly offer full table service.
PHOTOS DURING PERFORMANCE – Many of the artists who perform at this venue allow non-flash photography.  Many of them also sign autographs and take pictures with patrons after the concert has ended, but this perk is not guaranteed.