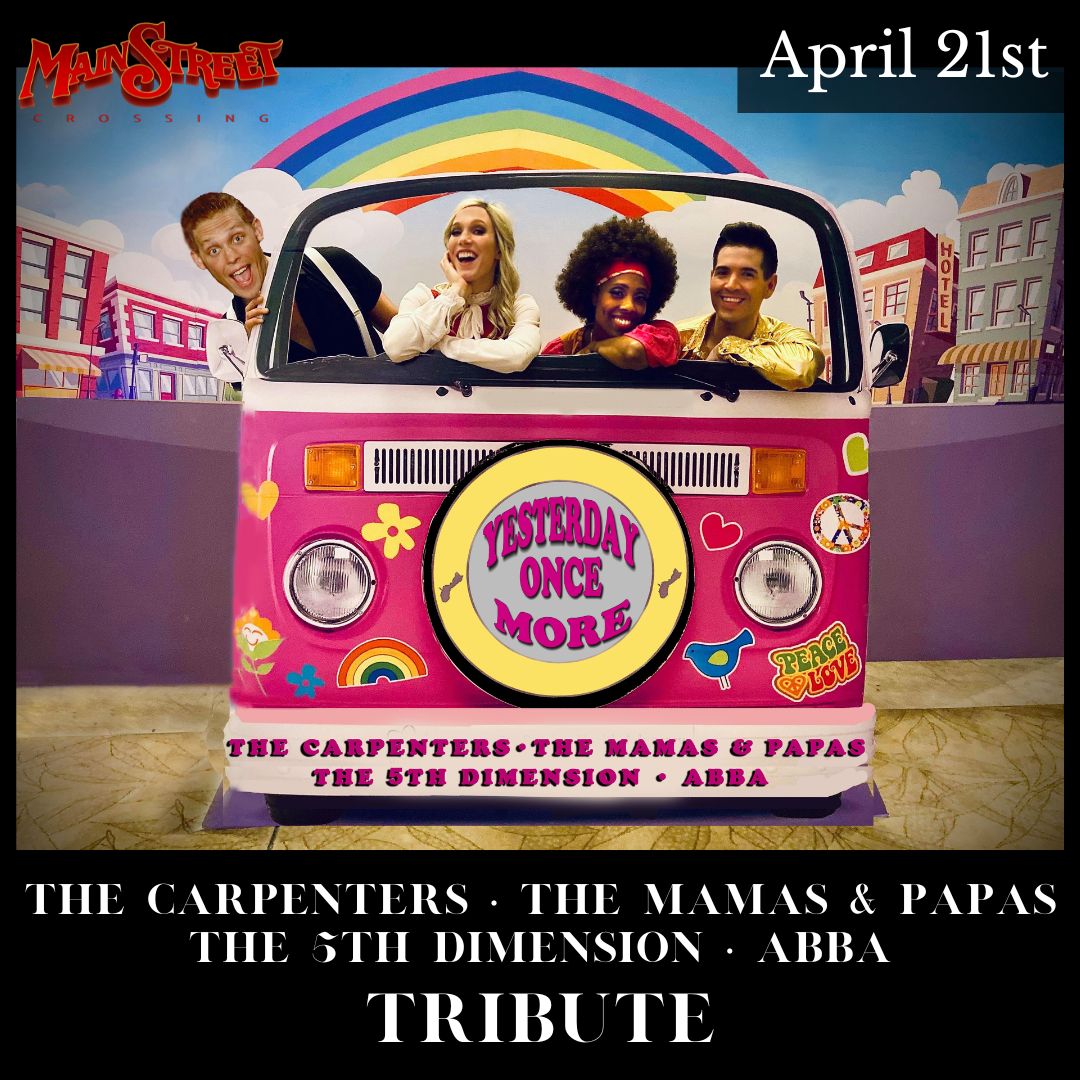 Yesterday Once More: THE SONGS OF ABBA, THE CARPENTERS, THE 5TH DIMENSON AND THE MAMAS AND THE PAPAS
April 21, 2024
Matinee: Doors 2:30  Show 4:00
Evening: Doors 6:30  Show 8:00
We are so excited to welcome Yesterday Once More to Tomball, Texas to perform on the Main Street Crossing stage. What an honor it is to host you for a live concert with an artist up-close. Buy your tickets and read a little more about Yesterday Once More below.
From Chapquist Entertainment, the creators of the hit shows OH WHAT A NIGHT! A Musical Tribute To Frankie Valli & The Four Seasons, SUPREME REFLECTIONS A Loving Tribute To Diana Ross & The Supremes, FOUR BY FOUR A Multi-Tribute To The Beach Boys, Beatles, Bee Gees and Motown comes a unique new musical revue celebrating four of the most iconic singing groups known for their soaring vocal harmonies.

In addition to instantly recognizable hits of some of the most popular music ever recorded, YESTERDAY ONCE MORE stars four dynamic performers whose lush harmonic interpretations are featured as an ensemble and individually.

From THE CARPENTERS Close To You to ABBA's Dancing Queen… and The MAMAS AND PAPAS' California Dreaming to the 5th DIMENSION's Up Up And Away you'll enjoy non-stop hits, colorful choreography and informative and humorous banter.

For everyone who remembers this music it's a return to rich harmonies and relatable songs. For anyone who simply loves great pop music and amazing vocal blends, this is a show not to be missed.