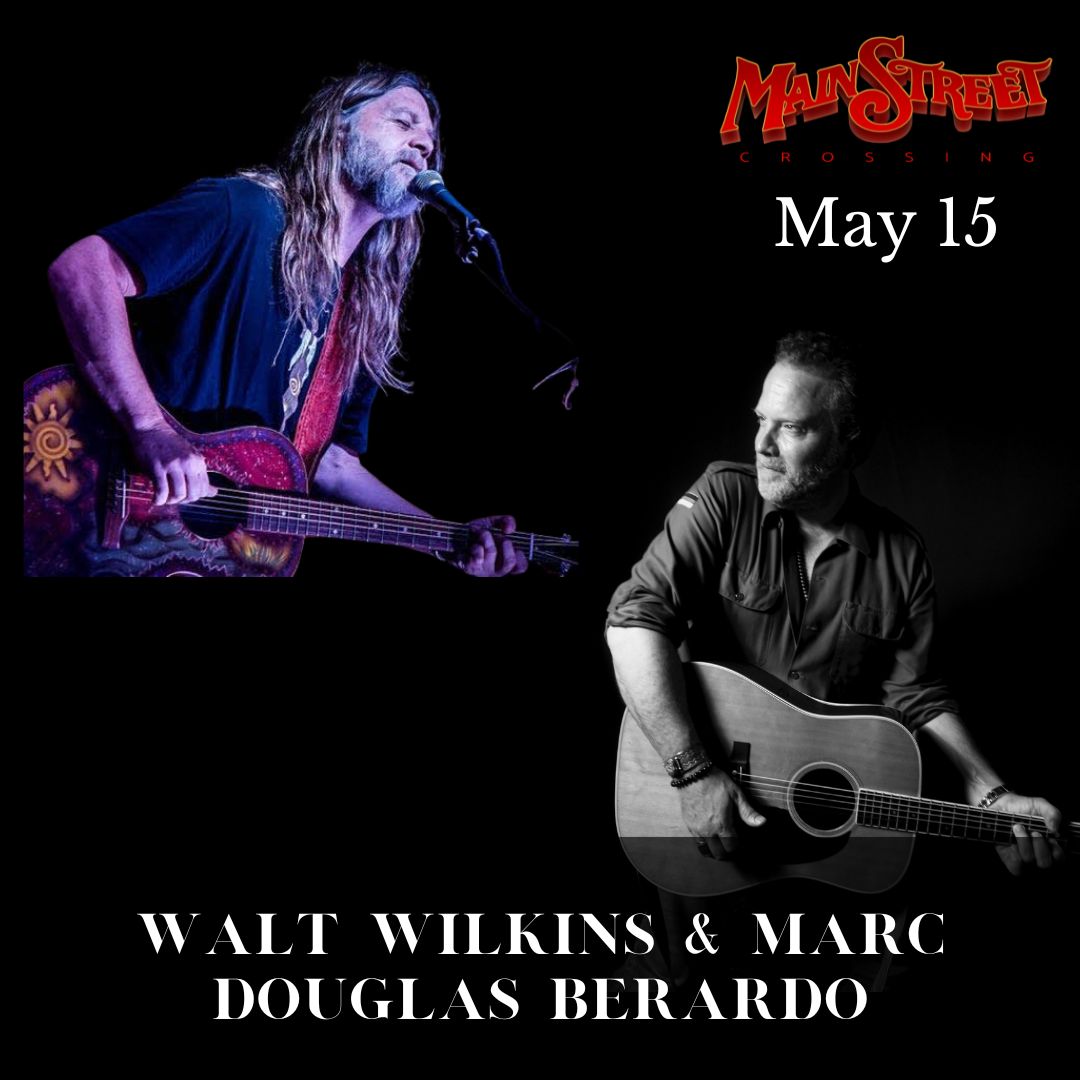 Walt Wilkins & Marc Douglas Berardo
May 15, 2023
Doors 6:00 Show 8:00
We are so excited to welcome Walt Wilkins and Marc Douglas Berardo to Tomball, Texas to perform on the Main Street Crossing stage. What an honor it is to host you for a live concert with an artist up-close. Buy your tickets and read a little more about Walt Wilkins and Marc Douglas Berardo below. 
Walt Wilkins:
Songwriter, singer, traveler, troubadour – the calling I answered, the life I chose, the way I make my way.
I chose to go full time on this road 25 years ago. Its been a spiritual quest, an amazing trip, at turns heartbreaking & transcendent. In that time I've made 9 solo records, 4 records with The Mighty Mystiqueros, 1 with my wife Tina, and there's a new live record with my friend Kevin Welch. I've had 100 or more songs recorded by other artists, traveled a fair part of the world, and had some very, very large times. I have these anchors:  Wednesdays with my brothers The Mystiqueros at The Saxon Pub in Austin,  the 1st Sunday of every month at Luckenbach, The Red River Songwriters Festival on the last weekend of January in the mountains of northern New Mexico, and Waltstock & Barrel, a Texas wine, beer & music festival near Fredericksburg on the 1st weekend of April. I move around a lot.
​I get to work with some inspiring artists on their records, most often with the coolest cat on the field, Ron Flynt, at his Jumping Dog Studio in Austin. I play all over Texas & as much as the US as we can get to, and even in Europe, where our 2nd home is The Netherlands. I know a wide, beautiful variety of mighty poets, pickers, philosophers, artists, and wild spirits. I am a most fortunate man. Mostly, I drive, play & sleep & dream. It's a rich experience, a wild ride, and the way I make my way. I hope to meet you if I haven't. If I have, I hope to see you again soon on this path.
Marc Douglas Berardo:
Singer-songwriter, performer, and keen observer, Marc Douglas Berardo composes songs that mine the deep feelings and lessons gleaned from real-life characters and situations along with an onstage presence that uses humor and deft storytelling to rally an audience and lead them into a deep and almost spiritual experience. It's an adventure that brings to mind James Taylor, Jimmy Buffett, Guy Clark, or Steely Dan with a touch of Mark Twain or Hunter S. Thompson for good measure.  Attendance at one of his performances is a night of laughter and emotion that works to send an audience home with a renewed sense of possibility.  No Depression Magazine called his last CD Whalebone: "sincere, fluid, charming and above all gripping." 
Berardo's first music show was in a biker bar in Allston, MA in 1987 and since that day he has never stopped performing made-up songs. He has opened for the stage with heavyweights such as The Doobie Brothers, The Pousette Dart Band, Jimmy Lafave, Martin Sexton, 10,000 Maniacs, Red Molly, John Hiatt, The New Riders of the Purple Sage, The Buffalo Springfield, Kevin Welch, Lucy Kaplansky, Eric Taylor, David Olney, Kim Richey, Will Kimbrough, and Livingston Taylor.  As a member of Chris Berardo and The DesBerardo Band with his brother Chris, Marc has been a part of shows with classic rock acts including Little Feat, The Marshall Tucker Band, Foreigner, Badfinger, Reckless Kelly, America, David Allen Coe, Levon Helm, Dickey Betts, and Great Southern and others.
In May of 2014, Berardo won the 2014 Wildflower Art and Music Festival Song Contest in Texas. The following week he performed as a finalist in the legendary Kerrville New Folk Contest at the Kerrville Folk Festival. In early 2015, Berardo's interview and live performance feature on Sirius/ XM Satellite Radio show, The Village was voted one of the best of the year by listeners. Berardo was nominated as Best Americana Vocalist by readers of Motif Magazine in early 2017. He has been nationally recognized for his music and performances (Rocky Mountain Folks Fest Song contest, Telluride Troubadour Contest, Sisters Folk Festival, 2013 Rams Head Onstage Rammie for Best Show of the Year.)