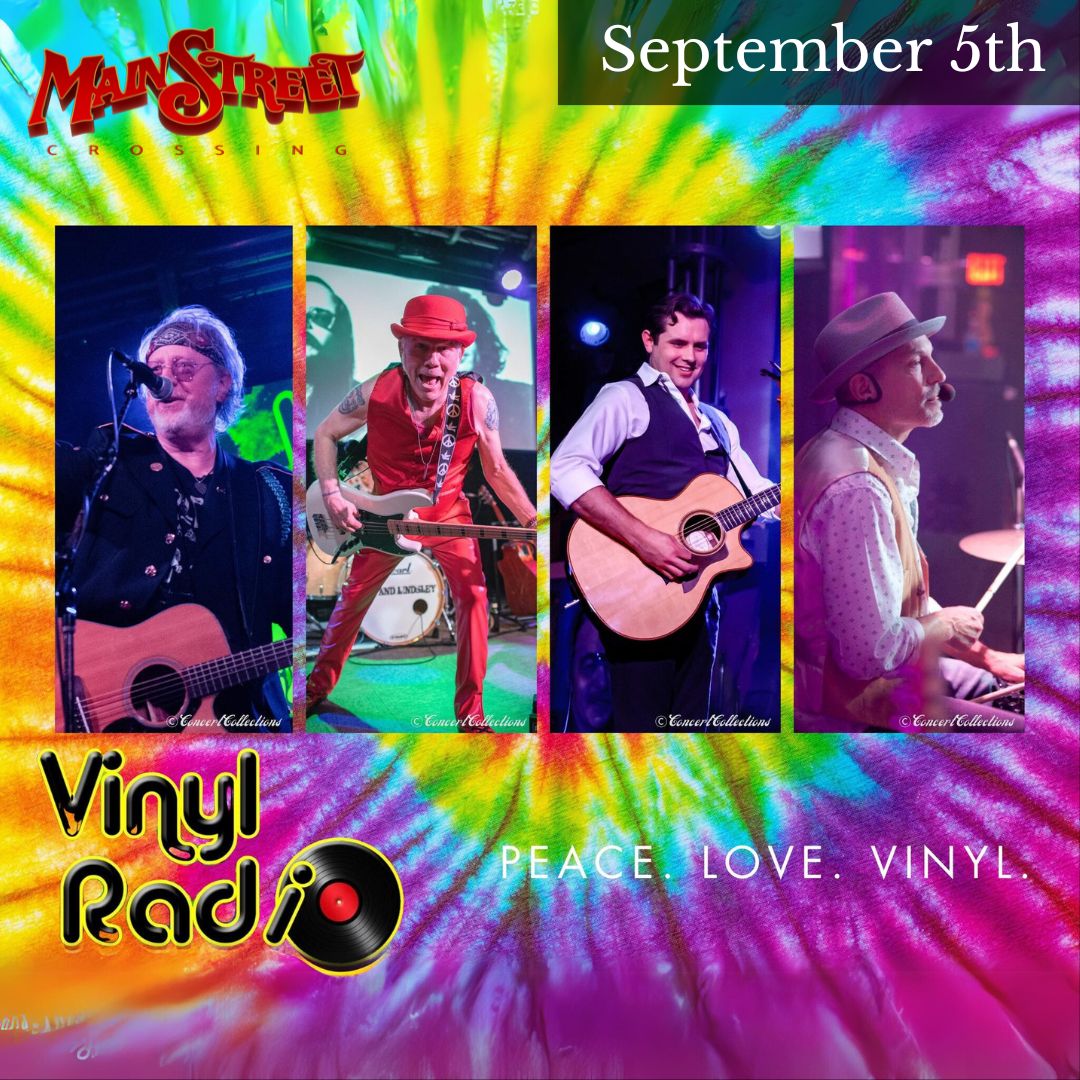 Vinyl Radio Band – 70's Music
September 5, 2024
Doors 6:00 / Show 8:00
We are so excited to welcome Vinyl Radio to Tomball, Texas to perform on the Main Street Crossing stage. What an honor it is to host you for a live concert with an artist up-close. Buy your tickets and read a little more about Vinyl Radio below.
Vinyl Radio comes at you with a wash of vocal power and a righteous regard for the great rock-n-roll  music of the 70s. These music city pros combine their considerable talents in an experience that captures the essence of an era when guitars, grooves,  and melodies ruled the airwaves!
Ronnie Kimball has shared the stage with many superstars like Huey Lewis, Greg Khin, The Knack, Elvin Bishop, and Tommy Tutone, to name a few.  He was lead vocalist/front man with his AOR recording act, WORKFORCE on Scotti Bro./CBS Records.  During his stint with WORKFORCE, Ronnie had a song he cowrote and sang with the band featured in an episode of the popular TV series,  "Baywatch."  He also had a music video on MTV with the California band, LASER BOY.  Since moving to Nashville in the mid 90's Ronnie has become an in demand session vocalist for some of Nashville's best songwriters, sang numerous jingles and movie placements.  As a writer he's had songs recorded by country music giant, Lee Greenwood and new artist Sherry Lynn.   Ronnie has also been featured as vocalist and cowriter on the inspirational CD, REACH HIGHER, on Berardi Records, as well as, singing the patriotic anthem "LIBERTY", which has over 1 million views on Youtube. 
Bill Worrell is an internationally touring guitarist, singer, songwriter, and producer. His recent tour credits include lead guitarist for the Grammy Award winning band, America.Born in Pasadena, CA, Bill grew up in the music industry. His father, Jeff Worrell, played lead guitar for Natalie Cole throughout the 1980's. During the 90's, his dad transitioned into live sound and went on to tour with artists such as Edgar Winter, Fleetwood Mac, Pat Benatar, Dave Mason, Bread, and currently America. "These people were always around the house", says Bill. "Mike Botts from Bread gave me my first drum lesson and Neil Giraldo showed me how to play my first guitar chords".During high school, Bill studied jazz extensively while performing with several original bands.After graduating California State University Northridge with his B.M. in Classical Guitar, Bill went on tour with the 70's classic rock group, America. Starting as the guitar technician, he had the opportunity to sub for long-time guitarist Michael "Woodsy" Woods. Upon Woods' departure in 2013, Bill took over as full-time lead guitarist, keyboardist, and vocalist. Today, Bill records and performs extensively.
Ron Wallace has one of Music Row's most recognizable and sought after voices, earning him a spot on the A-List of Nashville session singers. Touring with the newcomer, Tim McGraw, found Ron a spot on McGraw's first video. Ron recorded for Sony/Columbia, and can be heard on recordings by industry heavyweights like Don Williams, Ty Herndon, and Faith Hill, including her #1 single, Take Me As I Am.
Tim Buppert made his living as a singing drummer, from the age of 18 until moving to Nashville in 1991 , where he put aside the drums to focus on a songwriting career. While performing his songs at the Bluebird Café Tim was asked to sing some demos for hit songwriter Don Schlitz. Fast forward 25 years and Tim has sung on over 8,000 recordings including albums by: Trisha Yearwood, Michael Peterson, Kevin Sharp, Billy Ray Cyrus and Rodney Atkins to name a few and on jingles for: Pepsi, Luvs diapers, TNN and many more.   In 1997 Tim had his first success as a writer with the #1 hit by Kevin Sharp " She's Sure Taking It Well", Tim scored again in 2000 with Yankee Grey and the song "Another 9 minutes" which reached #11 on the Country charts.  After 10 years Tim went back to the drums and once again is the "Singing Drummer" for some of Nashville's most popular bands: Vinyl Radio, FAB, The Consoulers, Live From Ventura Blvd, Twelve Against Nature and Make Me Smile. Tim does well over 100 shows a year and plans to retire in the year 2040.