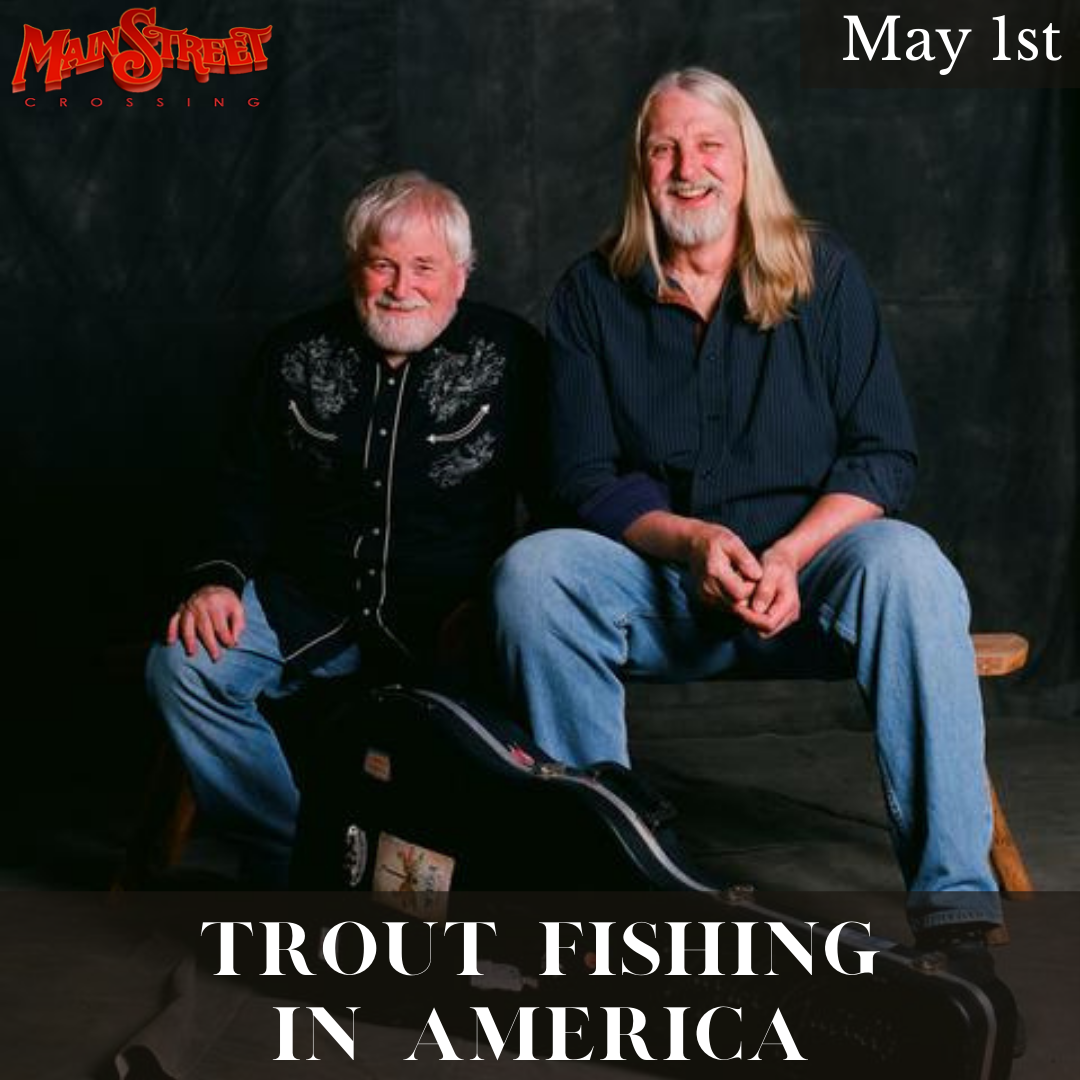 May 1, 2022
Doors 5:00 Show 7:00
We are so excited to welcome Trout Fishing in America to Tomball, Texas to perform on the Main Street Crossing stage. What an honor it is to host you for a live concert with an artist up-close. Buy your tickets and read a little more about Trout Fishing in America below.
Keith began playing music professionally as a teenager. In school, he made the Texas All-State Orchestra four times and later earned a degree in music from the University of Houston. With his classical training, he earned a position with the Houston Symphony Orchestra playing acoustic upright bass. Keith put himself through college playing in local clubs and that led to his fortuitous meeting with Ezra. Meanwhile, Ezra attended McLennan Community College in Waco, Texas on a basketball scholarship. After one year, he decided to leave college and pursue his true love, playing music. The two met in Houston in 1976.  Ezra played in a band called St. Elmo's Fire which happened to be one of Keith's favorite bands.  Both men's lives forever changed when Keith found himself without a job during a symphony union lockout and the bass player for St. Elmo's Fire quit.   The band hired Keith to be their bassist and the two men became fast friends.  When St. Elmo's dissolved in 1979, Trout Fishing in America (named for Keith's love of Richard Brautigan's writing and Ezra's love of fishing) was officially born.
Trout Fishing in America was in the first wave of artist owned labels (Trout Records) to successfully record and market their own music. Drawing inspiration from childhoods spent listening to top-40 AM radio, the two songwriters seasoned their music with stylings from rock and roll, blues, folk, country, bluegrass, funk, Latin, and reggae…whatever sound would best bring out the flavor of the lyrics they wrote.  Their recordings have garnered three National Indie Awards, multiple Parents Choice and NAPPA Gold awards, the American Library Award, as well as four Grammy nominations.  To date, they have released 26 albums, the most recent of which is "Live At The Epic Theater".
Since the beginning, Keith and Ezra have played shows for audiences of all ages in all sorts of venues.  Trout's broad appeal comes from their ability to connect with whoever is in the audience and their ability to create a full, rich sound that belies the fact that only two instruments are being played.  In addition to their performances, they also conduct songwriting workshops for teachers and students, focusing on the premise that to be able to write a song, you must first have an idea.  Keith encourages the participants to collaborate on lyrics while Ezra listens in the background, noodling out a melody on guitar.  By the end of the hour, the group has a rough version of the new song.  Several workshop songs have been so good that they have found a place on a Trout album.
It is not unusual for three or four generations of a family to show up at a Trout performance and this is a point of pride for both Keith and Ezra.  It may be impossible to categorize what kind of music Trout plays, but after attending a show, you'll know exactly what you've witnessed:  two guys who still love what they do and are excited to share it with you.