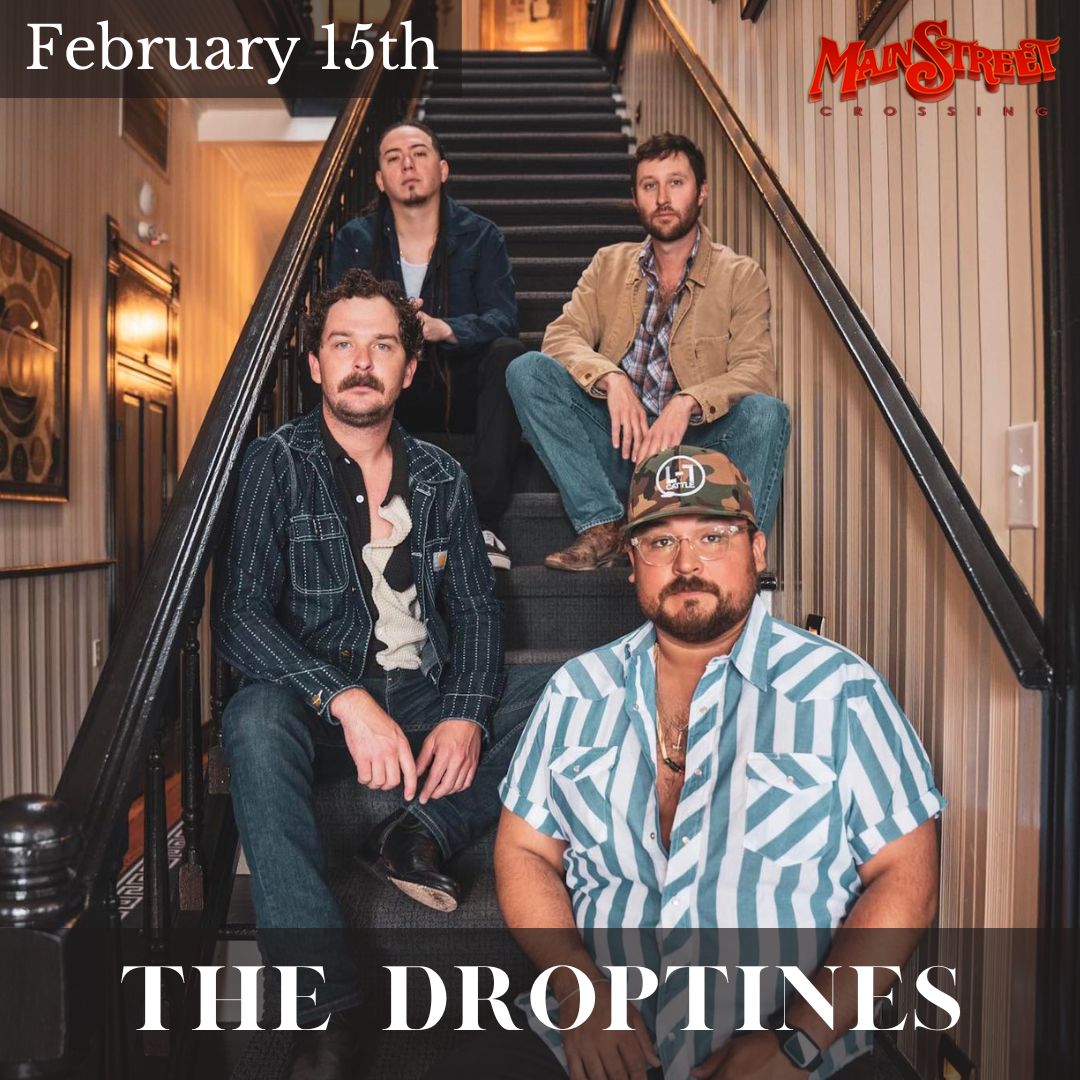 February 15, 2023
Doors 6:00  Show 8:00
We are so excited to welcome The Droptines to Tomball, Texas to perform on the Main Street Crossing stage. What an honor it is to host you for a live concert with an artist up-close. Buy your tickets and read a little more about The Droptines below.
The Droptines are an alternative country band born in Concan, Texas. Established in 2019 by frontman/songwriter/musician, Conner Arthur, also known as "The King of Concan". This band puts in the work taking none of the traditional or convenient routes when crafting songs.
Blending a multitude of genres, while tethering each song together with a specific vernacular native to the Texas Hill Country, results in a broad range of authentic, versatile melodies.
Add Conner's rich voice and layered lyrics, and you have storytelling at its finest. From biblical themes, raunchy truths, and primitive questions to one's existence, it is clear, Shakespeare has made his way to the trailer park.
From the hard-hitting anthem "New Girl" to the heart wrenching melody "As Your Heart Breaks" to the opulent masterpiece "Raining Where You Are", combined with an down to earth yet captivating stage presence, this band takes you on quite the ride.
"Once every decade or so someone comes along, takes the bar and sets it way higher than any of us could dream of. Conner is the new gold standard of songwriting. He's witty, visceral and ties it all up with an unshakable knack for melody. It's an honor to be alive at the same time as this generational talent."
-David Beck
"Conner's ability to write songs that meld raw emotion with detailed imagery is something I feel only few songwriters have. His songs make you think long after you've stopped listening, and the characters he writes about live in your mind forever."
-William Beckmann
What is a Droptine you might ask? It's a rare downward pointing antler found on a white tail deer, the one to watch for, and a nod to the environment and upbringing of the group.
The Droptines are:
Conner Arthur, front man
Dillon Sampson, bass
Tyler Quade, lead guitar
Colt Wrangler, drums
These guys have enjoyed sharing a stage with many popular artists including Red Shahan, Jamestown Revival and Zach Bryan.
They have recorded 3 EP's and multiple singles that can be found on Spotify and Apple Music.
Visit thedroptines.com for up-to-date info, tour dates, booking information, merchandise and more.