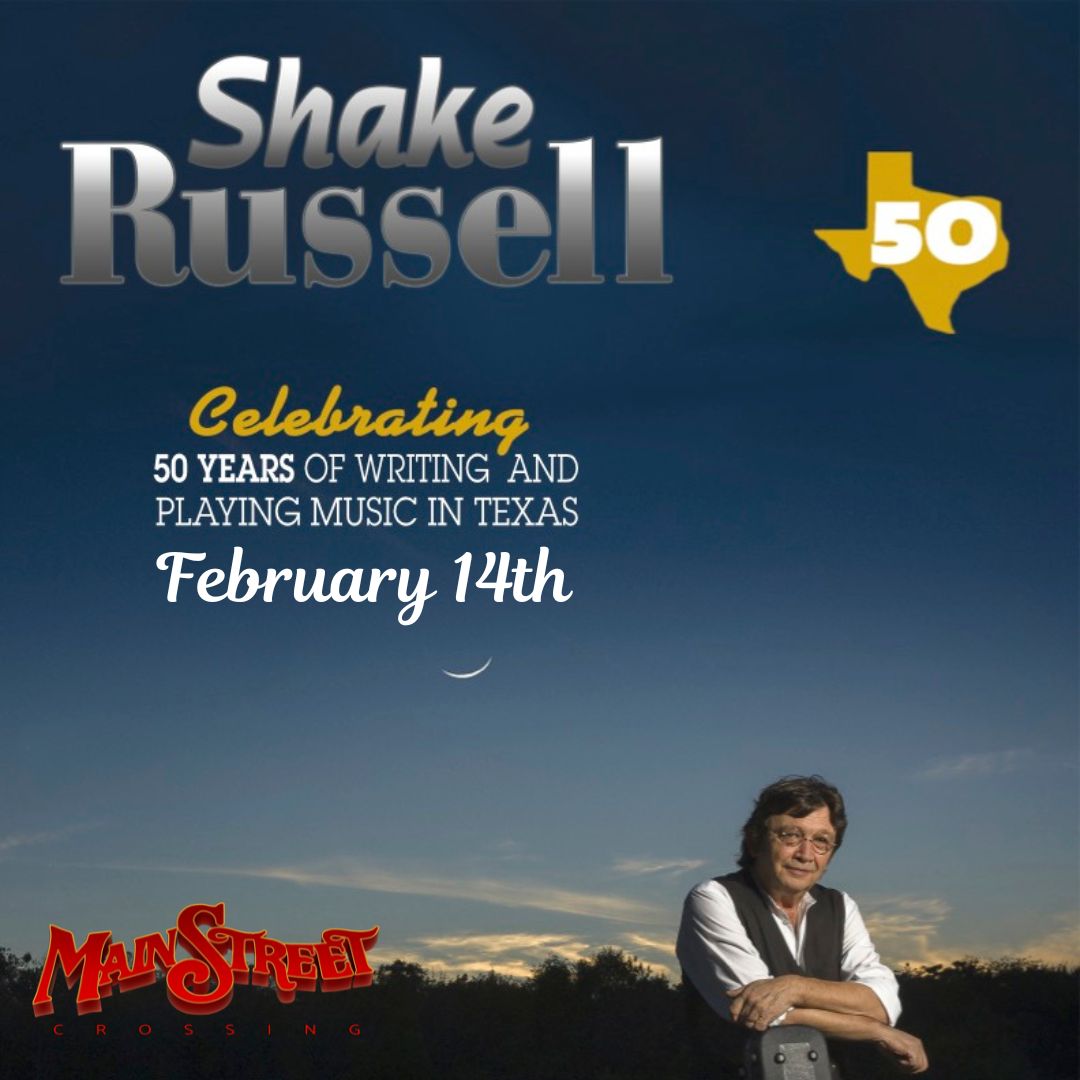 February 14, 2024
Doors 6:00 / Show 8:00
We are so excited to welcome Shake Russell to Tomball, Texas to perform on the Main Street Crossing stage. What an honor it is to host you for a live concert with an artist up-close. Buy your tickets and read a little more about Shake Russell below.
For more than 50 years, Texas singer-songwriter Shake Russell, has been entertaining audiences throughout the region and all over the United States with his unique Americana style of folk rock.  Weaving sophisticated harmonies through his songs and drawing from various genres, Shake created a style of folk-rock that is uniquely his own.
A prolific songwriter, Shake has written or co-written hundreds of melodies. Shakes songs and albums have frequented the Billboard charts, with many including "You've Got a Lover" (Ricky Skaggs) "Deep in the West" (Waylon Jennings/Jessi Colter), "Put Yourself in My Shoes", "One More Payment", "Our Kind of Love", "You Don't Need Me Now", (Clint Black), "You Wouldn't Know Me" (Miranda Lambert), "The Dare of an Angel" (Jerry Jeff Walker), "The Girl Just Loves to Dance" (Gary P Nunn), "Temper Temper", (BW Stevenson), Miranda Lambert's recording of "You Wouldn't Know Me" went "Platinum" on  her 2018 release of "The Weight of these Wings".
Shake is a two-time recipient of BMI MILLIONAIRE AWARD and a four-time recipient of BMI Writers Award.
2013 "Texas Music Association" Entertainer of the Year in 2004, 2008 and "Lifetime Achievement Award by the Texas Music Association.
2016 Shake was inducted by "The Austin Songwriters Association "Music Legends Hall of Fame"
Shake has released 30 albums in his career and more to come.  Shake's latest CD, "Chasing the Song" is a delightful array of original compositions that beautifully showcase the extraordinary talents of this singer-songwriter.  To fully appreciate and comprehend the magnitude of Shake's contributions to music, one need only listen to his life's work.  From his 1978 album "Songs on the Radio" to the 2018 "Chasing the Song", Shake's music is a testament to the reasons why he is so widely celebrated as a Texas Music Legend!