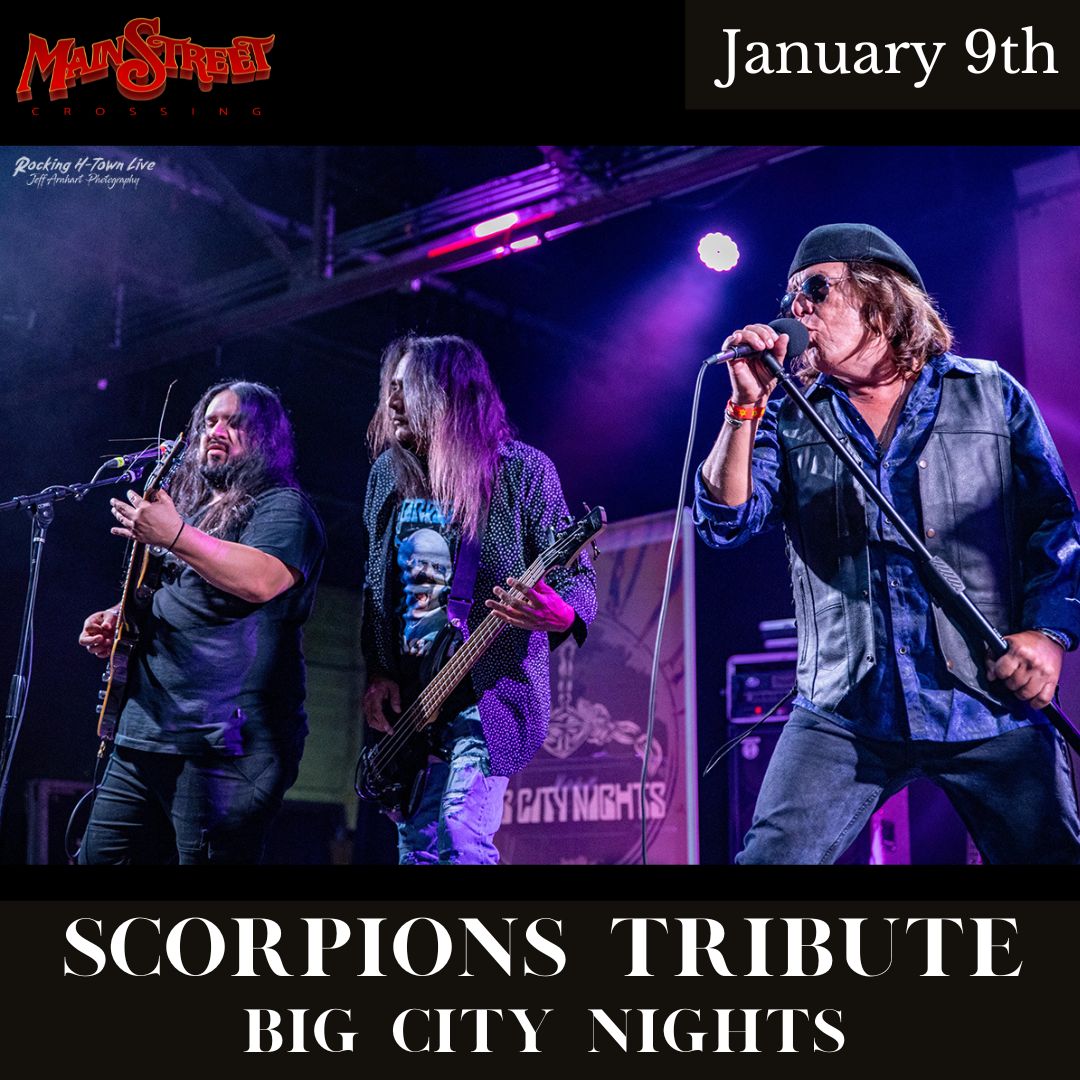 Scorpions Tribute called Big City Nights
January 9, 2024
Doors 6:00  Show 8:00
We are so excited to welcome Big City Nights to Tomball, Texas to perform on the Main Street Crossing stage. What an honor it is to host you for a live concert with an artist up-close. Buy your tickets and read a little more about Big City Nights below.
Hailing from the vibrant city of Houston, Big City Nights stands tall as Texas' unrivaled Scorpions tribute band. With a passion for rock and an unwavering dedication to capturing the essence of the iconic German rock band, Big City Nights has become a force to be reckoned with in the tribute music scene.
Formed by a group of seasoned musicians who share an undying love for the timeless melodies and electric performances of the Scorpions, Big City Nights was born to pay homage to the legendary rockers who have left an indelible mark on music history. Their journey began as a shared dream, fueled by countless hours of meticulous practice and a shared commitment to delivering an authentic Scorpions experience to their audience.
Big City Nights has masterfully honed their craft, meticulously recreating the distinctive sound, energy, and stage presence that made the Scorpions a global phenomenon. From the electrifying guitar solos to the soaring vocals that defined an era, every note and nuance is expertly executed, transporting audiences back to the heyday of arena rock.
Capturing the essence of the Scorpions goes beyond musical prowess for Big City Nights. It's about embodying the spirit of an era, a culture, and a sound that has left an indelible mark on rock music enthusiasts worldwide. Their performances are not just concerts; they are immersive journeys that ignite nostalgia and resonate with fans both young and old.
Whether it's "Rock You Like a Hurricane," "Winds of Change," or any of the other hits that have become anthems for rock enthusiasts across generations, Big City Nights delivers an unforgettable show that pays tribute to the legacy of the Scorpions while carving out their own place in the pantheon of tribute bands.
So, if you're ready to be transported to a time when rock 'n' roll reigned supreme and the Scorpions ruled the stage, look no further than Big City Nights. With their unwavering passion, skillful musicianship, and magnetic stage presence, they continue to prove why they are Texas' premier Scorpions tribute band, leaving audiences shouting for more after every show.