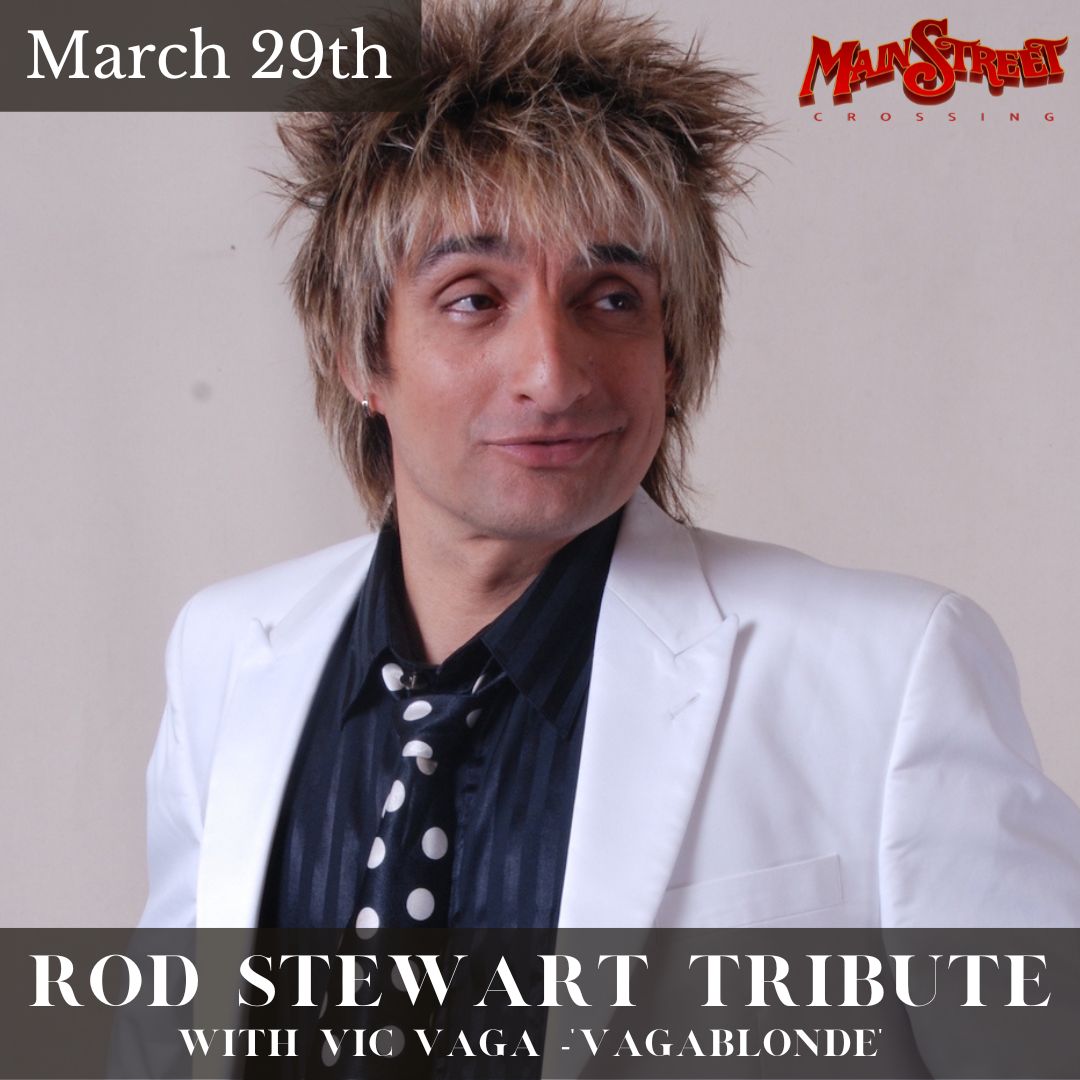 Rod Stewart Tribute with Vic Vaga
March 29, 2024
Doors 6:00  Show 8:00
We are so excited to welcome Vic Vaga – 'VagabLonde' to Tomball, Texas to perform on the Main Street Crossing stage. What an honor it is to host you for a live concert with an artist up-close. Buy your tickets and read a little more about Vic Vaga – 'VagabLonde' below.
Vic Vaga is an internationally renowned Rod Stewart look-a-like and performer. His live singing show is an exciting and energetic tribute to Rod "the Mod" that has been critically acclaimed many times over for it's authentic presentation and duplication of a true Rod concert. Vic's uncanny similarity to Rod alone leaves audiences awestruck from the moment he walks on stage. He draws immediate attention and commotion wherever he goes whether he is in character or not. All of this coupled with a strong and commanding stage presence, the whiskey voice, microphone stand twirling and soccer ball kicking antics, bright jackets and tight trousers which are all very much needed for a true to life Rod Stewart tribute act complete the package.
What started out as a self inflicted dare to dress as Rod jokingly one Halloween night led to a yearly ritual of winning Halloween costume contests where he was eventually "discovered" by a celebrity look-a-like agent in San Antonio, Texas. Through his years of involvement in the entertainment business whether on or off stage and/or playing in 80's cover bands or classic rock acoustic acts, Vic has always heard the Rod Stewart comparisons. An eventual stint at a celebrity lookalike convention set the wheels further into motion. The experience was so exciting, inspiring and natural that it was only inevitable to pursue this route as a Rod Stewart tribute artist.
Fast forward to the present to where we now find Vic based out of the City of Entertainment-Las Vegas as well as exciting Vancouver BC Canada. Vic's countless appearances and performances in shows like the extremely well received "Superstars on Stage" among others have contributed to what is now a very polished and anticipated act. Those who see a Vic Vaga show can expect to experience a fantastic trip down memory lane. Therefore any typical Vic Vaga Rod Stewart tribute show may and/or will include classic hits from Maggie May to Have I Told You Lately and anything in between.  These tunes from this era are the exciting and fun ones that defined the icon that IS Rod "the Mod" Stewart. It only makes sense that with Vic's uncanny resemblance to Rod The Mod of the 70's and 80s  these hits should be the ones included in the show.
For Vic it's all about the smiling audience faces that at every show. Vic's show truly is a Retro Rod N Roll Trip down memory lane!