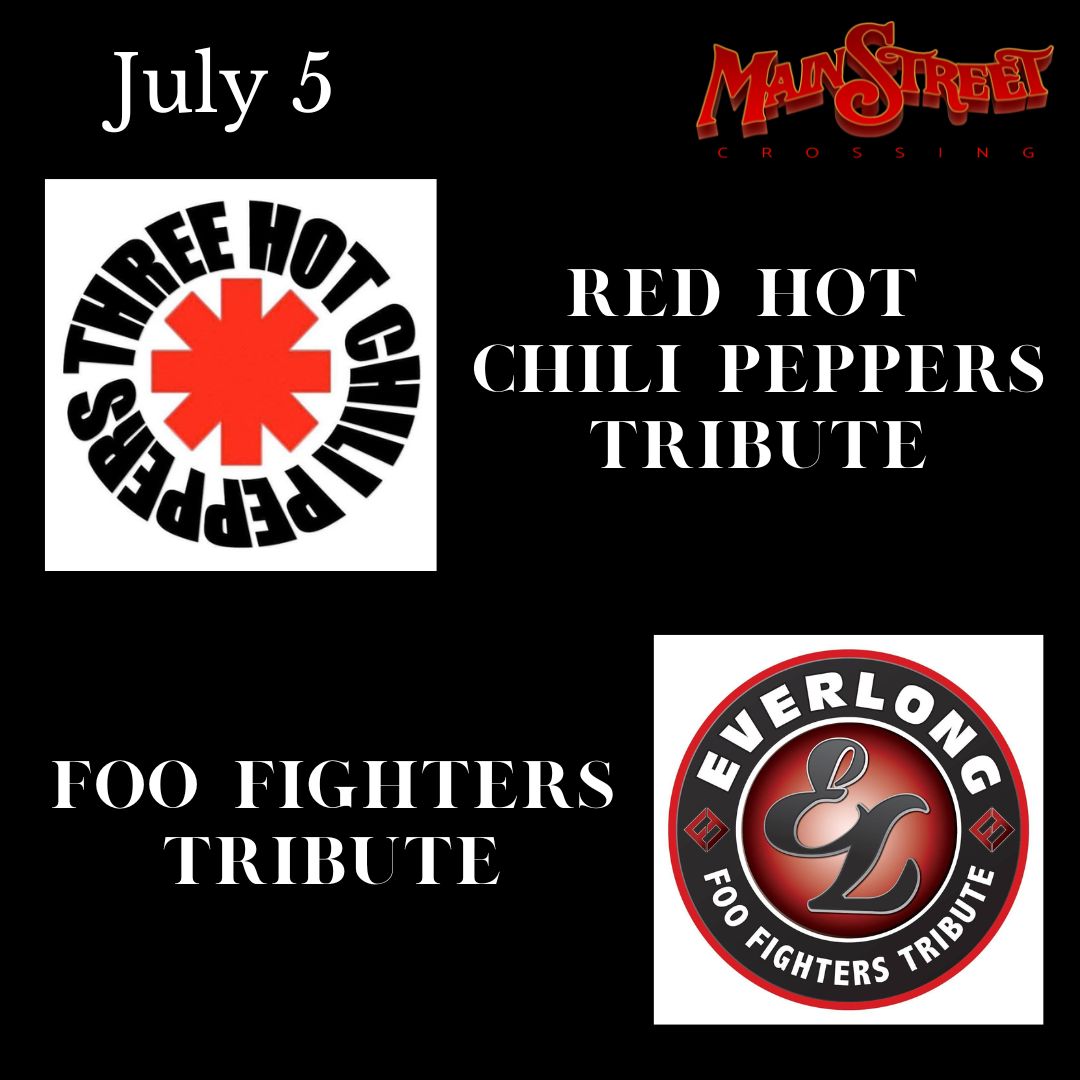 Red Hot Chili Peppers Tribute (Three Hot Chili Peppers) & Foo Fighters Tribute (Everlong)
July 5, 2023
Doors 6:00  Show 8:00
We are so excited to welcome Three Hot Chili Peppers & Everlong to Tomball, Texas to perform on the Main Street Crossing stage. What an honor it is to host you for a live concert with an artist up-close. Buy your tickets and read a little more about Three Hot Chili Peppers & Everlong below.
Red Hot Chili Peppers Tribute: Three Hot Chili Peppers
Three Hot Chili Peppers are Houston's premier RHCP tribute band. We play ALL the hits, hidden gems, funky jams and some musical surprises! Everyone always has a great time at a 3HCP show!!
Foo Fighters Tribute: Everlong
It's what you want to hear.  The thundering of the drums. A beat that begs for a throaty bass rhythm to answer.  Where a soaring distorted lead dives in along side a chugging rhythm guitar. The crescendo of a vocal growl joins in the rock anthem. "There goes my hero".  One could swear it was Grohl and the fellas.  Foo Fighters. 
In 2020, a seemingly alternate universe kind of year, Everlong was born.  Rocking at music venues all over Houston, TX, They bring their high-energy show to the stage and a refreshing take on Grohl and the guys to your ears.   This isn't just another tribute band with a smattering of cover songs.  Everlong is a celebration of grunge, hard rock and alt rock as we know it. 
Lead Vocal: James Curtis
Lead Guitar: Jim Roecker
​Rhythm Guitar: Sid Taylor
​Bass Guitar: Chris Granger
​Drums: Carl "Trey" Pittman