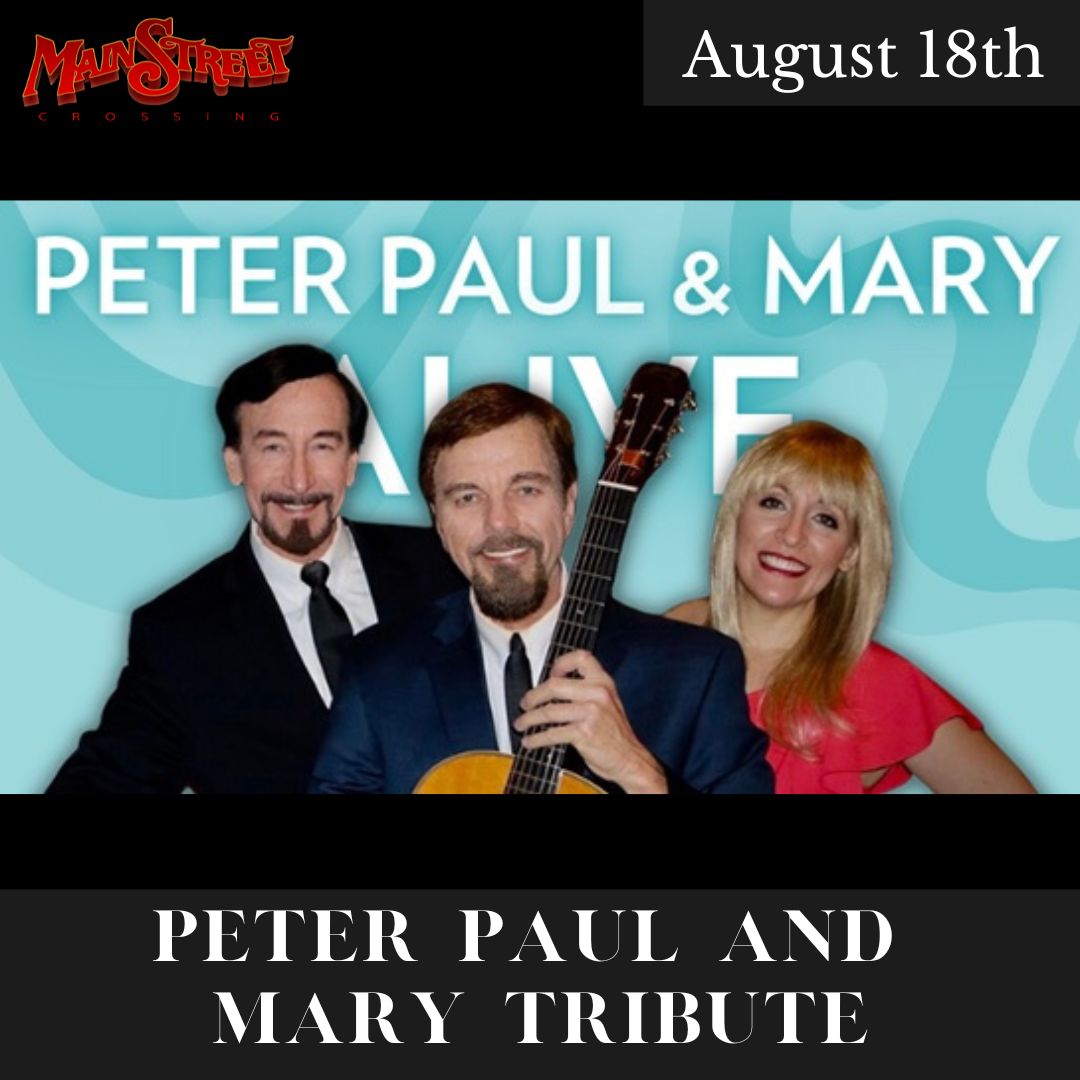 Peter, Paul and Mary Tribute called Peter, Paul and Mary Alive! 
August 18, 2024
Matinee: Doors 2:30  Show 4:00
We are so excited to welcome Peter Paul and Mary Alive to Tomball, Texas to perform on the Main Street Crossing stage. What an honor it is to host you for a live concert with an artist up-close. Buy your tickets and read a little more about Peter Paul and Mary Alive below.
"Peter Paul and Mary Alive" is the only Tribute Group in America dedicated to the original musical arrangements of Peter Paul and the "late" Mary Travers.
Founder and director, Peter Gordon is a Cantor, Music and Art Director who recently performed at the Venetian Hotel and Resort singing Opera and light Italian favorites. Peter grew up in Millburn New Jersey where in High School he was a member and leader of the Millburnairs. It was there he met Lorre Wyatt and was greatly influenced by his original songs and guitar style. It was the music of Peter Paul and Mary that caught his attention in 7th grade and within days, purchased a guitar and started teaching himself how to play, in addition to his formal training on the violin. Peter was well into song leading and playing guitar when the "folk music" craze came out of Greenwich Village. His father had a business a few blocks away from Washington Square in NYC, and as a teenager he spent many weekends learning from the masters like Pete Seeger, The Weavers, Lorre Wyatt, Phil Ochs, Tom Paxton, Dave Van Ronk, John Hammond, Judy Collins, Joan Baez, Bob Dylan, and Peter Paul and Mary. Just over two years ago Peter was reading a book by Max Lucado entitled "Cure for the Common Life". Max suggest that we find the sweet spot in our life, like a golfer or baseball player when they find the best place in their swing for the optimum results. Peter remembered back in High School when he was singing the music of Peter Paul and Mary. The results, "PETER PAUL AND MARY ALIVE"!
"Paul" is performed by Dutch Clapp. He has been playing guitar since he was 8 years old. At age 12, when the '60s folk revival began, it was Peter, Paul & Mary who inspired him to become serious about music. He modeled his playing and vocal style after Paul Stookey. Finding a "Mary", now his wife, the duo rose to be the most popular singing group in High School. Drafted into the Viet Nam war, Dutch continued to entertain the troops in France, Germany and in the states, encouraging countless soldiers a long way from home. After receiving his BA degree in film and television production, Dutch concentrated on composing movie scores. He performed regularly for over 20 years playing bass all around Las Vegas. His standard was playing classic rock, country, blues and jazz. Now he is back to his first love, singing the music of Peter, Paul & Mary.
"Mary" is sung by Joanie Brown. Joanie, although fairly new to the professional stage, has found her calling in entertainment. Her vocals are strong and beautiful. She has the clarity and youthfulness of the early Mary Travers and her performance will captivate you by her unique interpretation. Joanie has been singing and dancing as far back as she can remember; however, academic pursuits in engineering and then later in natural medicine and acupuncture meant that singing and performing would have to wait. Fast forward to the present and Joanie has enjoyed singing in several small venues around Las Vegas. She performed in a Ribbon of Life – Golden Rainbow production show, and more recently in a showcase variety show called Unstoppable with Guinness Book of World record holder, Nino Frediani. Joanie's progressive, yet compassionate nature resonates to the music of Peter, Paul and Mary with their uncompromising message of reform, freedom, justice and love. She is thrilled to be able to share their music and is dedicated to helping carry it on!