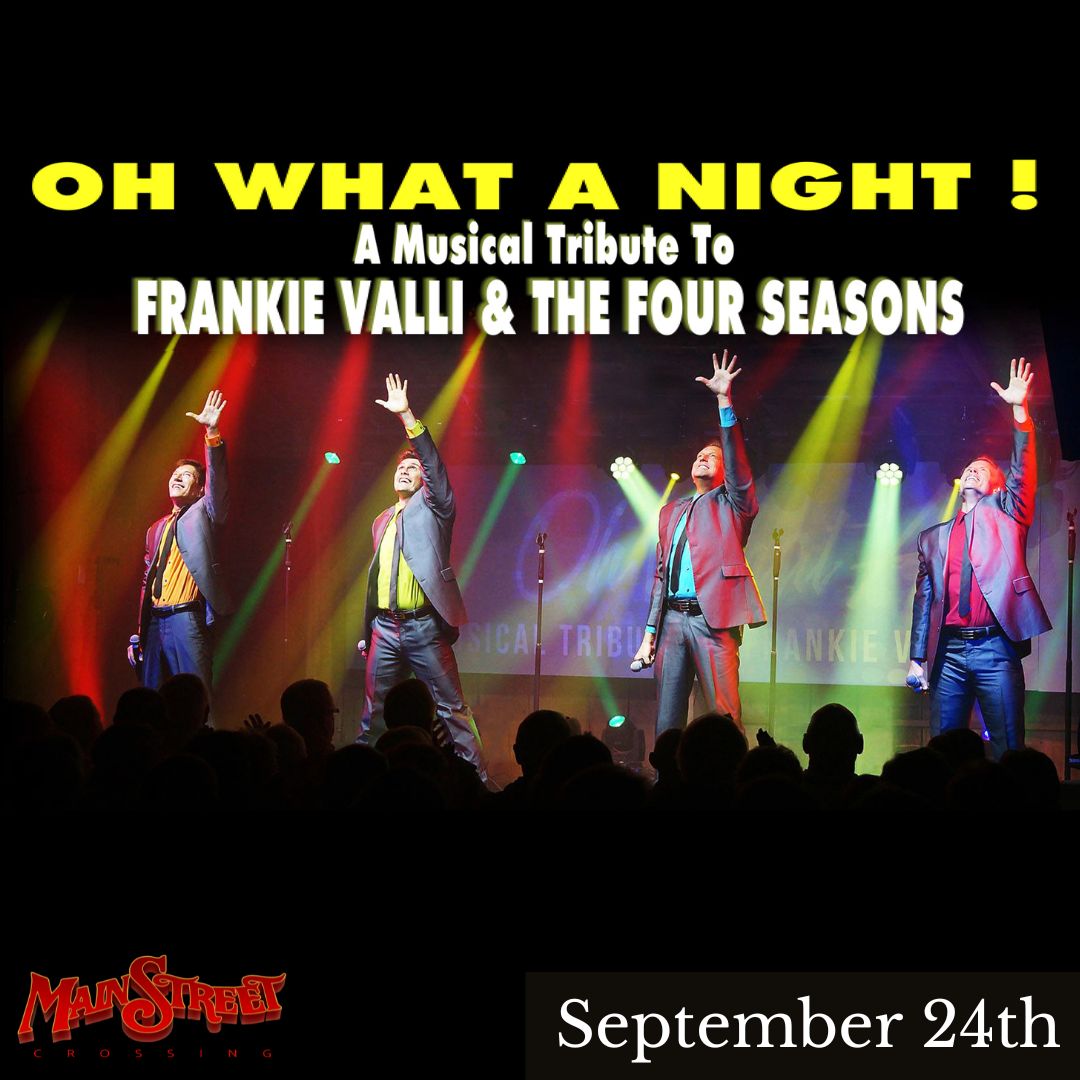 Frankie Valli and the Four Seasons Tribute/Oh What a Night!
September 24, 2023
Matinee: Doors 1:30  Show 3:00
We are so excited to welcome OH WHAT A NIGHT! A Musical Tribute to Frankie Valli & The Four Seasons to Tomball, Texas to perform on the Main Street Crossing stage. What an honor it is to host you for a live concert with an artist up-close. Buy your tickets and read a little more about OH WHAT A NIGHT! A Musical Tribute to Frankie Valli & The Four Seasons below. 
OH WHAT A NIGHT! is a blockbuster musical revue conceived and directed by award winning Broadway producer/director Michael Chapman, written by Motown producer and creative consultant George Solomon, with choreography by Paul Holmquist. Sherry, Big  Girls Don't Cry, Walk Like A Man, Can't Take My Eyes Off You, My Eyes Adored You, Working My Way Back To You, Let's Hang On and Who Loves You are just some of the  many hits you'll enjoy from the dynamic songbook of those boys from Jersey, FRANKIE VALLI & THE FOUR SEASONS.
While the smash hit JERSEY BOYS is a scripted musical biography of the group, OH  WHAT A NIGHT! is a loving concert and tribute, which features all the original hits as well  as many top 10 releases not in Broadway's Tony award-winning hit. This includes Frankie  Valli's biggest solo hit from the movie GREASE! Between the score of recognizable tunes,  OH WHAT A NIGHT! delivers informative and often hilarious banter between our stellar,  high-spirited cast.
In 1990 FRANKIE VALLI & THE FOUR SEASONS were inducted into the ROCK AND ROLL  HALL OF FAME. To this day their unique and irresistible music continues to thrill all ages.  The personable cast of OH WHAT A NIGHT! stay true to the original recordings without  trying to mimic or impersonate the group… And their interpretation of these classic hits  are so true to the original recordings that it must be pointed out that our cast is singing  live and not lip-syncing. The end result is a show as fresh and relevant today as it is  nostalgic for the purists.
OH WHAT A NIGHT! has played to sold-out theatres, showrooms and arenas since its  premiere in Las Vegas in 2008. The show is so successful that there are now multiple  casts of the show having appeared from Andy Williams Moon River Theatre in Branson to  International Tours of Australia, New Zealand, Canada, Guam and Malaysia and the United  Kingdom with more to come. The show also performs with prestigious symphony  orchestras and at major theatres and concert halls worldwide.
This exhilarating, family-friendly musical revue has been thrilling audiences with great  choreography, boundless energy, humor and instantly recognizable classic pop songs  that have become timeless.
CHAPQUIST ENTERTAINMENT, a Las Vegas based production company, is the producer  of OH WHAT A NIGHT! They're also the creative team responsible for SUPREME  REFLECTIONS – A Loving Tribute To Diana Ross & The Supremes, FOUR BY FOUR – A  Multi-Tribute To The Beach Boys – Beatles – Beach Boys – Motown and two new shows  premiering in 2019. These shows are YESTEDAY ONCE MORE – A Multi-Tribute To ABBA -The Carpenters – The 5th Dimension – The Mamas & The Papas and BRAVA BROADWAY! – Celebrating the Great Ladies Of Musical Theatre. For more information on all of these  shows, please visit www.CHAPQUIST.com