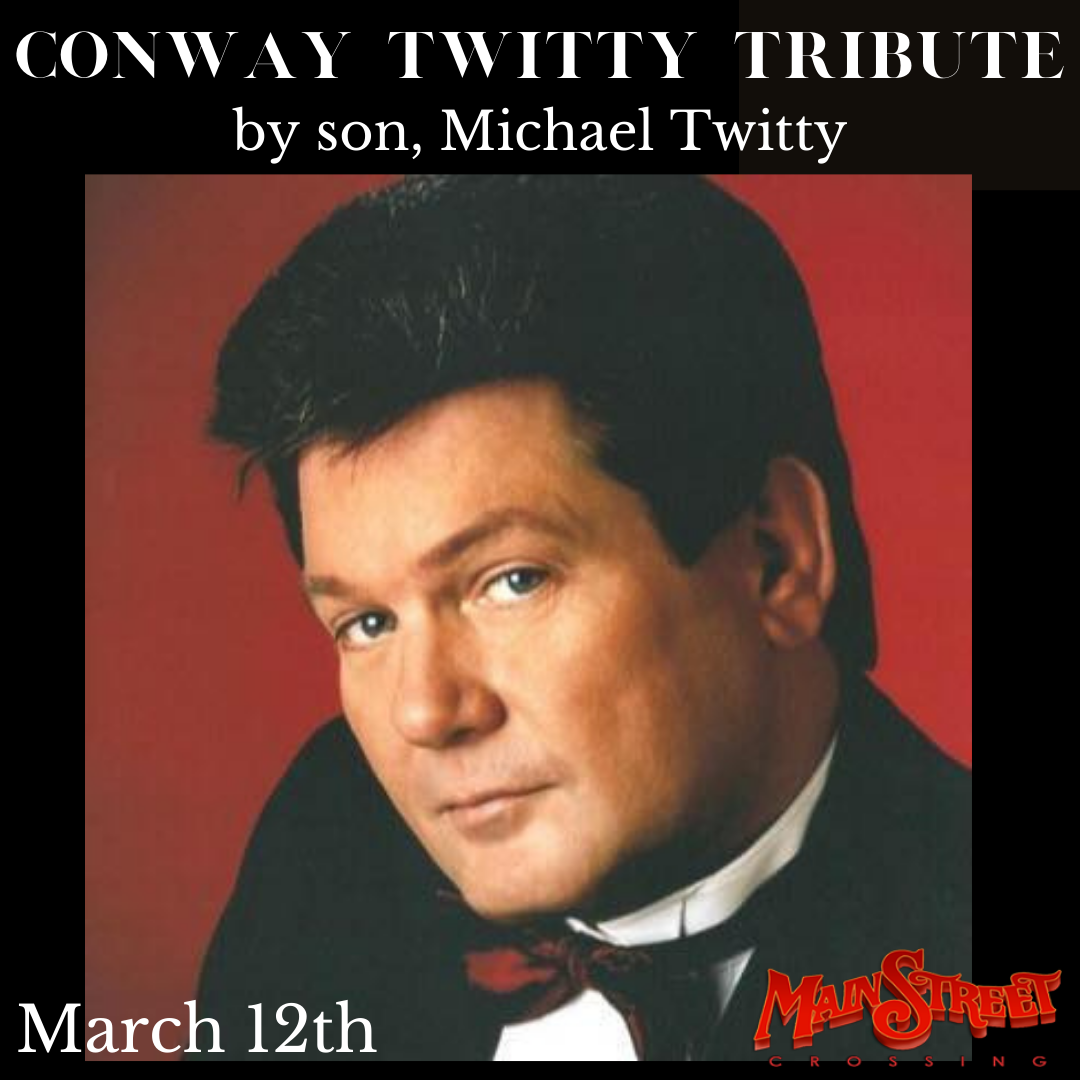 Michael Twitty (son of Conway Twitty)
March 12, 2023
Matinee: Doors 2:30 Show 4:00
Evening: Doors 6:30 Show 8:00
We are so excited to welcome Michael Twitty to Tomball, Texas to perform on the Main Street Crossing stage. What an honor it is to host you for a live concert with an artist up-close. Buy your tickets and read a little more about Michael Twitty below.
Country music cherishes family tradition and Michael Twitty is an integral part of that great heritage. He is the oldest son of rock and country legend Conway Twitty. Born November 25 in Helena Arkansas, Michael is not only carrying on his father's celebrated legacy, he is making a mark of his own. Although Michael Twitty spent much of his early life following the footsteps of his father and other musical greats, one of Michael's earliest memories was of riding a paddle wheel ferry boat down the Mississippi that was captained by his Papaw. His adored Mamaw loving instilled in him the values and integrity that are so important to Michael Twitty. But by age eight music had overtaken his life and Michael found himself under the spotlight on stage with his legendary father. Michael knew right then that this was where he wanted to spend the rest of his life.
To Michael Twitty, entertaining an audience has become just as easy as having a conversation with friends. Consequently, Michael often changes his planned song list, saying he prefers to read the audience and give them exactly what they want. Whether it is country top 40, old time rock and roll, country classics or classic Conway. Michael instinctively knows what each audience will enjoy most. And one successful show after the other has proven that Michael Twitty does indeed know how to read an audience. Michael truly possesses a rare ability to reach out and establish a very special relationship with his fans. As did Conway, Michael can take an audience inside the music. Whether it is the tender meaning of a soulful ballad, or the frenzied excitement of a rockin', stompin' dance tune, Michael's audiences live each song along with this irresistible entertainer. His infectious energy, tremendous vocal ability, and timely wit positively keep audiences on the edge of their seat for the entire performance and on their feet at the close of his show.
Michael Twitty has taken his show around the world several times, from the dynamic "Michael Twitty Show", to the critically acclaimed "Memories of Conway Show", to the remarkable "Twitty Bird Show". His many television appearances, video releases and recordings have brought him even more recognition on an international level. From Canada to Japan, Michael Twitty has won fans time and time again. Recently, Michael has been taking his "Memories of Conway" show to various casinos and theaters around the country. Michael takes you down memory lane, while he shares his thoughts of his Dad in story and song. He will make you laugh, make you cry and he will definitely entertain you.