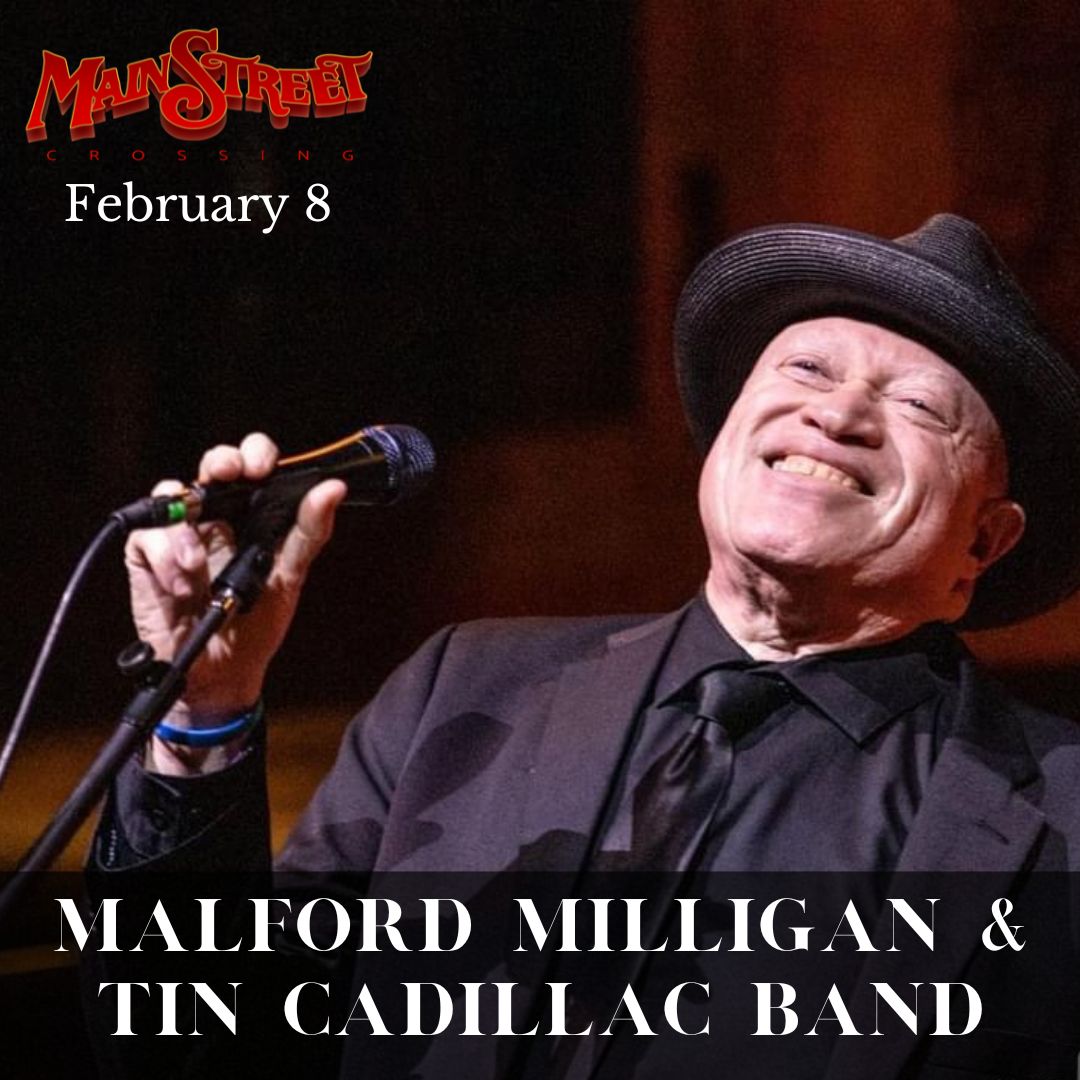 Malford Milligan & Tin Cadillac Band
February 8, 2023
Doors 6:00 Show 8:00
We are so excited to welcome Malford Milligan & Tin Cadillac Band to Tomball, Texas to perform on the Main Street Crossing stage. What an honor it is to host you for a live concert with an artist up-close. Buy your tickets and read a little more about Malford Milligan & Tin Cadillac Band below.
Malford Milligan is an American, Austin, Texas-based soul, blues and gospel singer who has been compared to Otis Redding, Al Green and James Carr. He is an eight-time award-winner as "Best Vocalist" at the annual Austin Music Awards (last awarded in 2015).
In 1994, he helped form and fronted the Texas supergroup, Storyville, with guitarists David Holt, David Grissom, and the rhythm section from Stevie Ray Vaughan's Double Trouble, which included bassist Tommy Shannon, and drummer Chris Layton. The band released three albums: Bluest Eyes (1994), A Piece Of Your Soul (1996) and Dog Years (1998). As a session singer, Milligan was in great demand. He toured and worked on albums together with other outstanding musicians, including Doyle Bramhall II, Marcia Ball, Alejandro Escovedo, Sue Foley, Eric Johnson, Stephen Bruton, Chris Smither and Hal Ketchum. During this period he also expanded his horizons from strictly secular music, releasing the two Gospel albums The Gospel According to Austin (2000) and The Gospel According to Austin, Vol. 2 (2001).
For several decades, Malford has been the lead-singer at the weekly Blue Monday nights at the legendary Antone's Nightclub, in the house-band that was (and still is) lead by Derek O'Brien, one of the most respected blues-guitarists all through Austin's musical history.
Malford appeared on Live And Beyond, by Alien Love Child featuring fellow Austin guitarist Eric Johnson, in 2000. He can be heard on "Once a Part of Me" and "Don't Cha Know". That same year he also contributed vocals to Throw Me A Bone, by local band Neighbor's Dog, on "Sister Sister", "Bridge To The Other Side" and "Today". In 2001 a remake of the Joe Tex classic "I Want To Do Everything For You" was recorded as a duet with Toni Price, and was released on her Midnight Pumpkin album. That same year Malford was also featured on two songs on the Double Trouble album Been A Long Time ("Cry Sky" and "Skyscraper") plus the nationwide tour that followed the release of that album.
Milligan also fronted ex-Was Not Was guitarist Randy Jacobs' band The Boneshakers in 2001-2003, releasing the albums Pouring Gasoline in 2001 and Put Some Booty On It in 2002. He left The Boneshakers to form his own group in Austin, confusingly called The Malford Milligan Band (like its Dutch predecessor), which self-released Rides Again in 2004 [3] and No Good Deed Goes Unpunished in 2006.
In 2002 Milligan recorded and released the critically acclaimed Sweet Cherry Soul album, backed by a band from The Netherlands that was put together by Milligan's friend and Dutch musician/producer Jack Hustinx. The album contains original material written by Milligan & Hustinx as well as a blend of known and obscure Soul, Rhythm & Blues and Gospel classics. Also two songs written by Milligan's close friend Stephen Bruton were included. This band, The Malford Milligan Band, played three very successful tours in The Netherlands in 2002-2003, as well as a tour in and around Milligan's hometown Austin, Texas in 2003.
In 2007 Milligan performed, alongside a stellar cast of musical friends of Stephen Bruton such as Delbert McClinton, Bonnie Raitt, Kris Kristofferson, Joe Ely and Ruthie Foster at the big "Road To Austin" concert in Austin, which was later released as a concert-movie and DVD in 2015. Also in 2007, Malford embarked on the M-P-TU project, together with guitarist Phil Brown, bass-player Mark Andres and drummer Pat Mastelotto. The band released an album entitled M-P-TU in 2008. During that time (2007/2009) Milligan was touring with Greg Koch, a multifaceted electric guitarist capable of fluently playing a gamut of musical styles, as well. Together they formed a band called Nation Sack — drawing their name from the lyrics of a Robert Johnson song entitled "Come On in My Kitchen" — who released an album under the same name in 2009 which includes a blending of electric blues and rock styles. When performing live, Nation Sack is known to cover songs from Jeff Beck and Led Zeppelin, such as "Hi-Ho Silver Lining," "Rock and Roll," and excerpts from such classic tracks as "Dazed and Confused" and "Heartbreaker." With Greg Koch, Malford released two albums: Live On The Radio (2007) and Nation Sack (2009).
In 2009 Malford moved back to Austin and started getting back into the music scene there. After his longtime friend Stephen Bruton passed away on May 9th, Malford fronted the band at a special memorial show at the Saxon Pub. Recordings of this show were released on CD as An Avening With The Music Of Stephen Bruton in 2010. Another highlight of his return to Austin was his appearance (along with ex-Storyville's David Grissom) at Antone's for Blue Tuesday on 20 October 2009. The last two songs performed at this were "Change is Gonna Come" which appeared on Storyville's first album and "What Passes for Love" from Storyville's second album.
In 2011 Milligan joined forces with former Dutch band member Jack Hustinx on his 'Shiner Twins' album 'Four Souls – One Heart' (2011). On this album Milligan was featured as guest-vocalist on two tracks "Never Take No For An Answer" and "Hold On".
In 2013 Malford joined the weekly residency of The Apostles Of Manchaca at Austin's Strange Brew listening-room, until the venue was forced to close in January 2017. This band also featured well known and highly respected Austin-musicians Jeff Plankenhorn (guitar-vocals), Michael O'Connor (guitar-vocals), Dave Scher (guitar-vocals), Yoggie Musgrove (bass), Brannen Temple (drums) and Phil Redmond (keyboards). Unfortunately the band never released any albums.
In 2014 Malford contributed vocals to Open Mic At The Knick by The Knickerbocker All Stars from Rhode Island. He can be heard on Bobby Blue Bland's "Turn On Your Love Light" and on "Love Disease".
At the 33rd annual Austin Music Awards in March 2015, Malford Milligan received his 8th award for being Austin's best vocalist, as voted by the general public. Also in 2015 Malford started playing with a new band in Austin, Big Cat, along with guitarist Dave Sebree, bass-player Roscoe Beck and drummer Tom Brechtlein. An album entitled Big Cat was released at the end of 2015.
At the same time, Malford and his Dutch friend Jack Hustinx were working together again, co-writing four songs for Hustinx' solo-album Over Yonder, with Malford also performing on those tracks as guest vocalist. On two of those tracks ("Life Will Humble You" and "I Won't Surrender") Malford and Jack got assistance from John Magnie and Steve Amedée of The Subdudes from New Orleans. Right after the release in November 2015, both Milligan and Hustinx fronted their band The Southern Aces on a tour in the Netherlands to promote the album, that was critically hailed as one of the very best Dutch Americana albums ever made. In 2015-2016 Malford and Jack also played together regularly in the Austin music-clubs, whenever Jack was in town, with an Austin line-up of The Southern Aces.
In 2016 Malford recorded a stunning duet with Jeff Plankenhorn, reviving the Sam & Dave classic "You Got Me Hummin'", which was featured on Plankenhorn's Soulslide album later that same year. After Big Cat folded in 2016, Malford started a new band with guitarist Tyrone Vaughan called MVP, the Milligan Vaughan Project. With this band an album with the same name was recorded and released in 2017. That same year Malford recorded a remake of the O.V. Wright classic "Nickel And A Nail", featured on Brad Stivers' album Took You Long Enough.
In 2017, Malford and longtime friend Jack Hustinx teamed up again. In May 2018, the two officially announced a new album they had been collaborating on for the last year, co-writing songs and exchanging ideas for an all new Malford Milligan album that was released later that year. After a succesfull tour in the Netherlands the two friends released their latest album in 2021: I Was A Witness.