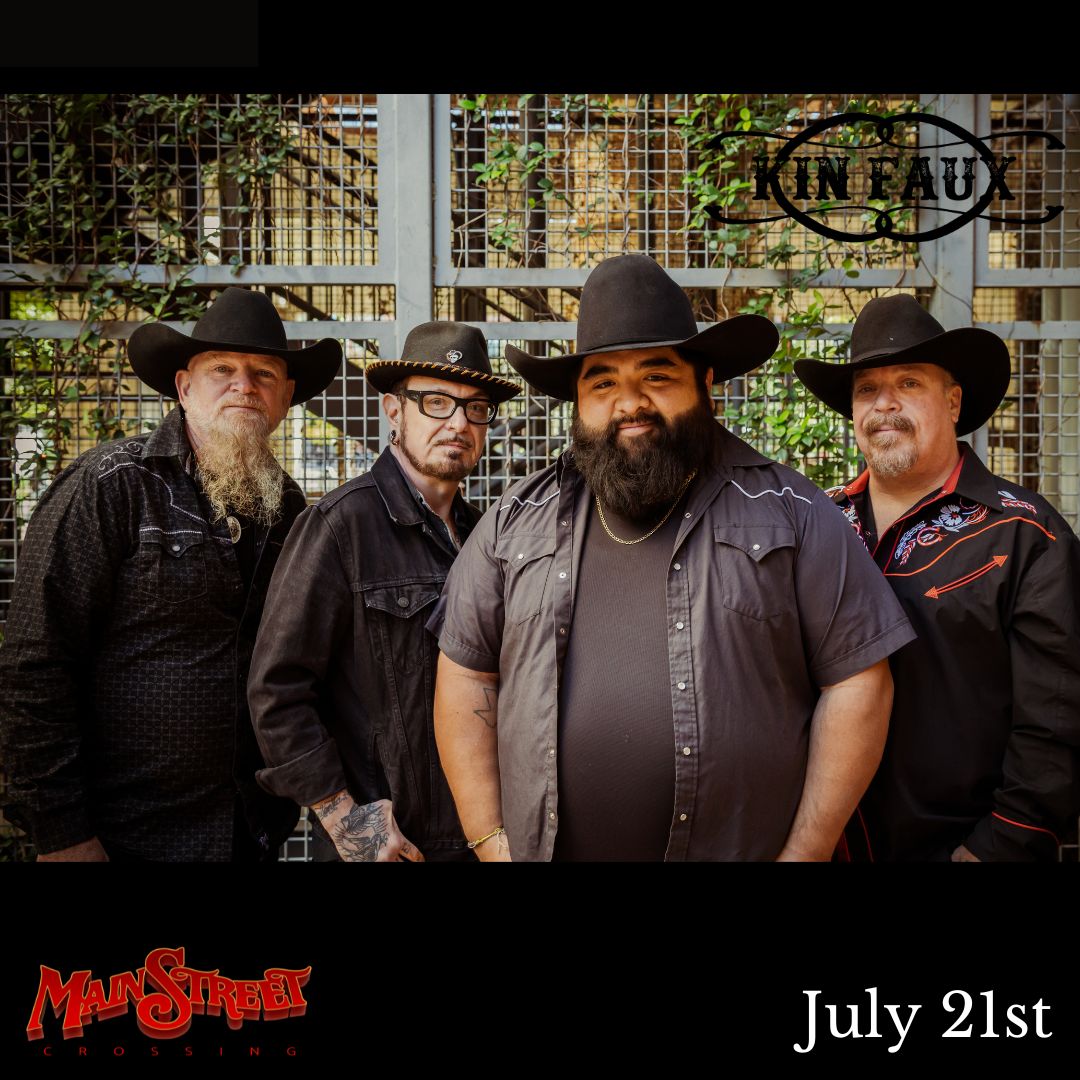 July 21, 2023
Doors 6:00 Show 8:00
We are so excited to welcome Kin Faux to Tomball, Texas to perform on the Main Street Crossing stage. What an honor it is to host you for a live concert with an artist up-close. Buy your tickets and read a little more about Kin Faux below.
Based out of San Antonio, Texas, Kin Faux is a nationally touring Texas/Red Dirt Country band whose more obvious influences, along the lines of Charlie Daniels, Alabama and Restless Heart, show strongly through virtuosic fiddle and strong vocal harmonies. Their more eclectic influences come through via poignant, blistering guitar work and a thundering, solid rhythm section.
With relentless touring and a polished, high-energy live show, Kin Faux has become a staple throughout their home state of Texas, with regular runs through the Midwest, where they have also built an avid following.
Kin Faux released their second album, Honky Tonk in Heaven, in April of 2021, with the title track becoming their first #1 single. The two follow-up singles from this album, Plainview and Wild Horses also fared well, with Plainview reaching #3 and Wild Horses spending two weeks at #1 on the Texas Country Music Chart. 
The first single to Texas Radio off of the upcoming EP Cheaper Than The Truth,  "Grain of Salt" is currently at #3 and is still rising on The Texas Charts. "Sunny and 72" is the second single to radio with the EP expected to drop in early 2023. 
The band recently won awards as 2021's Band of the Year from the Texas Country Music Association Awards and 2022's New Band of the Year from the Texas Regional Radio Music Awards. In 2022, "Wild Horses", featuring Terry McBride, won "Single of the Year" at the Texas Country Music Association Awards.