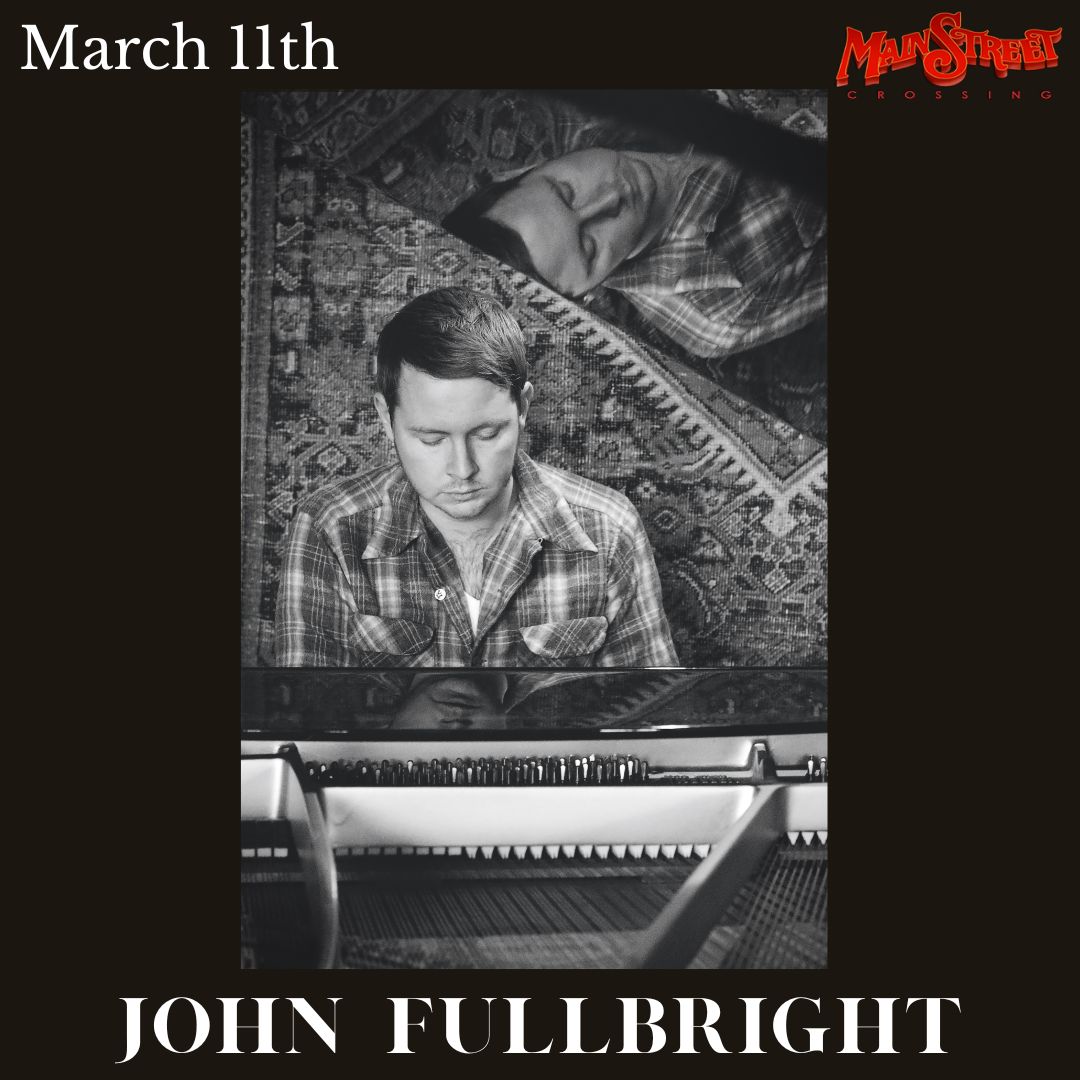 March 11, 2023
Doors 6:00 Show 8:00
We are so excited to welcome John Fullbright to Tomball, Texas to perform on the Main Street Crossing stage. What an honor it is to host you for a live concert with an artist up-close. Buy your tickets and read a little more about John Fullbright below.
 "If you can't say it, you don't have to," sings John Fullbright on "Bearden 1645," the opening track to his new record "The Liar."
The song details the GRAMMY-nominated songwriter finding refuge in playing the piano, starting as a child and still today. For fans, it may feel like a bit of a rebuttal to "Happy," the opener from 2014's "Songs," one of several in his repertoire that speak explicitly about mining one's angst in order to make music. In that way, "Bearden 1645" is also a firm nod to the fourth wall: Fullbright knows you're thinking about his songwriting. He is, too…but not quite the way he was before.
The public at-large hasn't heard much from the him since the critically lauded "Songs," a chasm of eight years that seemed unthinkable for someone with so much hype—including a GRAMMY nod, an Americana Music Association Emerging Artist nomination and awards from ASCAP and the Oklahoma Music Hall of Fame—surrounding his early career. Why did it take so long?
"It's been a process of learning how to be in a community of musicians and less focusing on the lone, depressed songwriter…just playing something that has a beat and is really fun," Fullbright said. "That's not to say there are no songs on this record where I depart from that, because there are, but there's also a band with an opinion. And that part is new to me."
He recorded the album, an exploration of the highs and lows of emotion, the good times and the aftermath, with his band of "usual suspects," all of them key players in Tulsa's vibrant music
community.
Also in the title track of "The Liar," we find Fullbright talking to God, again. It's the soft landing of his lifelong struggle with the concept of God, of accepting tenets of Christianity without believing in its central figure.
He explored this notably in 2012's "Gawd Above," where the vengeful title character exacts terror and salvation in equal measure. "Give 'em wine and song, fire and lust / When it all goes
wrong, I'm the man to trust," Fullbright sang.
In "The Liar," the power dynamic has shifted. "God, grant me whiskey," Fullbright sings, "and I promise I'll be good." It's all done with a wink and a nod, less like a prayer and more like a
request of Billy Joel's "Piano Man."
The sentiment is real, but the words are false. He's still telling essential truths, which was always his gift, but this time they're a little more slant. Maybe lying to tell the truth was always the songwriting target. Maybe throwing out some of the rules is what got him there. So is Fullbright, as a songwriter, a liar in his own estimation?
"What I love about songwriting is you're the hero in your own story, most of the time, and I think that's very human," he said. "But short answer: yes."
By Becky Carman