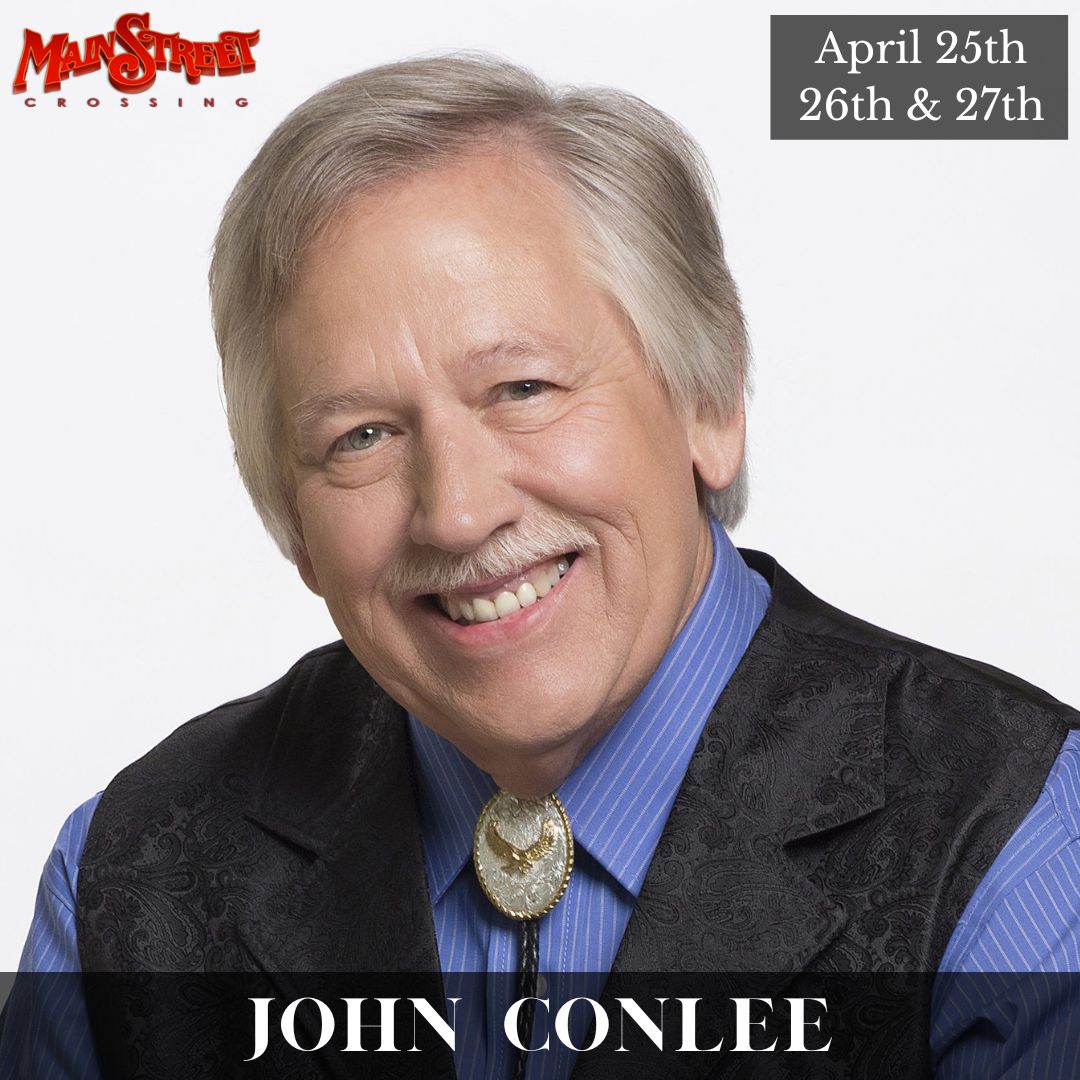 April 25, 26, & 27 of 2023
Doors 6:00  Show 8:00
We are so excited to welcome John Conlee to Tomball, Texas to perform on the Main Street Crossing stage. What an honor it is to host you for a live concert with an artist up-close. Buy your tickets and read a little more about John Conlee below.
In the photo on John's  CD cover, "Classics," John Conlee is holding both a vintage microphone and a pair of 'rose colored glasses'—truly in this case a picture that is indeed worth a thousand words.
At a time when country music is most in need of vision and focus, John Conlee possesses both, wrapped within the framework of one of the most distinctive and recognizable voices in the modern day music industry.
In the face of passing fame and passing time as careers have come and gone at whirlwind speed from the national spotlight, John Conlee has remained firmly rooted in the heart of country music buyers like a fine, well rooted oak tree. "Classics"—featuring 19 of his greatest hits plus three new songs—has been embraced by yet another new generation of music lovers for whom traditional country music never goes out of style. The album features digitally re-mastered versions of his biggest hits.  Songs such as his signature "Rose Colored Glasses," "Lady Lay Down," "Backside Of
Thirty," "Common Man," "I'm Only In It For The Love," "Friday Night Blues," and "I Don't Remember Loving You," –like fine wine all have only gotten better with age. Not to mention the technology that captures every fiber of John's well woven rich tapestry of a voice.
"Some things never go out of style, and a good country voice, I'm glad to say is one of them" noted Conlee in a recent interview. "I think we can look at George Jones and see what a timeless voice sounds like." Like George, John has been blessed with a voice that doesn't quite sound like anyone else—it's been something that has helped him endure a lot of passing fads in the music business.
Since hitting with "Rose Colored Glasses" in 1978, John Conlee's career has been anything but a passing fad. Born and raised in the rich farmland of Kentucky, John grew up close to the earth and those that make their living from it. It's a loyalty that has carried over into his career. Through his efforts the Family Farm Defense was created in the mid-'80's and John became Honorary Chairman. When Willie Nelson announced his plans to stage Farm Aid, John volunteered his services. He has since participated in nine Farm Aid concerts and assisted in raising millions  to aid the American farmer.
Following "Glasses," John struck gold again—this time with "Lady Lay Down," which reclined in style at the #1 spot. He matched that success just a short few months later with "Backside of Thirty," which also reached the top of the charts. With two more hits in rapid succession—"Before My Time," and "Baby, You're Something," the Academy Of Country Music presented John Conlee with their coveted "Best New Male Vocalist" Award in 1979.