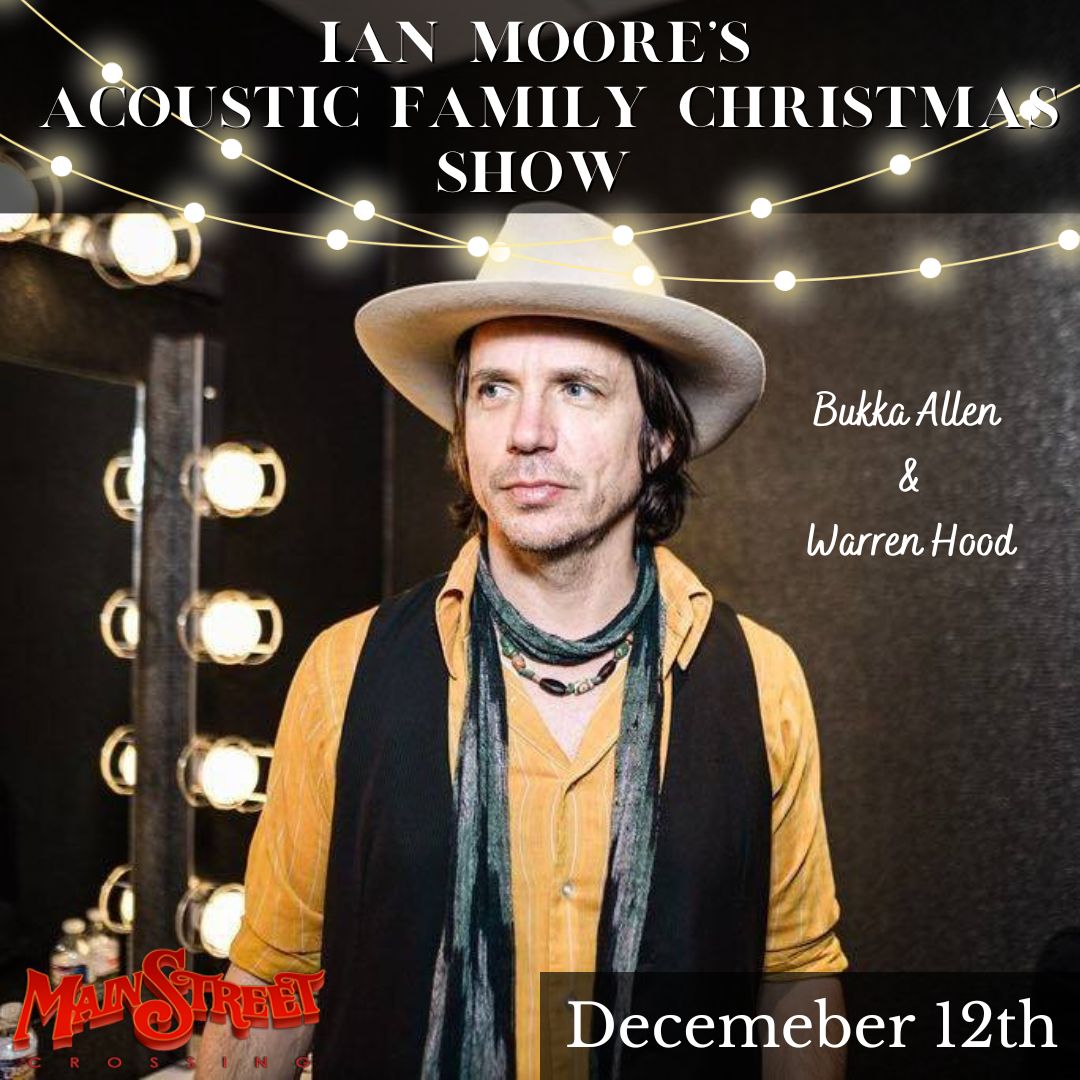 Ian Moore's Acoustic Family Christmas Show with
Bukka Allen and Warren Hood
December 12, 2022
Doors 6:00 Show 8:00
We are so excited to welcome Ian Moore to Tomball, Texas to perform on the Main Street Crossing stage. What an honor it is to host you for a live concert with an artist up-close. Buy your tickets and read a little more about Ian Moore below.
How do you define success as a musician? Is it a list of your accomplishments? Is it the sphere of your influence? Is it the strength of your recordings and live shows?
The word "legend" is showing up more and more in concert introductions and interviews, but the reference makes Ian uncomfortable. Yeah, he's proud of playing stadiums with the Stones, arenas with Dylan and ZZ Top, showing up in movies like Slingblade, and having numerous radio hits and tv performances.  The awards are affirming and exciting; the records are an ambitious list, with a who's who of producers and players. But it's the soul that he's chasing.
Ian would rather talk about the colors and sounds of the records, the connection with fans, and of spirit. He plays shows like they are the last thing he will ever do, and though he is known for his skills as a singer, guitarist, and songwriter, the ferocity and spirit are his stock-in-trade. When Ian plays, he doesn't do it to show his ability. He plays to create a communion with his audience. When he sings, he is seeking a connection- to elevate and heal. When he writes, his songs dance with the darkness, but always hold the promise of redemption and light. 
 In a time when  musicians have to think more like branding agencies, Ian's music is uniquely original with his own unique gumbo of styles and sounds. At the same time, he has a deep respect for the past, and you can hear echoes of the lineage of the great Texas songwriters and guitarists who mentored him and helped shape his sound. Like them, he sees the music as a living, breathing, ever-changing form that shouldn't be controlled, but left powerful and wild. He has lived on the creative edge, often confusing labels and companies, but continuously pushing himself sonically and lyrically into new terrains, and in doing so, has kept his creative spirit young and vibrant.
 Reflecting on his live shows, Ian says, "I want the room to be a church, but one where everyone is included, and our collective goal is to shed the burdens, to elevate and refill the soul. I want to communicate true joy, give them a place to share their sorrows, give them a place to shake their asses, to sing along. When I talk to folks after the shows and hear how my music has helped them through the challenges of their lives … when I hear about them walking down the aisle to Satisfied, eulogizing a friend or family member to Today or Blue Sky, hearing that they knew they could keep going because of New Day … that's when I see my success. "