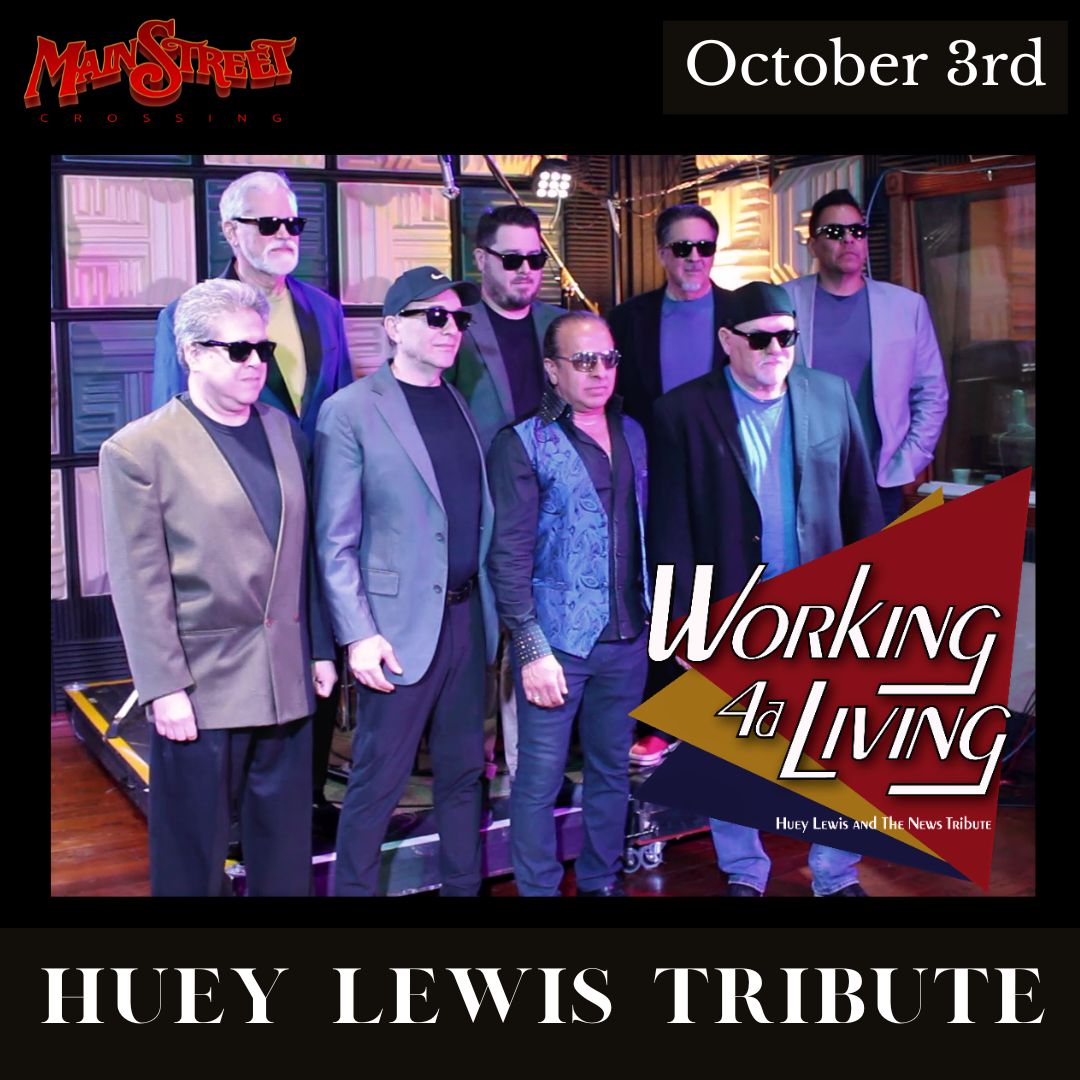 Huey Lewis Tribute called Working 4a Living
October 3, 2023
Doors 6:00  Show 8:00
We are so excited to welcome Working 4a Living to Tomball, Texas to perform on the Main Street Crossing stage. What an honor it is to host you for a live concert with an artist up-close. Buy your tickets and read a little more about Working 4a Living below.
Working 4a Living is an electrifying eight-piece tribute band based in Houston, Texas, dedicated to bringing the timeless and soulful music of Huey Lewis to life. With their high-energy performances and unwavering passion for the genre, Working 4a Living has captivated audiences throughout the region with their authentic renditions of Huey Lewis and The News' greatest hits.
Comprising talented musicians and seasoned performers, Working 4a Living faithfully recreates the iconic sound that made Huey Lewis a household name. From the infectious hooks of "The Power of Love" to the foot-stomping rhythm of "Heart and Soul," this talented ensemble delivers an unforgettable experience that transports audiences back to the heyday of '80s rock and pop.
With meticulous attention to detail, Working 4a Living captures the essence of Huey Lewis and The News' live shows, infusing each performance with infectious energy and a genuine love for the music. From the smooth vocals and soaring harmonies to the dynamic guitar riffs and grooving rhythms, the band recreates the magic and excitement that made Huey Lewis a legend in the music industry.
Whether it's a large concert venue, private event, or intimate gathering, Working 4a Living has the ability to connect with audiences of all ages and bring them together through the power of music. Their dedication to the craft and commitment to delivering an authentic tribute experience sets them apart as one of the premier Huey Lewis tribute bands in the Houston area.
So, if you're ready to relive the nostalgia and sing along to the timeless hits that defined a generation, Working 4a Living is the band to see. Get ready to dance, sing, and rediscover the joy of Huey Lewis and The News as this talented group of musicians takes you on a musical journey you won't soon forget.