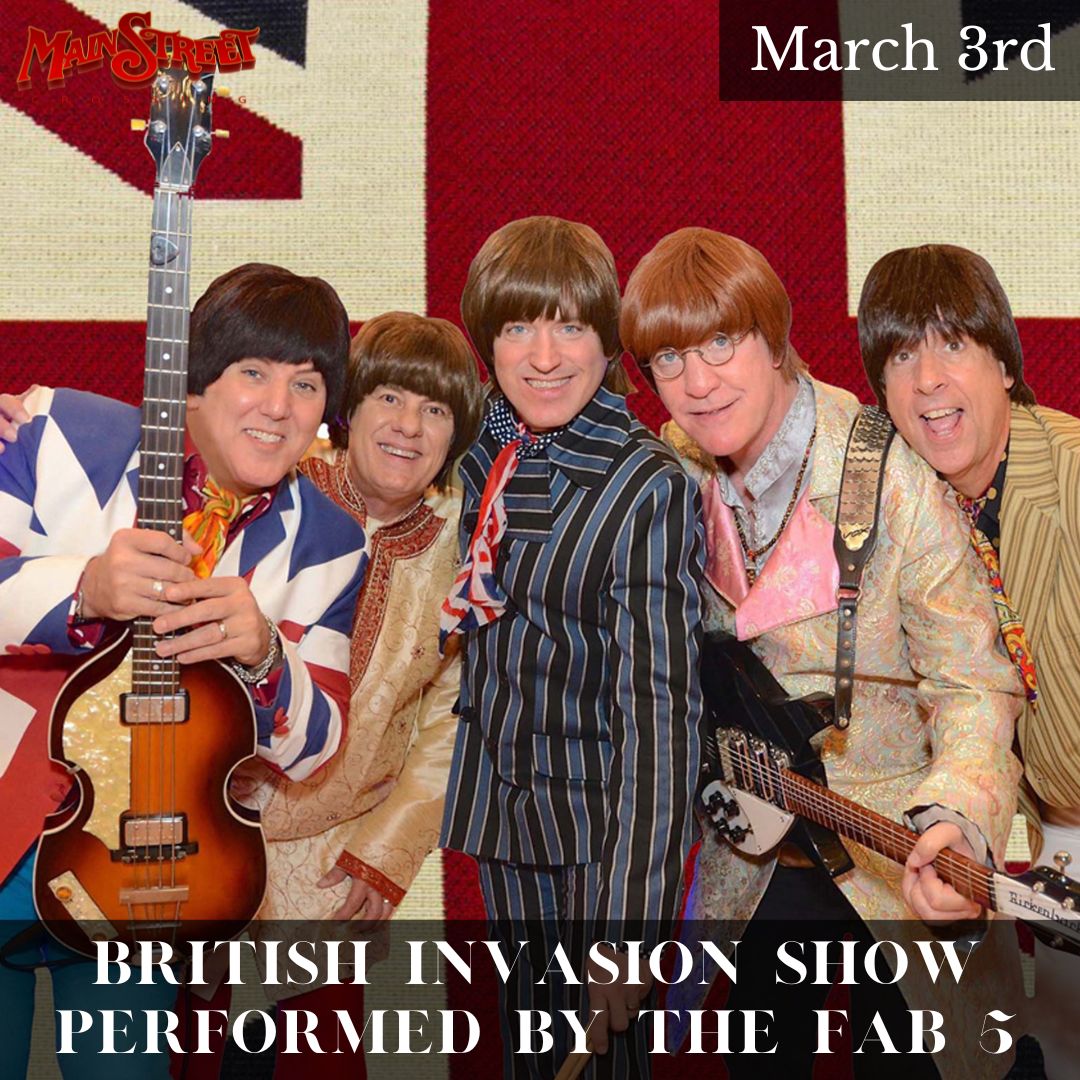 British Invasion Show Performed by Fab 5
(Beatles, Animals, Zombies, Dave Clark 5, Kinks, The Hollies, Rolling Stones and More!)
March 3, 2024
Doors 2:30 /  Show 4:00
We are so excited to welcome The Fab 5 British Invasion Experience to Tomball, Texas to perform on the Main Street Crossing stage. What an honor it is to host you for a live concert with an artist up-close. Buy your tickets and read a little more about The Fab 5 British Invasion Experience below.
THE FAB 5's "BRITISH INVASION SHOW": The Ultimate Tribute to 60's British Rock"
The British Invasion describes a time in the 1960s when audiences all across America were singing and dancing to music from across the Atlantic.
The musical group THE FAB 5's "BRITISH INVASION SHOW" covers the music from all of the English groups.  From The Animals to The Zombies, it's all here:
The Beatles, The Rolling Stones, The Kinks, The Who, The Dave Clark Five, The Hollies, Herman's Hermits, The Moody Blues, and so much more…
As you listen to these hits from the past, it is likely you will believe that they are being played and sung by the original artists themselves. Everything has been faithfully reproduced to exact detail, from the music, clothing, and hairstyles, to the vintage guitars and equipment.
THE FAB 5 has shared stages with Billy Gibbons of ZZ TOP, Foghat, Blue Oyster Cult, Three Dog Night, Steppenwolf, The Beach Boys, America, The Turtles, The Temptations, Peter Noone & Herman's Hermits, The Grassroots, Johnny Rivers, Tommy James & The Shondells, Chubby Checker,  Gary Lewis & The Playboys, Little Richard, Paul Revere & The Raiders, and may many more through the years.
The Fab 5 consider it a great pleasure to bring to life some of the best music of the 60s and to rekindle those special memories. A Splendid Time is guaranteed for all!