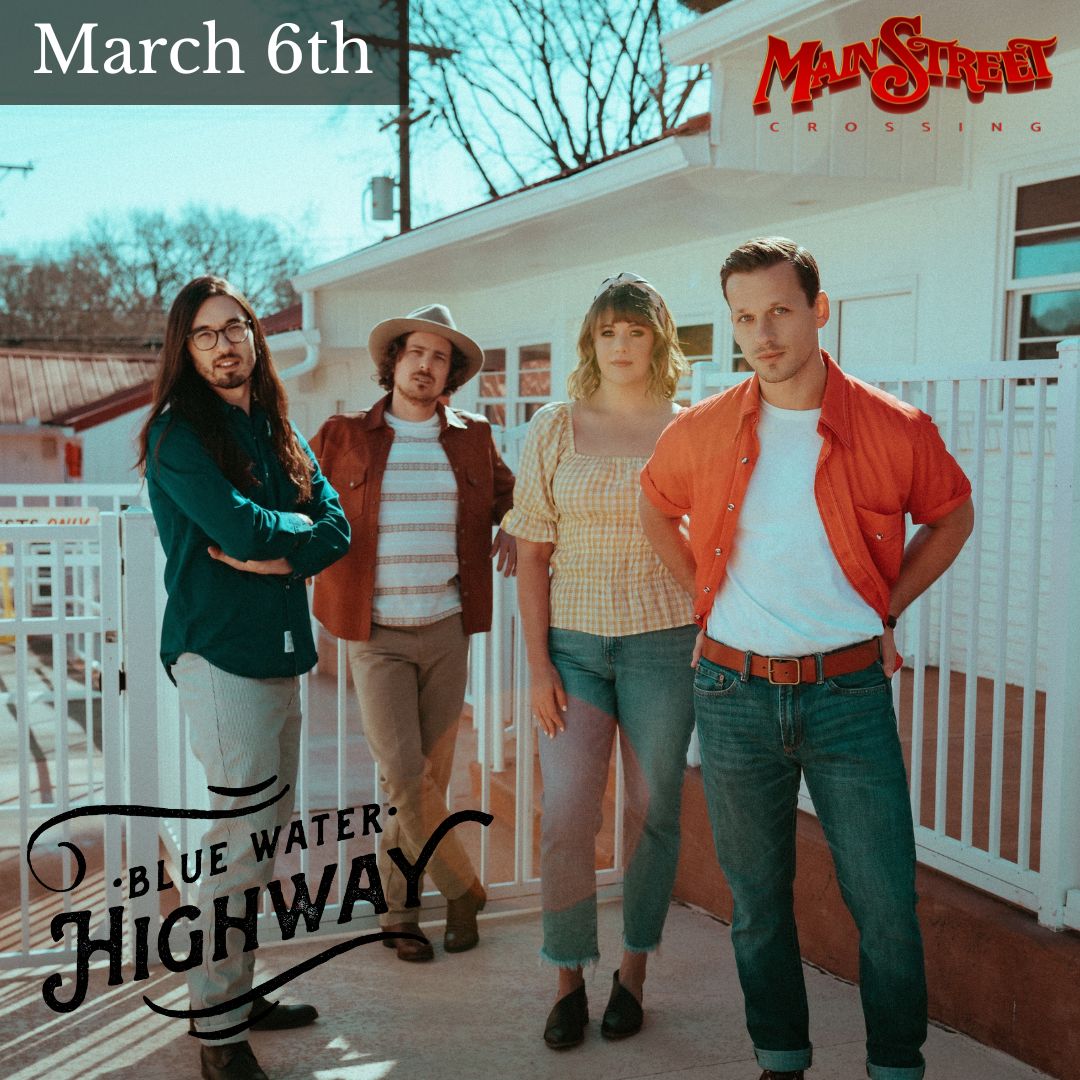 March 6, 2024
Doors 6:00  Show 8:00
We are so excited to welcome Blue Water Highway to Tomball, Texas to perform on the Main Street Crossing stage. What an honor it is to host you for a live concert with an artist up-close. Buy your tickets and read a little more about Blue Water Highway below.
The members of Blue Water Highway thought they had the wind at their backs. Packing glorious, three-part vocal harmonies and tight yet inventive musicianship, the Lone Star state-based quartet (Zack Kibodeaux, lead singer/guitar; Catherine Clarke, vocals/keyboards; Greg Essington, vocals/guitar; and Kyle Smith, bass), together since 2013, released two enthusiastically received albums – their 2015 debut, Things We Carry, and its 2018 follow-up, Heartbreak City – that had critics hailing them as one of the brightest hopes for modern Americana. They realized that they didn't know what they wanted to say.
"Our inspiration just dried up," says Kibodeaux. "It was the most difficult thing we've experienced as a band. For our first albums, songs came relatively easy for us. But we had gone through some life and career changes, and I guess they had an impact on us. All at once, we were in a creative rut. What was our identity? What did we want to write about and sound like? We had a lot of serious questions, but no answers."
"It was a strange time," says Clarke. "We had always been so confident, and suddenly we kind of lost our direction. But how do you get back on track and move forward? You can't just will it to happen. Sometimes the answer has to find you."
Oddly enough, the way forward began to reveal itself by looking back, when Kibodeaux found lyrics to an earlier song he'd written called "Paper Airplanes." Lines jumped out at him – "Here I go again tonight, floating back in time to steer my life… Folding all the corners down, find a way to fly, feet on the ground." Right away, the words summarized the growing pains the band had been struggling with, but they also highlighted a course of action.
"Instead of looking at things just one way, we realized that we could examine them from different angles," Kibodeaux says. "We wanted to explore the contrasts of childhood and adulthood. What is it like for you to stand in your childhood room as an adult, or look up at the stars, and how do you have dreams as a realistic, maybe jaded grown-up?" He laughs and adds, "To quote C.S. Lewis, we had to become 're-enchanted.'"
"Paper Airplanes" opened things up for the band, setting the tone for a succession of songs that quickly followed, and the vision for their new album, indeed titled Paper Airplanes, became clear. "It wasn't just going to be the album we wanted to make," says Kibodeaux. "It would be the record we needed to make."
In the past, Blue Water Highway had recorded in Texas, but in their desire to broaden their aesthetic reach the band headed to Nashville to work with producer Cason Cooley, whose credits include albums by such artists as Ingrid Michaelson, Drew Holcomb and the Neighbors, and Ben Rector, among others. "One of the biggest reasons why we were excited to work with Cason was because he really understood what we wanted to do on a sonic and technological level," says Essington. "Our sound is a blend of modern and traditional approaches, city and country life. Cason got what we wanted to do with soundscapes, mixing acoustic guitars and synths, and he helped us create these incredible atmospheres that made the songs come alive."
Contrasts loom large for Blue Water Highway. Growing up in various Texas towns, the members took inspiration from traditional and modern country, but also from classic rock bands like Eagles, Tom Petty and the Heartbreakers, and Bruce Springsteen and the E Street Band. At the same time, both Kibodeaux and Clarke also boast degrees in opera. "When we got together, our idea was to make all of those influences fit," says Clarke. "And that came true on especially on this album – we wanted to build a spaceship in a barn."
It's a lofty goal that takes full flight on the song "Me and the Electric Man," written about Kibodeaux's electrician grandfather. It's a transporting track, brimming with sweeping acoustic guitars, lush synths, and soaring yet wistful vocals. "Cason really brought out everything I wanted in this song," says Kibodeaux. "My grandfather grew up without electricity, but he went on to have this futuristic job that was out of Star Wars. You hear that in the song – the countryside and these currents of electricity surging through it. It makes you feel like you're on the ground but you're looking at the vastness of the sky."
On many songs, Kibodeaux writes on his own; other times he collaborates with Essington. "Sign Language," a shimmering love ballad that takes little time to work its way into your blood, is an all-hands-on-deck affair, but it's one that bears Clarke's distinct imprint. "We had been kind of pushing Catherine during the writing process, 'Hey, your voice really needs to be heard,'" says Kibodeaux. "The day she sat in with us, we wrote 'Sign Language,' and it became one of our favorites." As Clarke explains, it's a song that's sagely applicable to these fractious times: "It's about how two people can get into silly fights because they're not seeing eye to eye, so they develop their own language to communicate. I think that's an important message, how we can bond together when the world is falling apart."
Staying true to the album's "re-enchantment" theme is "Dog Days," a beautifully rendered hookfest that manages to sound both sumptuous and brawny. It's driven by a sparky guitar riff and a stomping drum groove, and as Smith explains, the main rhythm came about when he and Essington switched roles. "I came up with the guitar and drum part, and Greg was messing around on the bass," he says. "It got me thinking of people going in different directions, but how also there's always what's called the 'dog star' late in summer. So that gave us the title, 'Dog Days,' and how you can find the magic in the summer, late at night and you're looking up at the fireworks. It takes you back to a great time and place."
The aptly named "Stargaze" is another soothing balm, but one of an entirely different nature – it's an extravagant theatrical piece that Kibodeaux wrote for his wife back when they were dating. "I had this picture of two people holding hands and looking up in the stars," he notes. "Cason really latched on to that and helped us capture that kind of magic with production and arrangement ideas."
The exquisitely realized title track conjures a world of stunning vistas while its narrator – Kibodeaux, singing yearningly, in a full state of wonder – contemplates the relationship between childhood dreams and adult realities. And the opulent, transcendent album closer, "All Will Be Well," sends listeners off on a hopeful note. "We were inspired by a phrase written by Julian of Norwich, a 14th Century mystic – 'All shall be well,'" explains Kibodeaux. "That really seemed to sum the album up for us. "It's a balanced view, not necessarily that of a blind optimist or the perpetual pessimist. You're looking at the hardships of life, but you know there's always light ahead. You just have to keep looking for it."