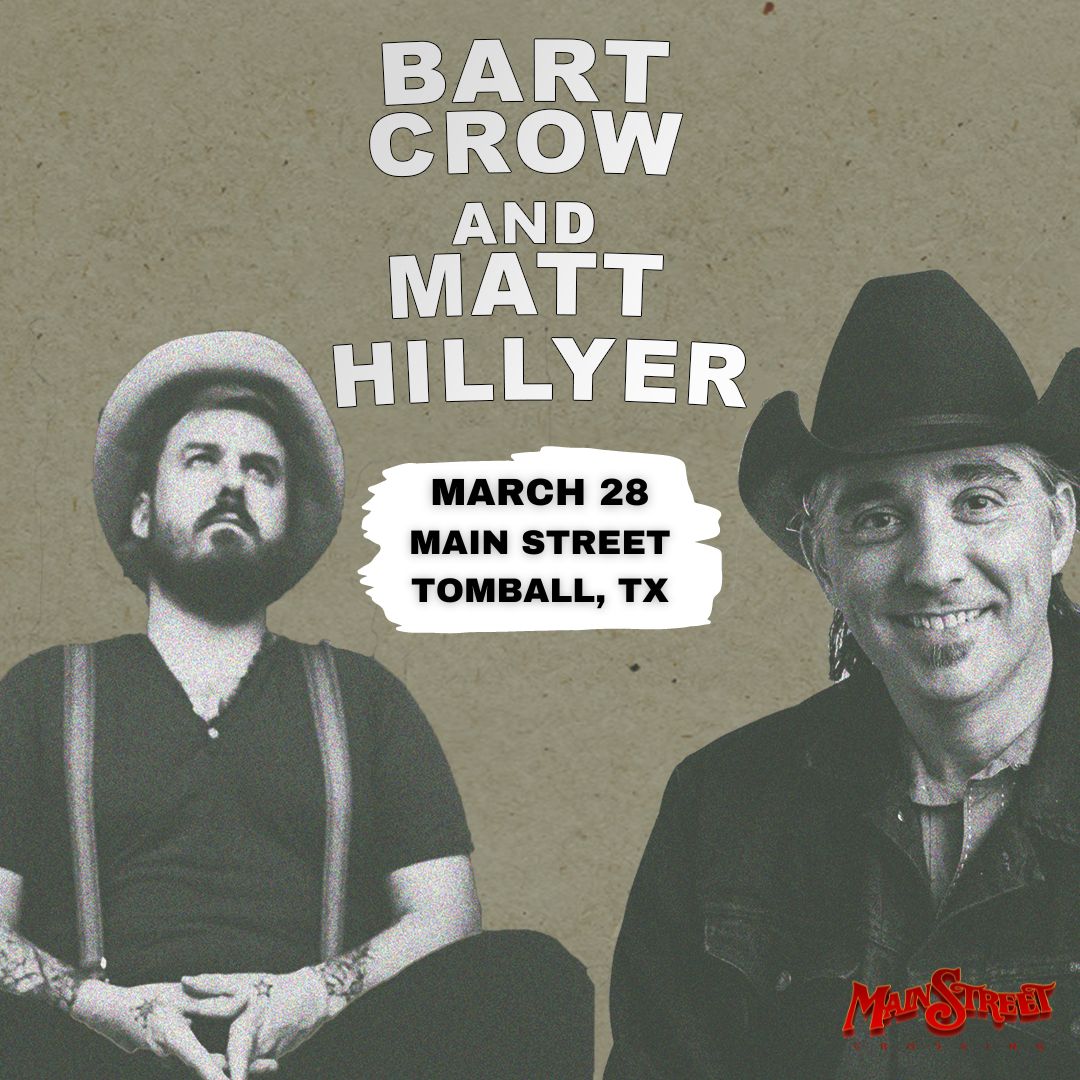 March 28, 2023
Doors 6:00 Show 7:30
We are so excited to welcome Bart Crow & Matt Hillyer to Tomball, Texas to perform on the Main Street Crossing stage. What an honor it is to host you for a live concert with an artist up-close. Buy your tickets and read a little more about Bart Crow & Matt Hillyer below.
Bart Crow Bio:
Born and raised in Maypearl, Texas, country music singer/songwriter Bart Crow made his first attempts to write songs while in the United States Army and started first performing live while studying at Tarleton State University in
Stephenville, TX.

With a sound all his own, Crow produces an ever-evolving flow of Red Dirt, Texas Country and Americana music. Crow has put together an impressive track record as a recording artist, having lofted six No. 1 singles onto the Texas Music Chart – one of which, "Wear My Ring," sold over 165,000 copies. He has sold over 40,000 albums, released five self-co-produced records in just over a decade, ncluding Dandelion, which debuted at No. 1 on Billboard's Heatseekers South Central chart. He's been cheered in Country Weekly, on CMT, and has been named one of Rolling Stones "artists you need to know".
Crow is also a dedicated husband and father with a passion for supporting our nation's Veterans. "Being a Veteran I will always pay homage to our brothers and sisters who heed the call to volunteer and preserve our peace and freedom," says Crow. He displays this sentiment in his self-penned song "Broken" from album "Heartworn Tragedy".
Bart Crow has partnered with True Grit Talent Agency. The True Grit roster includes Cody Jinks, Sunny Sweeney, Whitey Morgan, Ward Davis & many more noteworthy acts.
With tours booked across the country and many more dates to be released along the way. Crow's latest release, "I'm Not Finished," caught much attention throughout the music scene, with new music on the way.
Matt Hillyer Bio:
When legendary honky-tonk band Eleven Hundred Springs played its final notes near the end of 2021, it understandably felt like an ending to many of its loyal fans. Over the course of 23 years the group played countless shows around the world, released over a dozen albums, and had become the standard for what a swingin' Texas country band should be. But for lead singer-songwriter Matt Hillyer, the ending of his beloved band wasn't the closing of his own musical road. 
Hillyer's life in music began well before Eleven Hundred Springs was born. He honed his chops in the rockabilly outfit Lone Star Trio, and even a rock band, Strap, hitting the stages of Dallas' storied Deep Ellum neighborhood throughout the '90s. In 2014 he released his solo debut album If These Old Bones Could Talk, a stellar effort that served as a reminder to fans that Hillyer had more to say than what could be found on Eleven Hundred Springs releases. With Glorieta, Hillyer doesn't begin a post-1100 life as much as he continues the dance he began decades ago. It's really that simple. 
"To stop writing, recording and performing songs has never been the plan. I'm a songwriter, so that's what I'm going to keep doing," Hillyer says. 
Even though HIllyer's plans for Glorieta weren't laid out formally until later, the new album, produced by John Pedigo of The O's who has also produced albums by the Old 97's and Joshua Ray Walker, began taking shape in November of 2020, a full year before Eleven Hundred Springs would perform its final notes together. He joined a songwriting group that compelled him to write a new song each week. Regularly exercising his songwriting muscle in a new way not only enhanced HIllyer's idea of what his songs could be, and be about, but, he says, "stretching my imagination this way has kept me sane through these last couple of years." 
Each week after receiving a new prompt from the group, typically no more than three words via text message, Hillyer writes lyrics and records a demo for the new song. And no co-writes are allowed, giving the exercise an added layer of vulnerability that's deepened the results over time. Like a Michelin starred chef seeking a burst of inspiration through a new style of cuisine, Hillyer found himself writing songs he never would have prior. Sure, new, and different isn't always better, but when a crew of roughnecks finally tap into a gusher, everything suddenly makes sense. 
"When you know you're going to write a new song on a regular basis it takes the pressure off in a way," Hillyer says. "As much as you want them all to be great, you know they can't be. Oddly, that takes off some of the pressure and allows you to get outside of some of the boxes you've made for yourself. Sometimes you do some of your best stuff when you're not trying so hard to be good." 
The fruits of Hillyer's weekly songwriting efforts are perhaps most prominently found in "Ordinary Man." A hazy dream of an ode to his father, who Hillyer says "lived for his family, the most important thing in his life," the song is more Beatles than Bakersfield, which might throw some longtime fans for a loop. But that's part of the point. The accordion-tinged "Diablo Motel" is another standout example of how Hillyer has opened himself up to an intriguing new muse. The spooky tale of a fellow waking up from a trance in a room way down south where the heat never relents is more a pleasantly meandering head-bobber than it is a classic country foot-stomper. 
"Neither one of these songs are typical for what people know me for," Hillyer says. "The chord changes, melodies and subject matter are different from what I would usually do. That's a result of digging deeper and trying something different." 
The galloping "Stolen Kisses" is an anthemic marriage between the influences of two of Hillyer's favorite legends, Buddy Holly and Roy Orbison that's both rocking and twangy. 
But of course, Hillyer hasn't left the timeless sounds he's loved so long behind. "Just Passing Through" is a hardcore country lament about love gone wrong. If the pedal steel cries, provided by legendary musician and producer Lloyd Maines, does not drench the listener's heart, then that person's never heard a George Jones song before. The dance floor-ready "You Gotta Keep Moving," complete with its lively fiddle, is an upbeat number about that old man who refuses to stop dancing with any lonely lady standing nearby when the song starts. As much as any other tune on Glorieta, this one would've snuggled into an Eleven Hundred Springs setlist rather comfortably. 
Another song taken from the pages of Hillyer's family photo album is the title track, "Glorieta." With a folksy, jaunty rhythm, Hillyer sings about a postcard-perfect place in New Mexico his mother has had for years and has become something of a retreat for him and his family when it's time to unplug the amps and phones. 
"Holding Fast" and "Dirty Little Secrets" are barn-burning, longneck-draining tunes that address both ends of the marital spectrum, from doubling down on the relationship to actively trying to keep a bit of adulterous deceit hidden from one another. Classic country themes mixed with Hillyer's instantly recognizable voice makes for the best type of new music–familiar yet challenging all at once. 
This is an exciting time for Hillyer, and for longtime Eleven Hundred Springs fans. He's already hitting the road with a busy touring schedule and his solo songs are hitting the right notes with fans everywhere. For Hillyer, his present and future isn't defined by his past. He's more interested in bringing it all to the table. 
"To me they're all just songs I had a hand in creating, whether it's an Eleven Hundred Springs song or one of my solo songs," he says. "I'm really proud of them. Those songs have gone places and have taken me places. I'm also excited to see where the new music will take me, because I have no plans to stop doing this anytime soon."