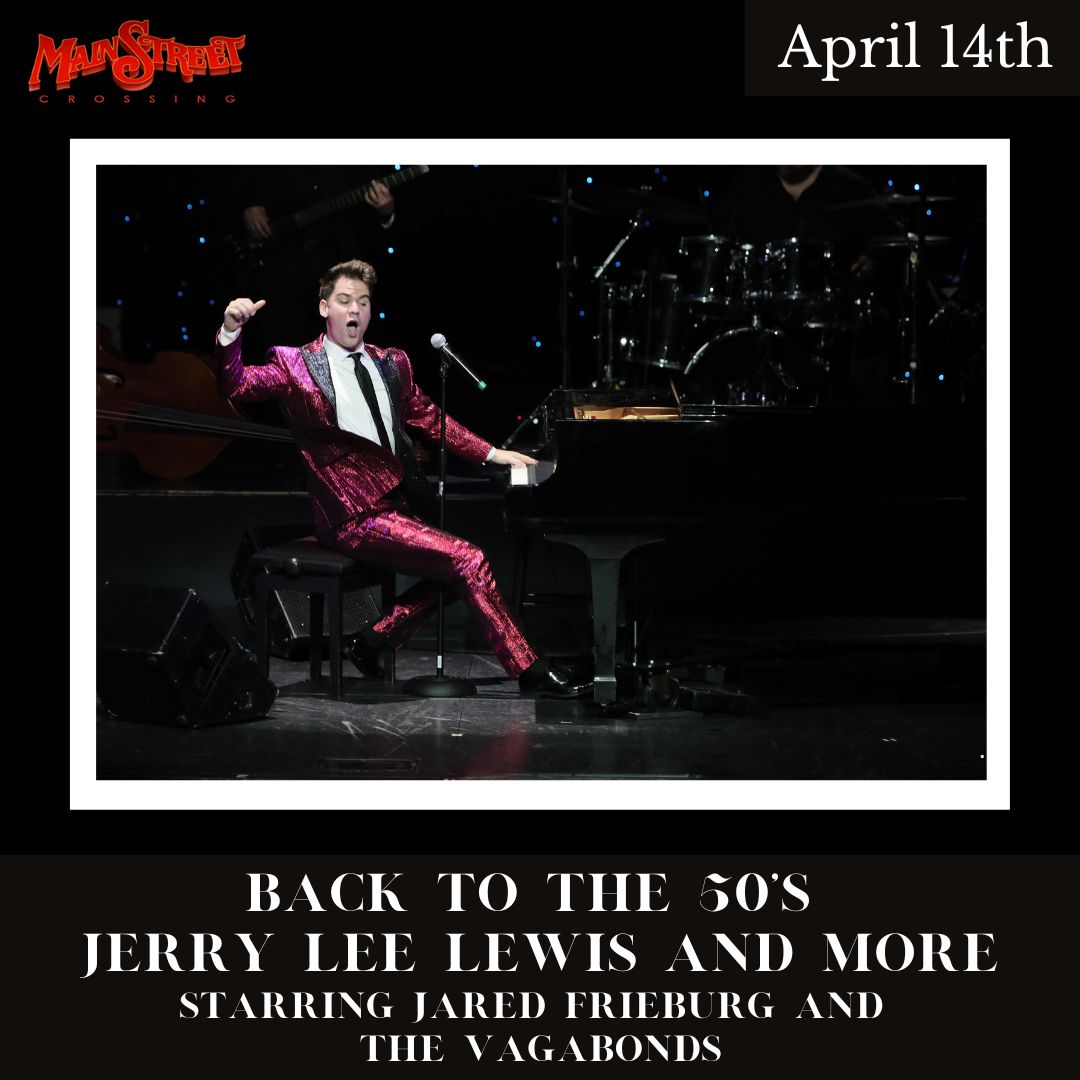 Back to the 50's – Jerry Lee Lewis and More starring Jared Frieburg and the Vagabonds
April 14, 2024
Matinee: Doors 2:30 / Show 4:00
We are so excited to welcome Jared Freiburg and the Vagabonds back to Tomball, Texas to perform once again on the Main Street Crossing stage. What an honor it is to host you for a live concert with an artist up-close. Buy your tickets and read a little more about Jared Freiburg and the Vagabonds below.
"…a high-energy musical adventure filled with good vibrations, electrifying piano mastery and a non-stop parade of favorite Golden Oldies sounding better than ever!"
Jared Freiburg toured the world on land and sea performing the role of Jerry Lee Lewis for five years in Broadway's Tony Award-winning Musical, Million Dollar Quartet.
Since then he has been travelling the world in his own show celebrating the Music and Artists of the Early Rock & Roll Era.
In Theaters, Concert Venues, Performing Arts Centers and Special Events, Jared takes his audiences on a high-energy Rock & Roll thrill ride through the songs and sounds of such icons as Ray Charles, Frank Sinatra, Chuck Berry, Jerry Lee Lewis…and beyond.
Filled with good vibrations, electrifying piano mastery and a non-stop parade of favorite Golden Oldies, these are the musical treasures that live on through generations…and now they are sounding better than ever!
In 2021, the originating team of Million Dollar Quartet created a sequel to their hit original production – Million Dollar Quartet Christmas – and asked Jared to re-create his 'Jerry Lee Lewis' role in the new show's world debut tour. The tour traveled through the country, and Jared is featured in its original 2022 Cast Recording.
Jared was born and raised in Des Moines, Iowa and began playing piano at the age of five by way of his grandmother. He was first introduced to the style of Jerry Lee Lewis as a young teenager and from that point, he took on a serious obsession into Jerry Lee's music and the 1950's era as a whole. While others of his generation listened to current pop music of the day, Jared was exposed to artists and songs of the 50's and 60's, setting him up for a dense musical pallet at a young age while spending hours daily devoting much of his passion to
playing tribute to "The Killer."
While studying Jazz Performance in Southern California, Jared shifted directions as he got his first opportunity to put his talents on the line actually portraying Jerry Lee Lewis in the touring production of Million Dollar Quartet aboard the Norwegian Getaway…and hasn't looked back since.
Jared has recorded and released an album of original music entitled "Vagabond."
"I am humbled and grateful to be honored this way." – Jerry Lee Lewis