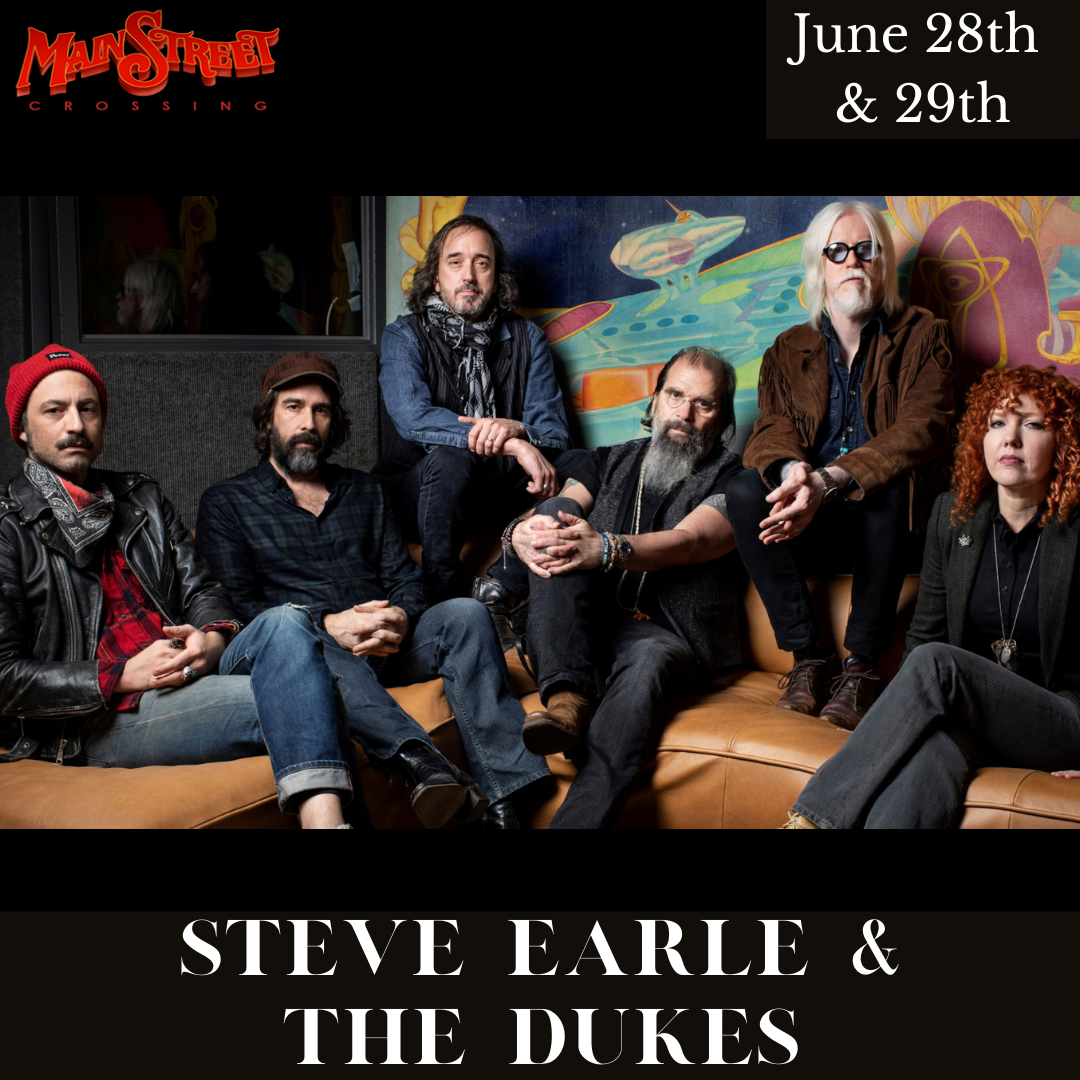 Steve Earle and The Dukes
with opener The Whitmore Sisters
June 28th & 29th of 2022
Doors 6:30 Show 7:30
We are so excited to welcome Steve Earle and The Dukes to Tomball, Texas to perform on the Main Street Crossing stage. What an honor it is to host you for a live concert with an artist up-close. Buy your tickets and read a little more about Steve Earle and the Dukes below.
Steve Earle is one of the most acclaimed singer-songwriters of his generation. A protege of legendary songwriters Townes Van Zandt and Guy Clark, he quickly became a master storyteller in his own right, with his songs being recorded by Johnny Cash, Waylon Jennings, Joan Baez, Emmylou Harris, The Pretenders, and countless others. 1986 saw the release of his debut record, Guitar Town, which shot to No. 1 on the Country Charts and is now regarded as a classic of the Americana genre. Subsequent releases like The Revolution Starts…Now (2004), Washington Square Serenade (2007), and TOWNES (2009) received consecutive GRAMMY® Awards. Restlessly creative across artistic disciplines, Earle has published both a novel and a collection of short stories; produced albums for other artists such as Joan Baez and Lucinda Williams, and acted in films, television (including David Simon's acclaimed The Wire), and on the stage. He currently hosts a radio show for Sirius XM. 
In 2009, Earle appeared in the off-Broadway play Samara, for which he also wrote a score that The New York Times described as "exquisitely subliminal." Earle wrote music for and appears in Coal Country, a riveting public theater play that delves into the most-deadly mining disaster in U.S. history, for which he was nominated for a Drama Desk Award (running now through April 17,2022 at the Cherry Lane Theatre in New York City). His 2020 album Ghosts of West Virginia was named one of "The 50 Best Albums of 2020 So Far" by Rolling Stone. Mr. Earle was recently (Nov. 2020) inducted into the Nashville Songwriters Hall of Fame, and released his 21st studio album J.T. in January 2021 as an homage to his late son Justin Townes Earle. Now, Earle is saddling up for the release of his most recent album Jerry Jeff, a 10-track collection comprised of hit tracks and deep-cuts from Jerry Jeff Walker to pay tribute to the colorful cowboy troubadour who passed away in October 2020.