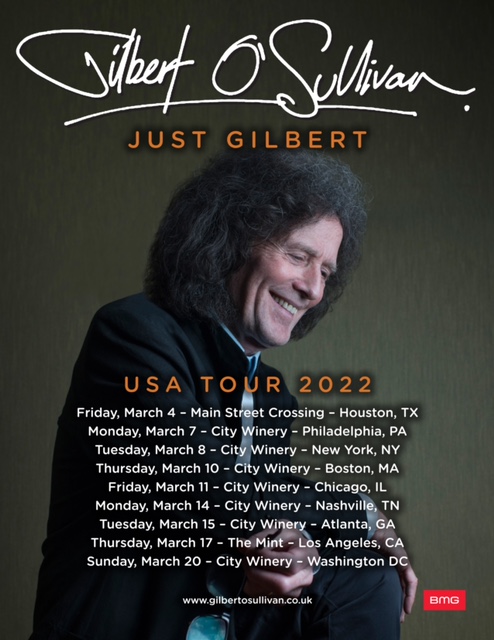 March 4, 2022 
Doors 5:30 Show 7:00
We are so excited to welcome Gilbert O'Sullivan to Tomball, Texas to perform on the Main Street Crossing stage. What an honor it is to host you for a live concert with an artist up-close. Buy your tickets and read a little more about Gilbert O'Sullivan below. 
He was the superstar who topped the UK and US single charts in the 70s with songs of endearing tunefulness, unabashed sentiment and existentialist musings. Today, Irish singer-songwriter Gilbert O'Sullivan continues to be regarded with tremendous affection and his songs remain well-loved around the world.
Gilbert O'Sullivan was born Raymond Edward O'Sullivan in 1946 in Ireland. He moved to Swindon, England with his family aged 7 and after a formal education became a student at Swindon Art College, specializing in graphic design.
But he had another love – music – and after forming and joining local bands as a drummer/vocalist, he started writing his own songs, heavily influenced by The Beatles as writers and Bob Dylan as a performer. Calling himself Gilbert, with a very distinctive image, two singles released by CBS Records and one with the Major Minor label, got little attention. Undeterred, he sent a demo tape to Gordon Mills, the man behind Tom Jones and Engelbert Humperdinck, who impressed with his song writing, became his manager. The result was his first single on the MAM label, Nothing Rhymed, became a UK Top Ten hit in 1970.
More hit singles and a debut album Himself followed. But it was 1972's Alone Again (Naturally) that sealed his fame, topping the USA charts for six weeks and garnering three Grammy nominations. Soon after, he got his first three British number one hits with Clair, Get Down and LPBack to Front. Gilbert was named "Songwriter of the Year" at the 18th Ivor Novello Awards, embarked on an 18-city UK tour and a USA tour, performed sold-out concerts, clocked another UK Top 10 hit with Why Oh Why Oh Why and in 1974 won a third Ivor Novello award.
A few years later, Gilbert parted company, due to musical differences, with his manager, and following new representation teamed up with Gus Dudgon (Elton John, Chris Rea) as a producer for his next album. The critically acclaimed Off Centre released by CBS in 1990 produced the international hit What's In A Kiss.
Litigation with former manager and record company prevented him from releasing any new product for a number of years. However, even during this period he never stopped writing. That to him is the key to everything he does as an artiste. As Gilbert says, 'Without the songs, there is no artist.'
1990 saw the release of the album In the Key of G, producing a minor hit So What Whilst recording his second album in the 90's, Sounds of the Loop, which contains the now classic Peggy Lee duet Can't think straight, he was involved in another law suit, this time against rapper Biz Markie for sampling Alone Again (Naturally) without permission. Gilbert's win set a new benchmark for protection against copyright infringement.
The 2000s saw Gilbert enjoy a career revival with The Berry Vest of Gilbert O'Sullivan returning him to the UK Top 20 in 2004,Gilbertville (2011) enjoying success in the UK and Japan where in 1994 he had a number 1 with the song Tomorrow, Today, and well-received performances at the 2008 Glastonbury Festival and London's Royal Albert Hall in 2009.
In 2012 his compilation entered the UK album charts at Number 12 Gilbert O'Sullivan: The Very Best Of – A Singer & His Songs (2012) and following this 'Ooh Wakka Doo' became the theme song for National Lottery adverts across the UK. Cover versions of his songs continue to be released, in particular 'Alone Again, (Naturally)', with the latest being Neil Diamond and Diana Krall featuring Michael Buble.
Gilbert O'Sullivan is as creative now as he has ever been across an outstanding career, and the past few years have seen Gilbert O'Sullivan showcase many sides of his musical personality. Be it live shows with his band, full orchestral performances in the UK and Ireland or exploring Latin music on 2015's Latin Ala G! album, the iconic songwriter has continued to look to the future while his famous back catalogue has, as ever, won him the respect and adoration of fellow musicians and audiences all over the world.
Gilbert's latest formidable self-titled album was produced by Ethan Johns and was released in August 2018 and reached Top 20 in the UK Charts, receiving critical-acclaim worldwide. Gilbert is currently in the studio working on a new album set for release in Summer 2022, and new tour dates have been confirmed in Japan, US, UK, Norway and Amsterdam, with many more to follow.