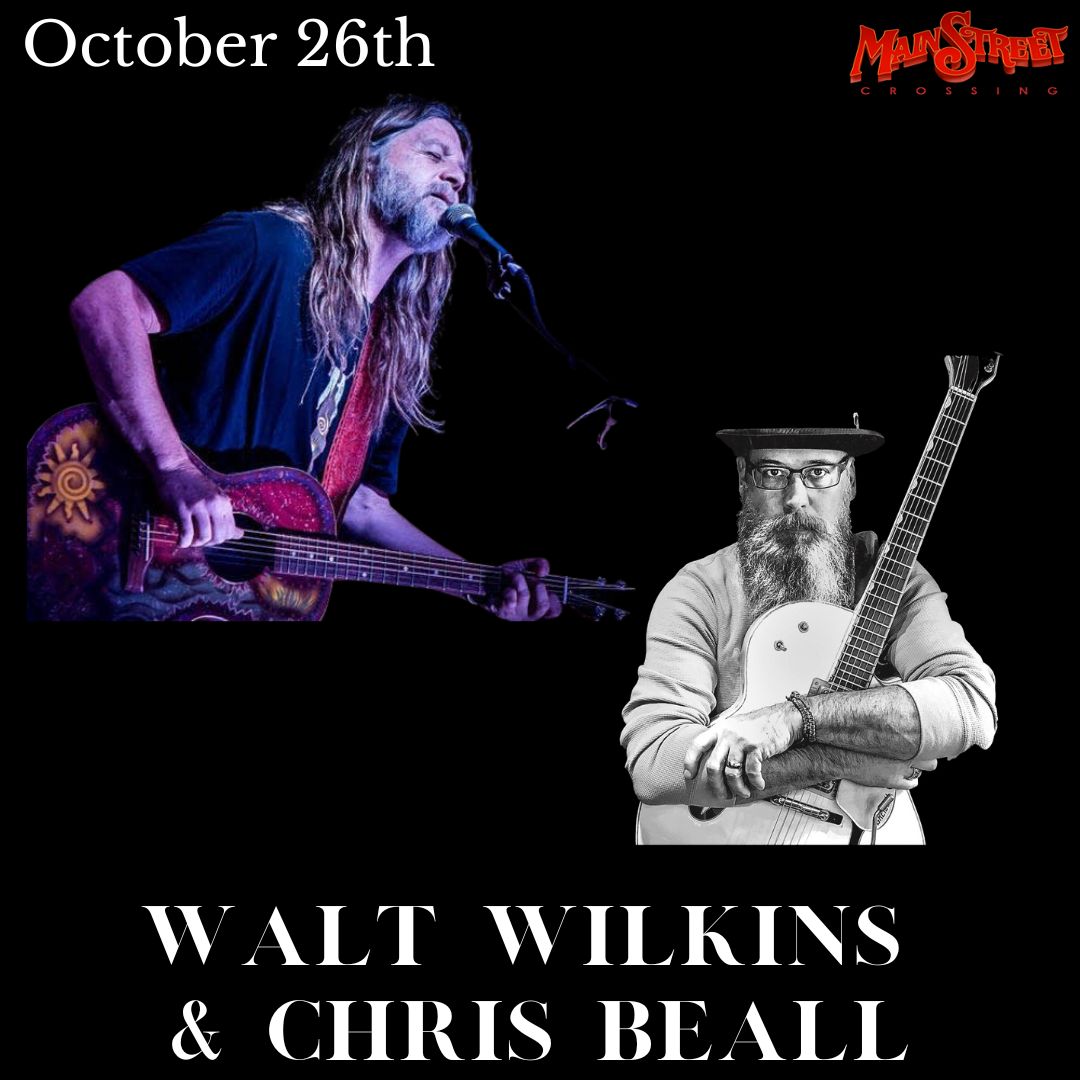 Walt Wilkins & Chris Beall of South Austin Moonlighters
October 26, 2022
Doors 6:00 Show 8:00
We are so excited to welcome Walt Wilkins and Chris Beall of South Austin Moonlighters to Tomball, Texas to perform on the Main Street Crossing stage. What an honor it is to host you for a live concert with an artist up-close. Buy your tickets and read a little more about Walt Wilkins and Chris Beall below. 
Walt Wilkins:
Songwriter, singer, traveler, troubadour – the calling I answered, the life I chose, the way I make my way.
I chose to go full time on this road 25 years ago. Its been a spiritual quest, an amazing trip, at turns heartbreaking & transcendent. In that time I've made 9 solo records, 4 records with The Mighty Mystiqueros, 1 with my wife Tina, and there's a new live record with my friend Kevin Welch. I've had 100 or more songs recorded by other artists, traveled a fair part of the world, and had some very, very large times. I have these anchors:  Wednesdays with my brothers The Mystiqueros at The Saxon Pub in Austin,  the 1st Sunday of every month at Luckenbach, The Red River Songwriters Festival on the last weekend of January in the mountains of northern New Mexico, and Waltstock & Barrel, a Texas wine, beer & music festival near Fredericksburg on the 1st weekend of April. I move around a lot.
​I get to work with some inspiring artists on their records, most often with the coolest cat on the field, Ron Flynt, at his Jumping Dog Studio in Austin. I play all over Texas & as much as the US as we can get to, and even in Europe, where our 2nd home is The Netherlands. I know a wide, beautiful variety of mighty poets, pickers, philosophers, artists, and wild spirits. I am a most fortunate man. Mostly, I drive, play & sleep & dream. It's a rich experience, a wild ride, and the way I make my way. I hope to meet you if I haven't. If I have, I hope to see you again soon on this path.
Chris Beall:
The son of a motorcycle racer from a small town in west Texas, Chris Beall is a singer/songwriter/producer/guitarist whose albums have been featured on numerous Americana radio/music charts. He is also a "Verified" Spotify artist with over 20,000 streams. Along with his solo career, he is a member of the well-established South Austin Moonlighters, whose album "Travel Light" went to #1 on the Alternative Country Roots Radio Chart in 2019 and reached #61 on the national Americana radio chart. His 2021 release "Abilene" went to #16 on the Alternative Country chart, and his previous solo album in 2014, "The Gin Mill Hymns", showed-up at #15 on the Texas Roots Radio chart, #29 on the national Roots Rock Radio chart, and #173 on the national Americana radio chart. He has achieved the #1 position on the Reverbnation Americana chart for Central Texas several times, and #3 in the nation. Influenced by many forms of American music, he did a stint in Nashville, but currently resides in Austin Texas where he writes, performs, and produces music. Chris has also produced and/or played on several Texas artists' songs including Walt Wilkins' "Pedernales", The Ransom Brothers, Austin Mayse,  Denny Herrin, and Brett Hauser's.