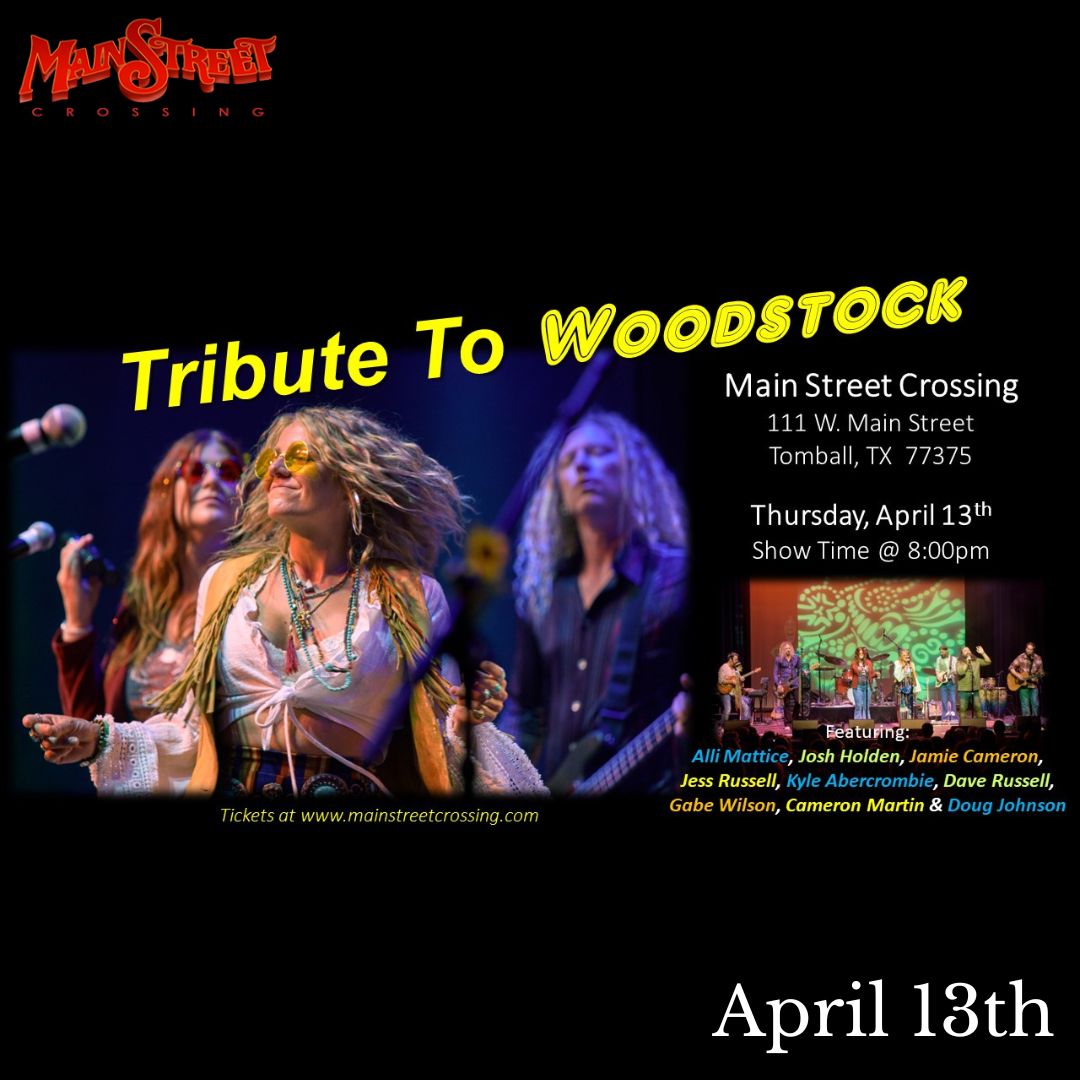 Tribute to Woodstock:

The Songs of Jimi Hendrix, Janis Joplin, Jefferson Airplane, Joe Cocker and many more
April 13, 2023
Doors 6:30 Show 8:00
We are so excited to welcome Tribute to Woodstock to Tomball, Texas to perform on the Main Street Crossing stage. What an honor it is to host you for a live concert with an artist up-close. Buy your tickets and read a little more about Tribute to Woodstock below.
Top local artists join to give tribute to the most iconic music festival in history. Honoring; Jimi Hendrix, The Who, Janis Joplin, Joan Baez, Jefferson Airplane, Credence Clearwater Revival, Santana, The Grateful Dead, Crosby Stills Nash and Young, Joe Cocker, and more . . . Break out your bell bottom jeans, tie dye shirts and headbands – this show will prove to be quite memorable!
Tribute To Woodstock Performers
Alli Mattice – is one of New Braunfels'
favorite folk artists. A true hippie at heart,
Alli is the brain-child of this iconic tribute
show.
Jamie Cameron – is the facilitator of Soul
Sessions & Soul Ethos bands. Jamie has
also recorded with MCA & Warner Bros
studios.
Josh Holden – is the leader of the popular
local band 3 Man Front and also performs
in local Tom Petty and Motley Crue tribute
bands.
Jess Russell – is one of the most unique and
powerful female vocalists in our town. She
is a frequent performer around town with
her brother and other artists.
David Russell – is one of our area's best
singer songwriters. With the ability to be
mild or wild based on venue demands.
Kyle Abercrombie – is one of our town's
best rock n' roll vocalists. Kyle leads the
band Knotty Grove.
Gabe Wilson – is often referred to as the
areas best overall guitarist. Gabe is a lead
member of 3 Man Front and also
contributes to the local Tom Petty Tribute
shows.
Doug Johnson – is a key player in the
Groove Doctors band. He is also very
active in the San Antonio music scene.
Cameron Martin – is the quintessential
"Keith Moon". His band Crypt Trip is on
Rome, Italy's Heavy Psych label and has
toured throughout the US and Europe.