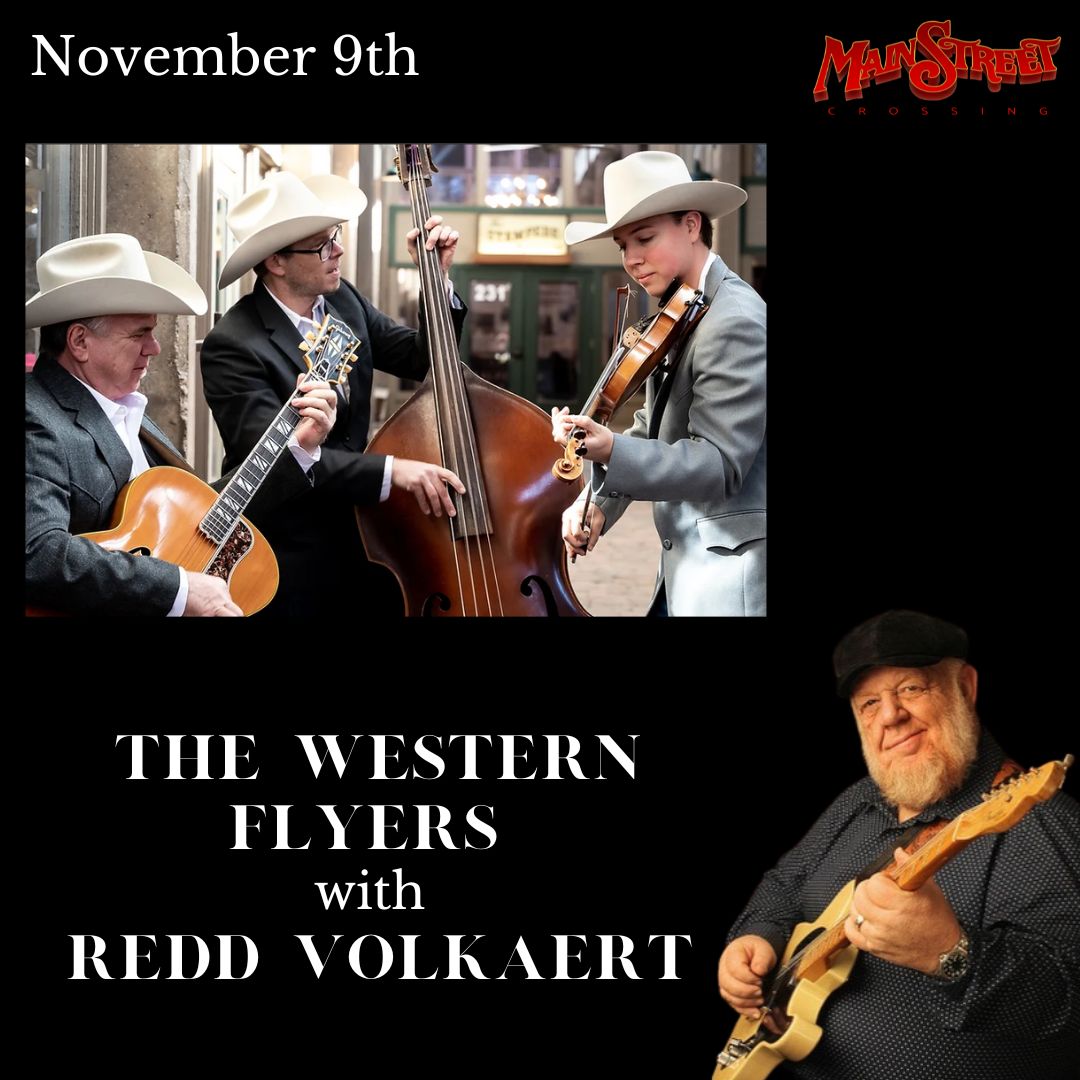 The Western Flyers with Redd Volkaert
November 9, 2023
Doors 6:00  Show 8:00
We are so excited to welcome The Western Flyers with Redd Volkaert to Tomball, Texas to perform on the Main Street Crossing stage. What an honor it is to host you for a live concert with an artist up-close. Buy your tickets and read a little more about The Western Flyers and Redd Volkaert below.
The Western Flyers
​Powerhouse Western swing & country trio The Western Flyers serve up an irresistibly hot, unmistakably Texas-style sound popularized by Bob Wills in the 1940s with an electrifying energy all their own. Featuring a fresh, all-star lineup led by Western swing master Joey McKenzie on guitar & vocal, fiddle champion Ridge Roberts on fiddle & vocal, upright jazz bassist Matthew Mefford, the award winning Flyers are guaranteed to have even the shyest of wallflowers tappin' their toes or swinging on the dance floor.
JOEY MCKENZIE – GUITAR AND VOCALS
​Joey McKenzie is a musician of remarkable versatility. Besides being recognized as one of the finest rhythm guitarists of our time, Joey is an award winning multi-instrumentalist, band arranger, singer and producer. His unique ability to blaze new trails within traditional music without losing its rich heritage has gleaned praise from some of the finest musicians in the country. His first musical experience began at age of 11, tuning the instruments his father had around their house – a guitar, mandolin, tenor guitar, and a tenor banjo. Around the age of 12, he started learning a few chords and licks on each of the instruments and has been playing them ever since.  When he was 17, he became interested in playing the fiddle after becoming friends with Texas fiddle legend Benny Thomasson.  "I went to fiddle contests just playing rhythm guitar, but I wasn't really inspired to play the fiddle.  When I got the opportunity to back Benny up in a few contests and hear the way he played, all I could think about was trying to learn to play the fiddle!"  It wasn't long before Joey began competing and has since won well over 100 fiddle contests and awards on other stringed instruments.  Some of these include three-time World Champion Fiddler, World Series of Fiddling Champion and five-time Texas State Guitar Champion. As a music teacher, Joey's influence on the music world is very evident. He is much in demand as a private instructor and also teaches master classes and workshops all over the country. To date Joey has taught 19 National Champion fiddle players! Joey is proud of his students who have advanced into successful music careers, as well as the many others who have become life-long music lovers who play strictly for the fun of it.  As a touring musician, Joey has performed in 45 U.S. states as well as Canada, Europe, Russia and South America.  Joey's performance highlights include The Grand Ole Opry, The Kennedy Center, NYC's Lincoln Center, Nashville's Ryman Auditorium, NPR's "A Prairie Home Companion" and RFD TV's "The Marty Stuart Show".  In addition, Joey has shared the stage with musical greats Merle Haggard, Ricky Skaggs, Ray Price, Asleep at the Wheel, Larry Gatlin and the Gatlin Brothers, Connie Smith, and even a ukulele-slinging billionaire by the name of Warren Buffett!  He has always been fascinated with the great behind the scenes rhythm guitar work of players such as Eldon Shamblin, Homer Haynes, Eddie Lang, Karl Farr, Freddie Green and Oscar Moore.  In addition Joey enjoys restoring, repairing and collecting vintage stringed instruments and says he is still trying to get them in tune!
RIDGE ROBERTS – FIDDLE AND VOCALS
​Ridge Roberts is an 18 year old musician from Granbury, Texas. He first picked up the fiddle at the age of 7 and it was immediately evident that this would be a life-long love. In 2013 he entered and won his first fiddle contest at the age of 10. This led him to working with Joey McKenzie, first as fiddle teacher and now bandmate. Since then, he has gone on to compete in and win many more contests, with several notable championship titles – Grand Masters Champion, National Champion, Texas State Champion and the 2018 World Champion Fiddler.  He spent his early years researching fiddle players and fiddle tunes, concentrating on the old-time Texas style fiddlers and when he wasn't playing the fiddle, he was thinking about the fiddle, listening to fiddle music, researching fiddle history, playing rhythm guitar for fiddle tunes, looking for fiddles and sometimes just looking at his fiddle. Fast forward to today, Ridge is a 2021 graduate of North Central Texas Academy in Hood County. He enjoys reading, writing, and all things vintage, especially Country music. Ridge plays rhythm guitar, sings, writes songs and composes and will always be a life-long student of music and its history.
MATTHEW MEFFORD – UPRIGHT BASS
​If you wonder how the finest Western swing players got to be so good, you imagine them cutting their teeth on Bob Wills records and taking to their instruments before they learned to talk, Matthew Mefford stands out as an exception to that rule. Born in Madison, Wisconsin, Matthew grew up on the outskirts of Austin, Texas, first picking up the electric bass during his late teens to play music more akin to Nirvana than the Texas Playboys. All that changed when he discovered the upright bass and Western swing. It wasn't long before Matthew found himself at Johnny Gimble's Swing Camp where he teamed up with the granddaughter of the great swing fiddle legend himself, gifted singer and jazz pianist, Emily Gimble. The Marshall Ford Swing Band was born out of this lucky alignment of stars and soon Matthew found himself part of the fabric of the diverse Austin music scene, as well as founding member of the virtuosic power quartet Milk Drive. Dipping his toes into the bluegrass, country, and western swing world soon found Matthew performing at the largest folk & bluegrass festivals across the US and abroad. 2014 brought big changes as Matthew moved to York, England to support his wife during her PhD. He joined the acclaimed acoustic band Stillhouse and was a featured performer at the Cambridge Folk Festival, Wilderness Festival, and Boomtown Festival to name but a few. In 2018, Matthew returned to Austin and, by the late spring, found a musical home with Texas' award winning trio, The Western Flyers. Now living in Wimberely, Texas, Matthew tours frequently with the Flyers, accompanies Texas style breakdown fiddlers every chance he gets and stays busy playing in and around Austin and the Texas Hill Country.
Redd Volkaert
Grammy-winner and guitar-playing legend Redd Volkaert is renowned throughout the country music world and beyond for being one of the greatest Telecaster players in history. A true giant of country music, Volkaert once played in Merle Haggard's backing band The Strangers in the spot previously manned by Roy Nichols.
Originally from Vancouver, Canada, Redd picked up guitar at an early age, and moved to Alberta where he got his first serious start as a professional musician. Redd then relocated to Southern California in 1986, eventually running into a young Dale Watson who became a frequent collaborator. Redd then spent more than a decade in Nashville primarily as a live performer, playing with the likes of Ray Price and The Statler Brothers among others, and eventually behind Haggard. But he never quite liked it in Music City, where most of the musician work was centered around studio time as opposed to the clubs and honky tonks. So eventually Volkaert moved to Austin, Texas, where he lived for some 20 years, including performing at Austin's famed Continental Club with the supergroup Heybale! every weekend.
From western-swing to jazz and rock, Redd is considered an icon on the Telecaster with numerous guitar models named after him. He emerged as a solo artist with the celebrated release of Telewacker (1998) and No Stranger to a Tele (2001), each showcasing a satisfyingly diverse mix of country and swing, hot instrumentals, and vocal numbers in the Bakersfield-honky-tonk tradition. In 2009 Redd received a Grammy for best country instrumental performance for "Cluster Pluck," a collaboration with Brad Paisley, James Burton, Vince Gill, John Jorgenson, Albert Lee, Brent Mason, and Steve Wariner. In addition to his seamless ability to conjure up a vast array of complex guitar styles, Redd is beloved for his trademark wit and sense of humor.