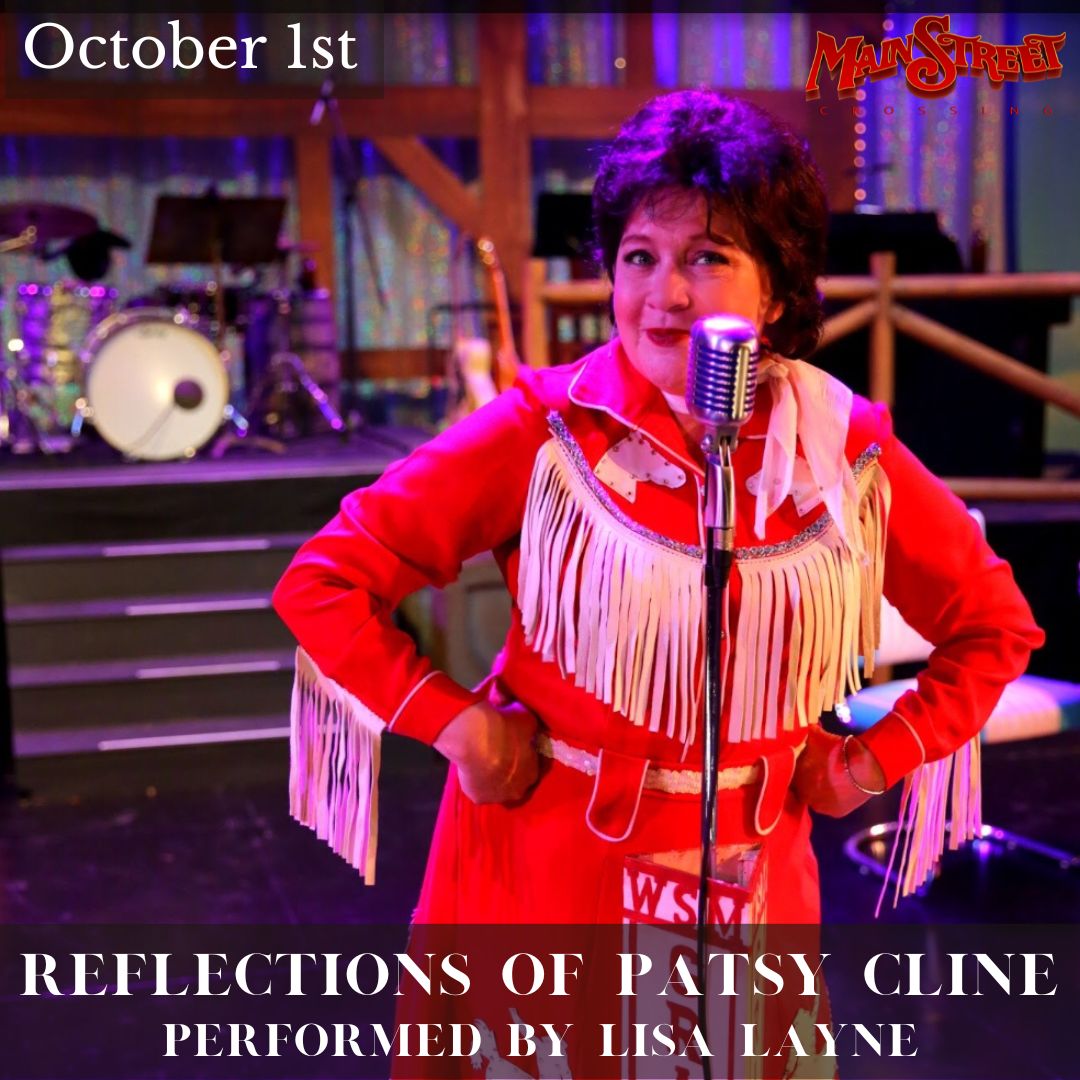 Patsy Cline Tribute (Reflections of Patsy Cline) performed by Lisa Layne
October 1, 2023
Doors 3:00  Show 5:00
We are so excited to welcome Lisa Layne to Tomball, Texas to perform on the Main Street Crossing stage. What an honor it is to host you for a live concert with an artist up-close. Buy your tickets and read a little more about Lisa Layne below.
The Early Days   
Lisa was born in Tyler, TX and at the age of 3 moved to Dallas, TX. She began singing professionally at the tender age of 4. Lisa worked shows with her Dad, who was a professional musician, on and off thru her school years.
Lisa formed her first band "Beaver Creek" just after high school. She was the lead vocalist and played Bass Guitar. This ultimately led to her being noticed by Vince Vance and The Valiants. Lisa worked the road with them from 1986 – 1991.  During that time they recorded the Christmas hit "ALL I WANT FOR CHRISTMAS IS YOU" with Lisa as the lead vocalist. Today it is recognized as the #5 most requested Christmas song of all time.
The Nashville Days
Lisa moved to Nashville and joined a very successful Beach Music Band and toured with them until 1995. In early '93, Lisa won the role of Patsy Cline in the first National Tour of a "Closer Walk With Patsy Cline". She toured with that troupe for the better part of 2 years before joining the Nashville Troupe as the lead in the same show. They performed at the Ernest Tubb Record Shop's "Texas Troubadour Theater" from '98 thru 2000.
In 2005, Lisa was inducted along with Vince Vance and Valiants into the Louisiana music Hall of fame.
That same year, she re-recorded, "All I Want For Christmas Is You" on a full length Christmas album accompanied by the World Famous Jordanaires on all twelve songs.
On To Branson
Also in 2005, Lisa moved to Branson to perform on the Jim Owen Show which opened the door to the Lisa Layne Show.
From 2005-2007 Lisa and her husband produced the Lisa Layne Country show where they performed at the God and Country Theater, 10 shows a week.
In 2008-2011, due to her work as Patsy Cline back in Nashville, they had the opportunity to produce and perform the Ted Swindley production of Always Patsy Cline back at the God and Country Theater.   This show won the "Branson Show Awards" Best Live Musical in both 2010 and 2011 as well as Lisa receiving the Female Vocalist of the Year in 2010.
In 2011, they closed the Always Patsy Cline production in Branson  and moved back home to Texas, to be closer to her mom.
Today In Texas
Once Lisa was back in Texas in 2011, she formed the band "Lisa Layne and One Layne Road",  focusing on recording and performing music at festivals, fairs, corporate events, casinos and good ole Texas dance halls.
In 2016-2017 Lisa was awarded the Will Rogers Pure Country Female Vocalist of the year by the Academy of Western Artists.
Most recently Lisa and the band have opened for Restless Heart, Bobby Flores as well as headlining at the Texas State Fair, National Corgi Dog Show and the Penny Gilley Show on RFD TV.   Lisa has also performed at the Lil Reds Longhorn Saloon in the Ft. Worth Stock Yards and the legendary Stagecoach Ballroom along with many more venues and events.
Appearances
Lisa has appeared on stage with: Miami Sound Stage, Willie Nelson, DollyParton, Hall and Oates, Julio Iglesias, Little Eva, Larry Gatlin, Fats Domino,Chicago, Mel McDaniel, Jimmy C. Newman, Johnny Russell, Janie Fricke,Johnny Lee and many many others. She is without questions a seasoned performer and a true professional. There is not a finer voice in Country Music.