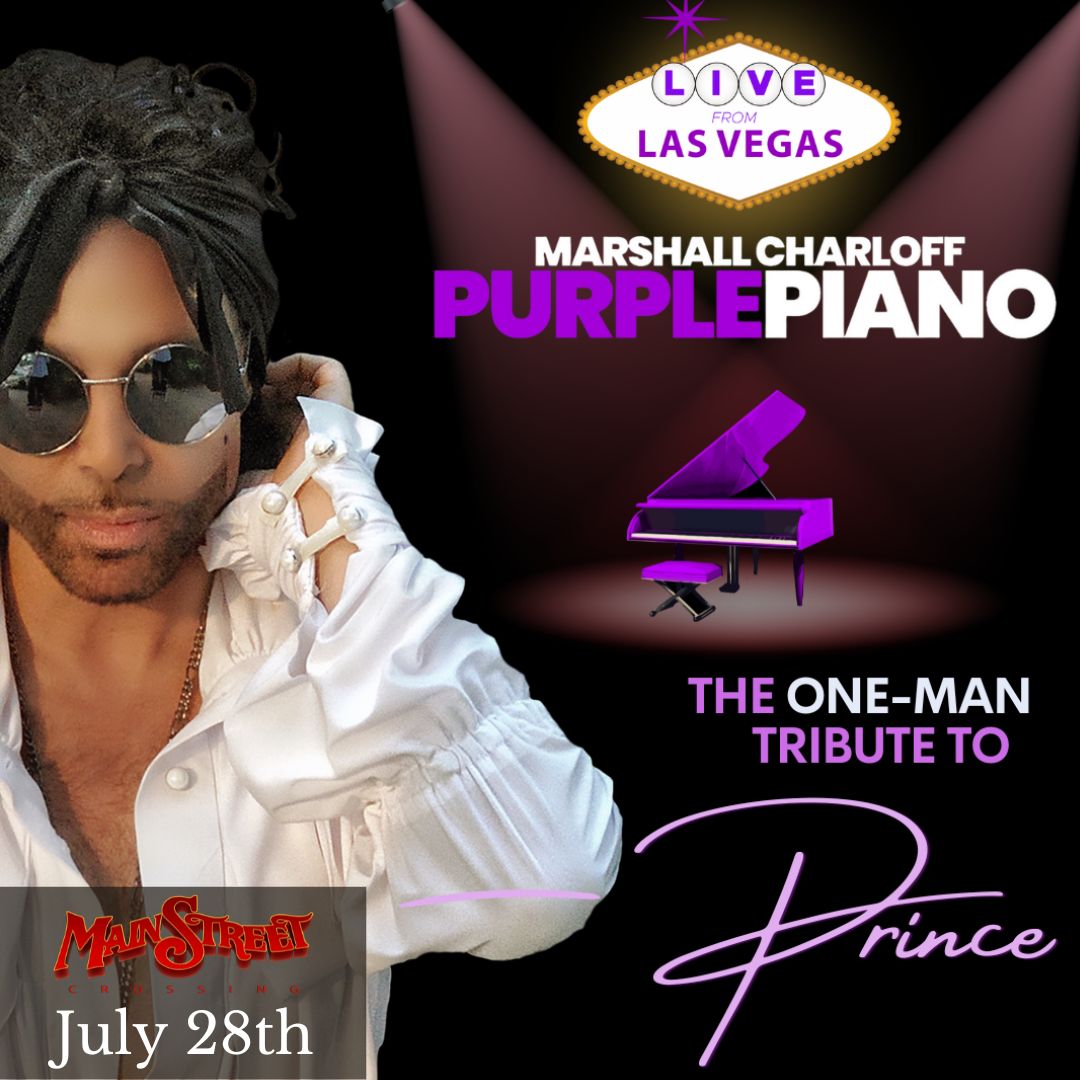 Prince Tribute – "Purple Piano" – The One-Man Las Vegas Show
July 28, 2023
Doors 6:00  Show 8:00
We are so excited to welcome Marshall Charloff to Tomball, Texas to perform on the Main Street Crossing stage. What an honor it is to host you for a live concert with an artist up-close. Buy your tickets and read a little more about Prince Tribute – "Purple Piano" – The One-Man Las Vegas Show
below.
Now Touring, Live from Las Vegas: The World's ONLY One-Man Tribute to PRINCE!
Coming to Tomball by popular demand, acclaimed musical smash, "The Purple Piano", features Prince's hits, masterfully-delivered with vocals and solo piano, in the style of Prince's final "Piano & A Microphone" Tour.
For over a decade, Marshall has established his dominance as the world's leading Prince Tribute Artist–as seen touring globally, headlining Red Rocks Amphitheater, fronting the nation's finest symphonies, and playing on albums with PRINCE. Back on tour from his Las Vegas residency, he will light up Main Street Crossing with this interactive, intimate, and highly-entertaining show. The ultimate xPeRIeNCE for true fans!
About Marshall Charloff
Marshall Charloff's pedigree includes fronting the greatest Prince tribute show in the world, playing keys with the Atlanta Rhythm Section, writing for and producing the Commodores, and being featured on guitar on albums with Prince. He has toured globally, headlined at Red Rocks Amphitheater, and has fronted over 25 of North America's finest symphony orchestras. Marshall has fronted the Houston Symphony to a sold-out audience performing the music of Prince. He also performed, with his band, to 8k people at Miller Outdoor Theater last summer in Houston. This backdrop of experiences have culminated in the creation of his solo tribute to Prince, in the intimate style of his final "Piano & A Microphone" tour.
"The Purple Piano" is the only production of its kind in the world, and has been so enthusiastically-received that it landed a full-time residency in Las Vegas–delighting Prince fans from across the globe.
Now adding tour dates nationally, this show is an interactive and highly-entertaining production, weaving together the highlights of Prince's catalog through Marshall's musicianship and mastery of audience engagement.