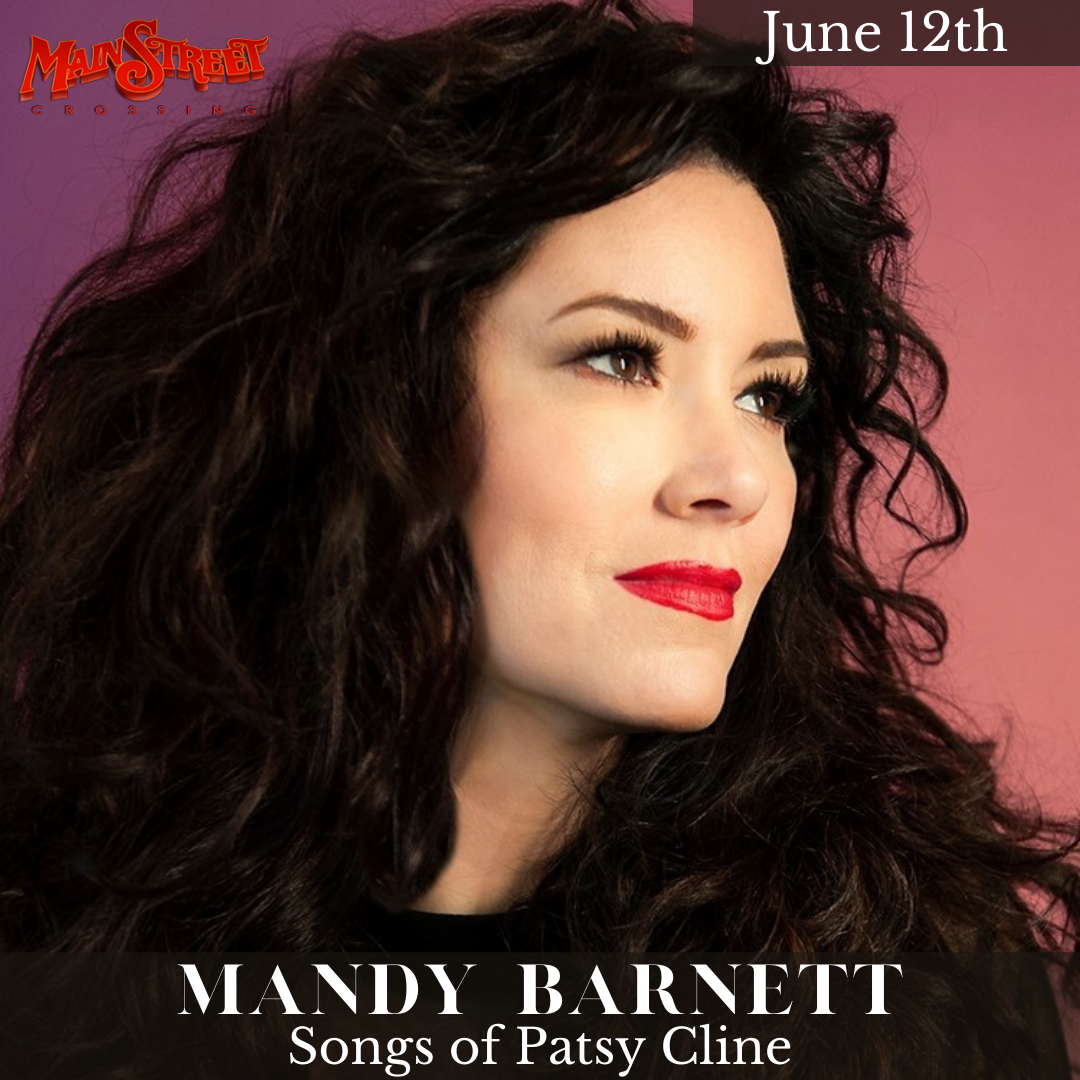 Mandy Barnett – Songs of Patsy Cline
June 12, 2022
Doors 5:00 Show 7:00
We are so excited to welcome Mandy Barnett to Tomball, Texas to perform on the Main Street Crossing stage. What an honor it is to host you for a live concert with an artist up-close. Buy your tickets and read a little more about Mandy Barnett below.
Mandy Barnett, one of Nashville's enduring musical treasures who has showcased her mesmerizing voice on stages across the globe, started singing at five years-old.  She has been singing since. 
Barnett's style is rooted in the classic country and pop crooning of iconic singers and timeless sounds.  She delves into a song with a keen interpretative sense, getting right down to its emotional core and rendering a powerhouse performance through her "pipes of steel" (Los Angeles Times).  As one record executive put it, "Mandy Barnett is a song's best friend."
Barnett first gained national prominence as the original star of the musical Always…Patsy Cline at Nashville's famed Ryman Auditorium.  Barnett, as Cline, performs on the original cast soundtrack album and is the only actress to have played the role on the historic Ryman stage where Cline's legend began. The Ryman shows sold out nightly and received rave reviews, and Barnett has wowed critics and audiences ever since with her concerts and recordings.  Barnett's critically lauded albums include I've Got a Right to Cry, named the "Top Country Album" by Rolling Stone in the year of its release and produced by renowned Nashville Sound pioneer Owen Bradley, who also produced Cline's most loved chart-toppers (as well as producing Loretta Lynn, Brenda Lee, and k.d. lang). And Rolling Stone continues to honor this landmark album, placing it in 2019 on two of its "best of" lists of seminal classic country works.
With a string of acclaimed country albums, such as her self-titled Warner Bros. debut, her Christmas celebration Winter Wonderland, the Cline-inspired Sweet Dreams, and I Can't Stop Loving You: The Songs of Don Gibson (a tribute to her friend, the late Country Music Hall of Fame member), there's no doubt Barnett has mastered that genre and holds it dear to her heart.  But Barnett is not one to be musically boxed in.  Her 2018 Strange Conversation album, an Americana blend of roots, pop, and R&B tunes, includes a duet with John Hiatt and a soulful rendition of Neil Sedaka's My World Keeps Slipping Away, which Sedaka himself sent to Barnett to record.  AllMusic hails Strange Conversation as the "richest record of her career: surprising, lively, and deeply felt," and The Philadelphia Inquirer, which listed Strange Conversation among the best country/roots albums of 2018, notes that Barnett "takes a disparate collection of pop, soul, and rock numbers and makes a riveting personal statement."
As further testament to her diversity, Barnett sang on the SpongeBob SquarePants album The Best Day Ever (sharing the spotlight with the likes of Brian Wilson, Tommy Ramone, and Flaco Jimenez) and often incorporates a Great American Songbook standard or two into her live shows.  When asked about her favorite composer, Barnett's as likely to cite Cole Porter or George Gershwin as she is Willie Nelson or Dolly Parton.
In fact, along the lines of highlighting Barnett's range, now out is her A Nashville Songbook, an album of reimagined, multi-generational pop and country gems produced by Fred Mollin (producer of Johnny Mathis, Kris Kristofferson, Jimmy Webb, etc.) and inspired by Barnett's popular "Nashville Songbook" concert.
A frequent guest on the Grand Ole Opry, Barnett is equally as comfortable on stage with symphony orchestras, having recently performed solo concerts with the Nashville Symphony, the Detroit Symphony Orchestra, and the Ulster Orchestra in Belfast highlighting her "Nashville Songbook" repertoire.  Barnett made her New York City cabaret debut at Feinstein's/54 Below in 2019 with an acoustic version of her "Nashville Songbook."
Barnett's music has been featured in many major film and television soundtracks (most recently, in The CW Network's series "The Flash"), including projects starring Clint Eastwood, Tommy Lee Jones, Martin Sheen, Reese Witherspoon, Matthew Broderick, Sigourney Weaver, Ellen Burstyn, Bill Paxton, and SpongeBob SquarePants.  Besides soundtrack work, Barnett often contributes tracks to other types of musical compilations, and she has appeared on "The Tonight Show," "The Late Show," "CBS Sunday Morning," PBS's "Sessions at West 54th," PBS's "Bluegrass Underground," and numerous other programs.
Among the many publications praising Barnett's talents, the Chicago Tribune calls Barnett "a torch singer in the grandest sense of the word."  Time, People, Billboard, Rolling Stone, and other major media have likewise extolled Barnett's world-class vocals, "natural musicality" (People), "big, silky, expressive voice" (Billboard), and "vocal finesse" (New York Times).  USA Today calls Barnett one of Nashville's "finest classic country and torch singers," while the Austin Chronicle notes that "when people start talking about Mandy Barnett, eventually the word 'amazing' gets used."