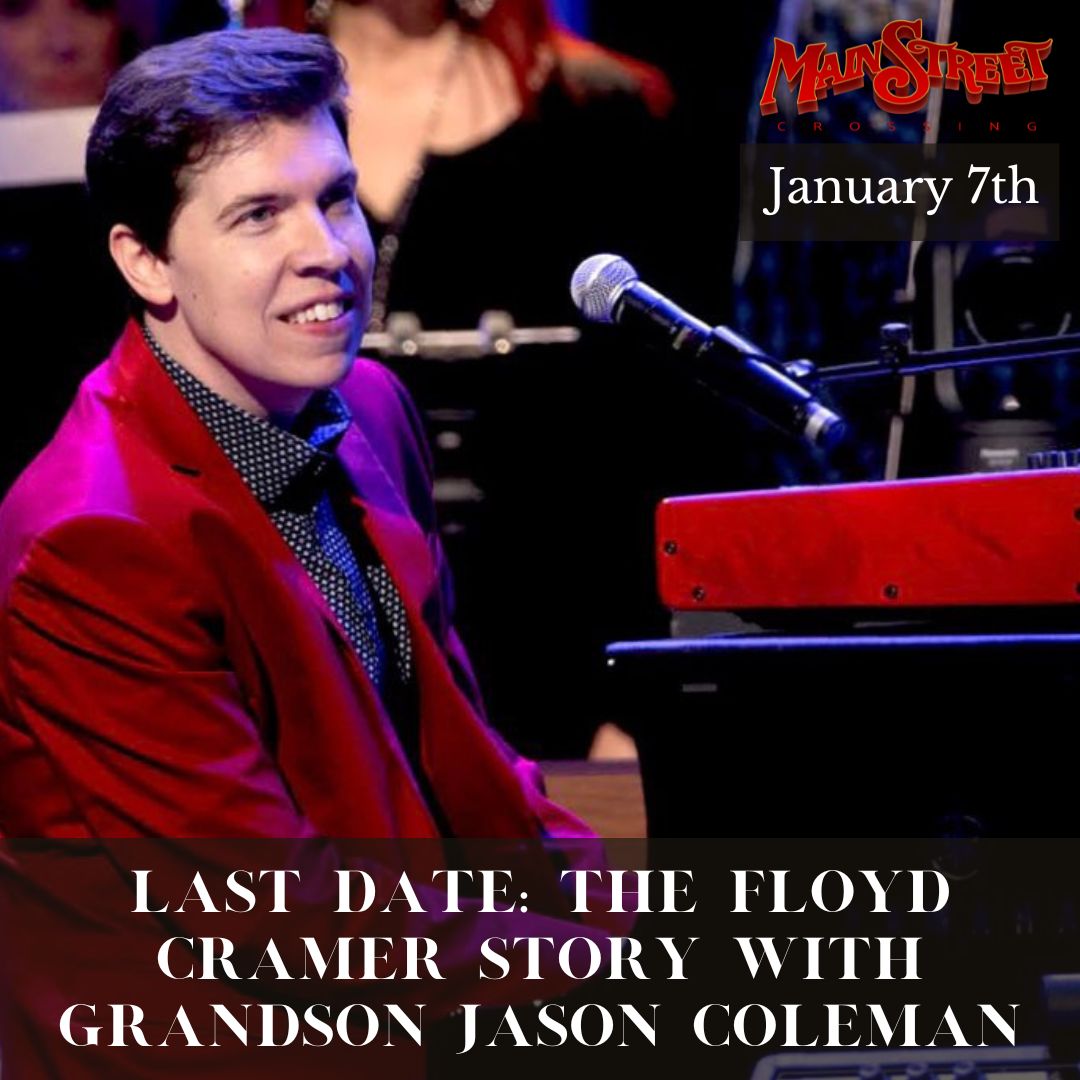 Last Date: The Floyd Cramer Story with Grandson Jason Coleman
January 7, 2024
Matinee: Doors 2:30  Show 4:00
We are so excited to welcome Jason Coleman to Tomball, Texas to perform on the Main Street Crossing stage. What an honor it is to host you for a live concert with an artist up-close. Buy your tickets and read a little more about Jason Coleman below.
For Nashville pianist Jason Floyd Coleman, there's more to playing the piano than just melodies and rhythms. The connections between music and memories, piano and family are inseparable. And as the grandson of piano legend Floyd Cramer, it's only natural that the timeless music of days gone by would find new life in Jason's fingers.
From a young age, it was evident that Jason Coleman had inherited his grandfather's distinctive 'slip-note' piano style, as it managed to slip its way into even the most elementary songs from his early piano lessons. In addition to sharing the piano bench with his 'Grandad' at home, Jason grew up performing with Floyd at his concerts and on national TV. Although he was only 12 years old when Floyd passed away in 1997, their close relationship formed the foundation upon which Jason has built his own career in music.
At age 19, Jason was given the honor of playing for his grandfather's posthumous induction into the Country Music Hall of Fame. Over the nearly two decades that have followed, Jason has spent his career in the studio and on stage, producing his own collection of piano albums and touring in hundreds of concerts that bring the signature Floyd Cramer style to audiences old and new.
Since 2020, Jason has reached more listeners than ever by hosting and producing The Jason Coleman Show, his own weekly piano concert series broadcast as both an online TV show and a weekly radio show on the world-famous WSM Radio.
And on New Year's Eve of 2022, 25 years to the day since Floyd's passing, Jason made his much-anticipated Grand Ole Opry debut as a solo artist, marking the 'last date' of the calendar with an unforgettable performance in honor of his grandfather.
In this performance, "Last Date: The Floyd Cramer Story," Jason brings new life to his grandfather's enduring legacy in a piano concert of country and pop classics. From humble beginnings on the Louisiana Hayride, to a Hall of Fame recording career in Nashville, to the iconic "Last Date" and signature 'slip-note' piano style, Jason plays his way through the musical history of his grandfather to tell the Floyd Cramer story in a way no one else can.