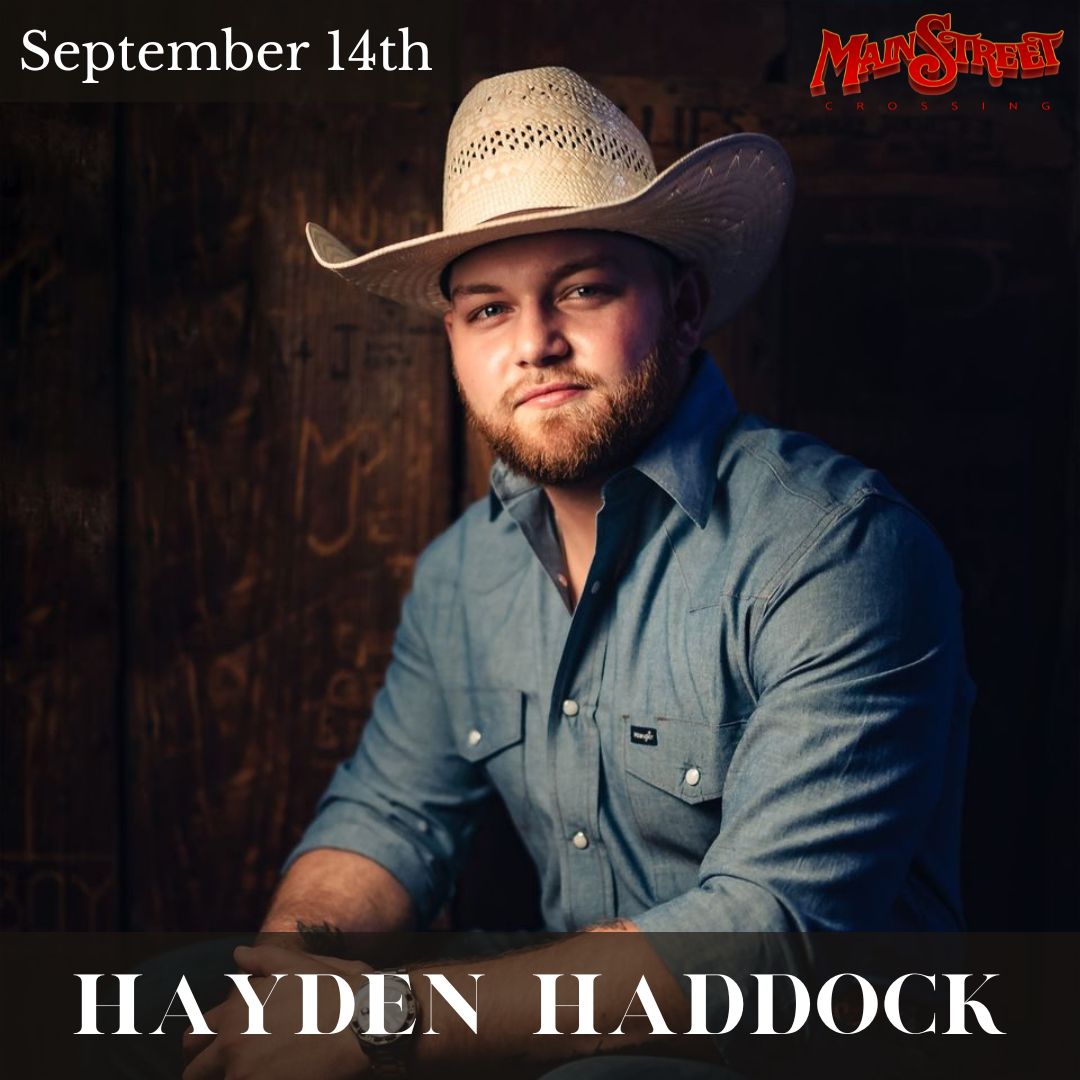 Hayden Haddock (full band)
September 14, 2023
Doors 6:00  Show 8:00
We are so excited to welcome Hayden Haddock to Tomball, Texas to perform on the Main Street Crossing stage. What an honor it is to host you for a live concert with an artist up-close. Buy your tickets and read a little more about Hayden Haddock below.
Rising Red Dirt singer-songwriter Hayden Haddock is quickly becoming an artist you need to know. Haddock's diligent nature mixed with his traditional, authentic style of country music has quickly solidified his spot as a staple in the Red Dirt Country scene. Currently releasing a string of new singles with hit producer/songwriter and Haddock's manager Trent Willmon (Cody Johnson, Kevin Fowler, Granger Smith) at the helm, the young talent is on an unprecedented path. Haddock recently released the first taste of new music in nearly 2 years with "Wind It Down" and "Better Than Your Memory." Slated to release a new EP in the fall of 2022, Haddock has several singles planned including a collaboration with Texas staple, Jon Wolfe. The new project follows Haddock's early 2020 Red Dirt Texas album release, producing 3 Top 15 Texas Country singles.
The Texas A&M Senior clocks more than 150 tour dates a year and has recently opened for artists including Randall King, Steve Wariner, Kevin Fowler, Casey Donahew, Roger Creager, and more. Currently boasting more than 4.5 million streams, Haddock has tracks featured on Spotify's Texas Music Now and Texas Music Rewind, Apple Music's Don't Mess With Texas and Amazon Music's Texas Forever playlists. Haddock further solidified his trajectory when he was awarded New Male Vocalist of the Year at the leading Texas award show, the 2020 T3R Awards.
Haddock's 10-track, sophomore album entitled Red Dirt Texas, features five songs co-written by Haddock and chart-topping songwriters including Willmon, Kevin Fowler, David Lee Murphy, Terry McBride, Tommy Karlas, John Pierce, Jim Collins and more. Upon its January 2020 release, Red Dirt Texas reached No. 39 on the iTunes Country albums chart. The hardworking, road warrior also has multiple TV appearances under his belt and has been profiled by Billboard, The Boot, Country Now, Country Rebel, and Texas Lifestyle Magazine, to
name a few.
Some may be surprised to find out that Haddock is only 22-years-old as he has a musical instinct well beyond his years and sites influences from George Strait, Eric Church, Cody Johnson, Jon Pardi, and Clay Walker. When Haddock is not juggling classes and tour dates, the avid outdoorsman spends time hunting, fishing, and experimenting on his Traeger grill. Having been diagnosed with Type 1 diabetes at a young age, Haddock works with several organizations to help spread awareness of the disease and is an advocate/speaker for JDRF.