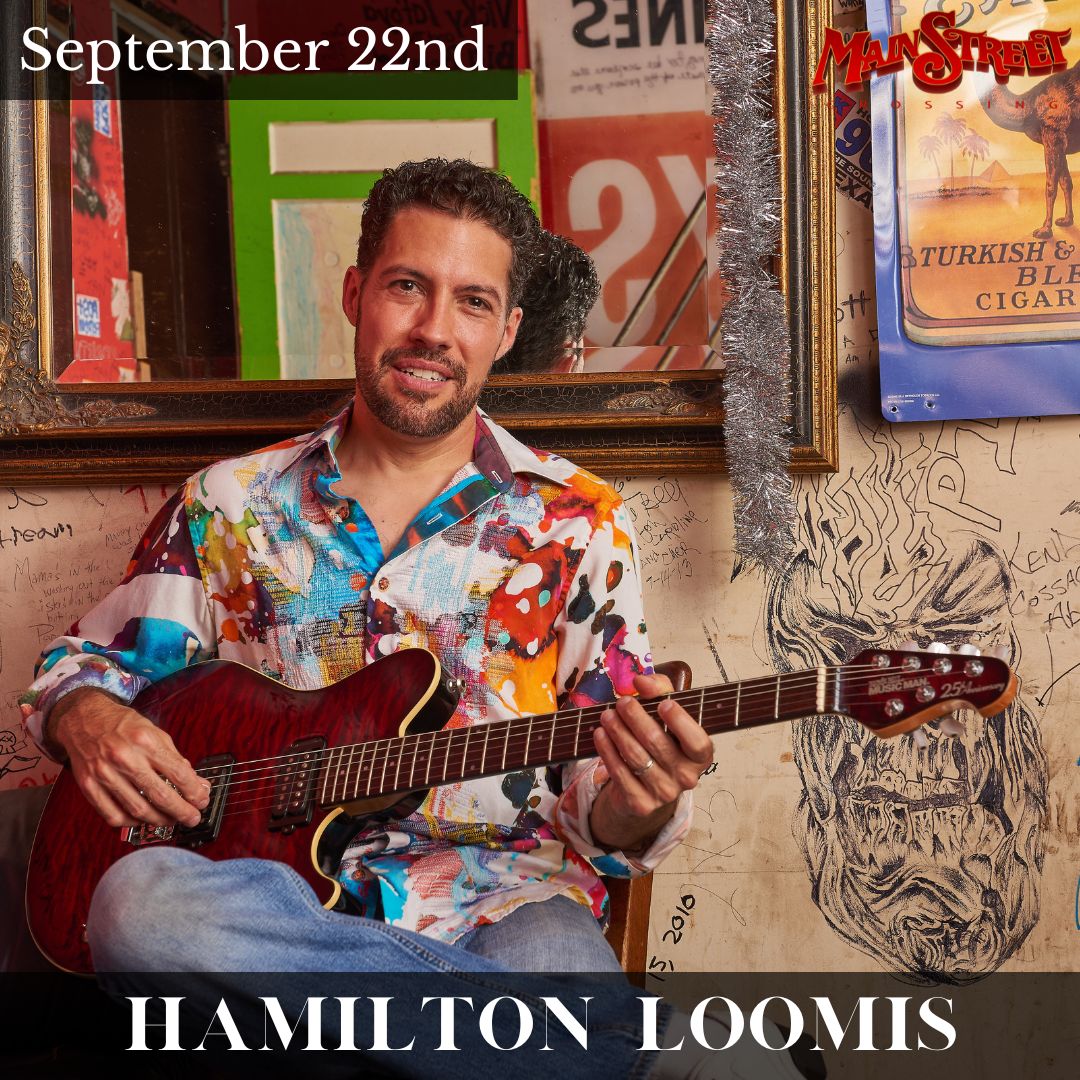 September 22, 2023
Doors 6:00  Show 8:00
We are so excited to welcome Hamilton Loomis to Tomball, Texas to perform on the Main Street Crossing stage. What an honor it is to host you for a live concert with an artist up-close. Buy your tickets and read a little more about Hamilton Loomis below.
Hamilton Loomis has released his first-ever Christmas album, This Season. With covers of five Yuletide classics and five originals destined to become seasonal classics, the album offers something for everyone. "When I was a kid," he recalls, "my mom always had Christmas records playing in the house. There's such a great tradition of Christmas albums across just about every genre of music. It's something I've always wanted to do, and when I started writing these new songs I realized this was the time to do it."
Loomis not only shows off his songwriting and musical chops here, but his production skills are also on deft display as originals and classics seamlessly blend together to create an almost-perfect holiday vibe.
Loomis' 2013 album "Give It Back" showed his pay-it-forward attitude of passing on knowledge to young, up-and-coming musicians, just as his mentors (notably Houston's Joe Hughes, Johnny Copeland and rock icon Bo Diddley) once did for him. On his 2017 "Basics" album, Loomis continues the tradition by featuring several of his young protégées, and finishes the record with a jam session by some of his favorite Houston-area youngsters, whose ages range from 12 to 16. Loomis is also on a mission to raise awareness about hyperinsulinism (HI), a rare disease that causes dangerously low blood sugar. His 5-year-old son Bo was diagnosed with the life-threatening condition in 2015, and Loomis dedicates Basics' opening track, "Sugar Baby," to Congenital Hyperinsulinism International (www.congenitalhi.org), an organization that heads research on the disease, educates doctors and hospitals, and supports families affected by the disease. "They call HI kids 'sugar babies,' so I wanted to write a song in appreciation for all they do for families all over the world," Loomis says.​  His brand new Christmas CD's title track "This Season", also inspired by his son Bo, takes the personal subject of his family's struggle with hyperinsulinism and transforms it into a universal message of hope, faith, and healing.
Born and raised in Galveston, Texas, Loomis is the son of musician parents who listened to blues, rock and soul. Music ran in his veins and, with instruments readily available around the house, he picked up drums, piano, guitar and harmonica, honing his multi-instrumental talent in addition to performing regularly as part of his family's doo-wop group.
"My parents had a fantastic record collection and, when I started writing, I gravitated towards what I'd been listening to all my life. I have a huge reverence for the blues and all it encompasses, but I've always been fond of R&B and funky music."
A protégé of Bo Diddley, Loomis met the icon backstage at the age of 16 at Houston's famed venue Rockefeller's. Before the night was over, Loomis was onstage playing guitar with the legend. Diddley quickly became friend, mentor, collaborator and supporter, appearing on two of Loomis' albums and presenting a cherished red guitar that he still plays.
"That one night began my education and I spent a lot of time with Bo over the years listening to him tell so many stories," said Loomis. "He was so generous and most people don't know that he was really philanthropic. He played free concerts around his hometown for homeless shelters, schools and anyone that just needed help. He was always giving! That's another thing that planted the GIVE IT BACK seed in my mind. It's all coming full circle."
Loomis and crew shine on stage proving his music is best experienced in person, where one can see and hear its intended splendor. Described by Blues Blast Magazine as "a non-stop turbo of power, one minute moving from side to side of the stage, and then taking on his horn player in a head-cutting contest on the apron of the stage the next minute." Loomis' energetic, get-in-with–the-crowd antics are infectious. The swaying and clapping are just as he envisioned.
"Being comfortable on stage is something that comes completely natural to me," he says. "I feel joy when I play music and it literally moves me. It moves my body. I learned long ago that whenever music is coming from you, from deep inside your soul and from the right place, people will feel that on a deeper level and might not even know what's going on inside of themselves. I enjoy engaging the crowd and feel a show should be an interactive experience."​