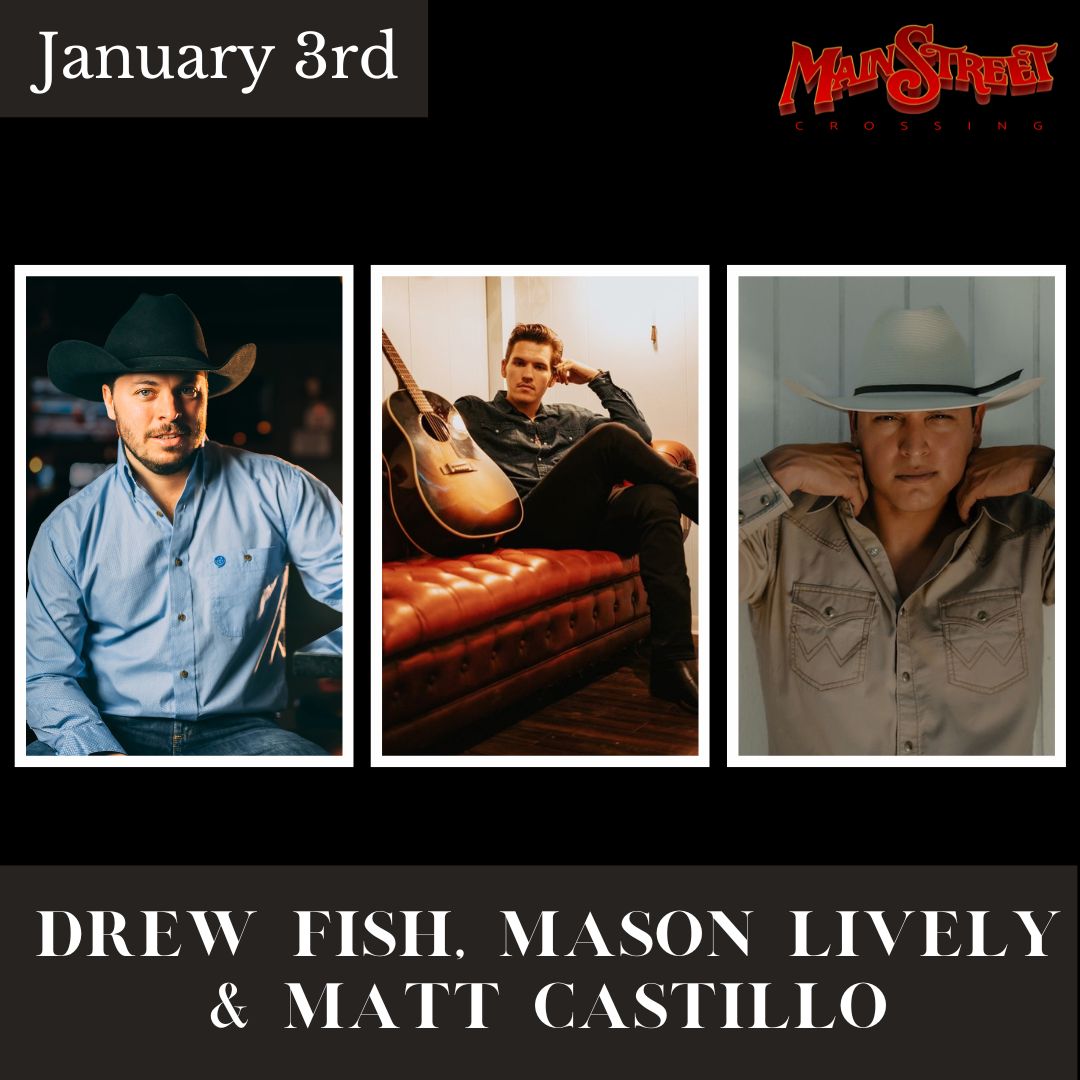 Drew Fish, Mason Lively & Matt Castillo
January 3, 2024
Doors 6:00  Show 8:00
We are so excited to welcome Drew Fish, Mason Lively & Matt Castillo Tenors to Tomball, Texas to perform on the Main Street Crossing stage. What an honor it is to host you for a live concert with an artist up-close. Buy your tickets and read a little more about the artists below.
Drew Fish
Drew Fish is a Texas-born singer-songwriter known for his heartfelt and energetic performances. Drawing inspiration from the rich musical tapestry of his home state, Fish infuses his country music with elements of rock and Americana. His songs are filled with stories of love, heartbreak, and the everyday struggles of life. Fish's high-energy stage presence and powerful vocals have earned him a dedicated fanbase, and he has shared the stage with notable artists in the country music scene. With his infectious melodies and honest lyrics, Fish brings a dynamic energy to every performance, leaving audiences wanting more.
Mason Lively
Mason Lively is a rising star in the world of Americana and country music. Hailing from Texas, Lively brings a raw and authentic sound to his performances, drawing inspiration from the rich musical heritage of his home state. With a soulful voice and heartfelt lyrics, Lively captivates audiences with his emotional storytelling. He has gained recognition for his debut album "Stronger Ties" and has been praised for his ability to seamlessly blend traditional country elements with a modern edge. Lively's music reflects his genuine passion for storytelling and his love for the roots of country music.
Matt Castillo
"Matt Castillo makes a strong case for himself as a banner carrier for traditional country music moving into the future." – SAVING COUNTRY MUSIC
The dynamic young performer, who's already carved out a D.I.Y. niche and built a loyal fan base on his home turf, embodies a rare convergence of talent, vision and charisma that confirms his status as one of the Lone Star state's most promising indie artists.
Raised in Edinburg, Texas, this South Texas – Bred Country artist is cutting his teeth in honky tonks, racking up miles from Texas up to Colorado and states in between and has been touring for over nine years. His road toughness and his unique deep South Texas country Sound has given him the honor of sharing the big stage with artists such as Cody Johnson, Toby Keith, Jon Pardi, Parker McCollum, Randy Rogers Band, Clay Walker and Tracy Lawrence, Flatland Cavalry, and more.