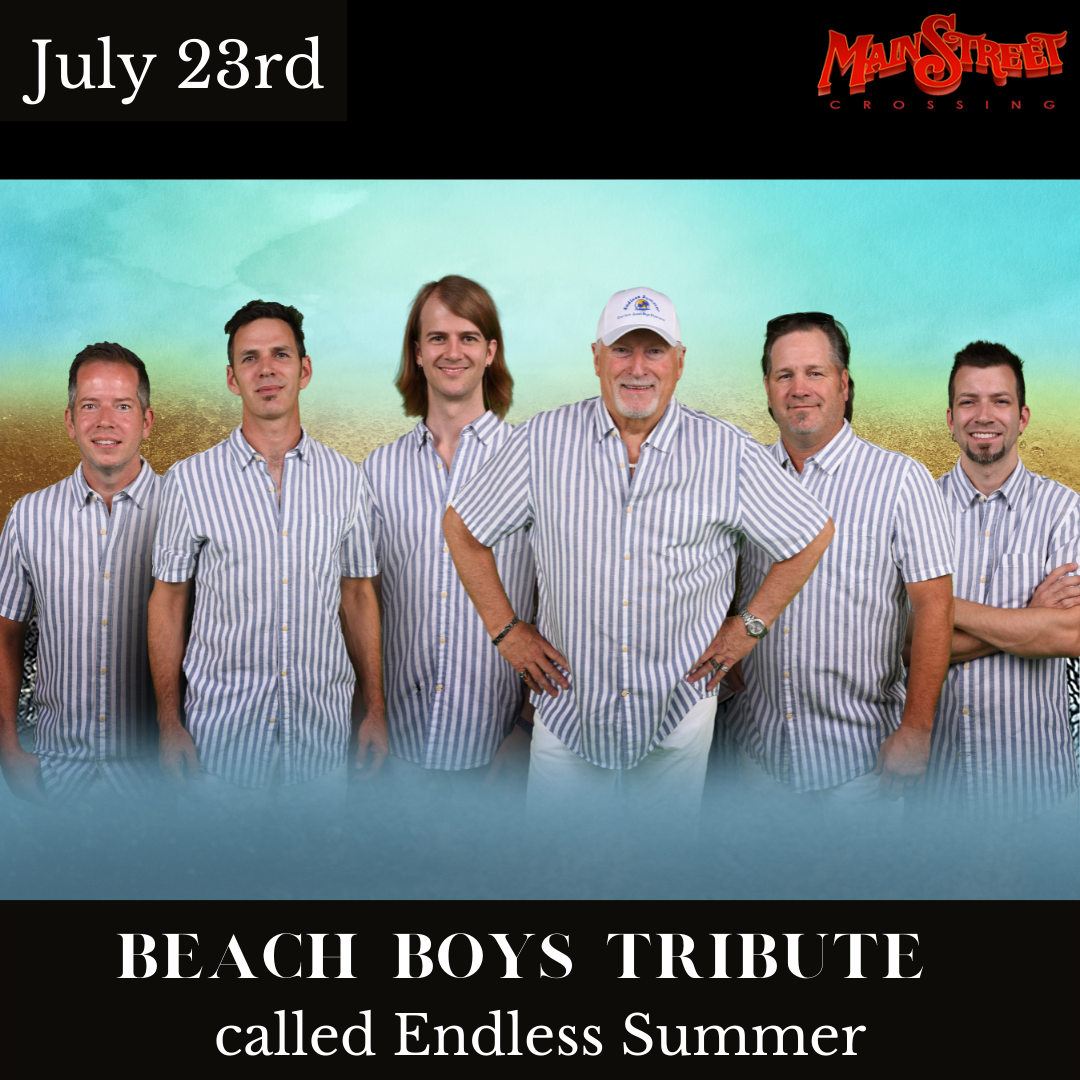 Beach Boys Tribute called Endless Summer
July 23, 2022
Doors 2:30 Show 4:00
Doors 6:30 Show 8:00
We are so excited to welcome Endless Summer to Tomball, Texas to perform on the Main Street Crossing stage. What an honor it is to host you for a live concert with an artist up-close. Buy your tickets and read a little more about Endless Summer below. 
Perfect harmonies, tremendous musicians and excellent showmanship make Endless Summer, not just a tribute, but an authentic Beach Boys Experience! Featuring some members who actually performed with The Beach Boys, you can relive the classic surf and hot rod sounds as this six-piece show takes you on a musical journey to the fabulous 60's. The audience becomes an extension of the stage as they are included in hysterical sing-alongs!
Allan has stayed at the top of his game by being one the most versatile singers, musicians and entertainers in the industry! From performing with The Beach Boys, Glen Campbell, The Smothers Brothers, Wayne Newton and countless others, to "standing room only" show rooms in Las Vegas, Lake Tahoe, Dallas and all across the nation.
Based in Dallas, Allan has taken his of years headlining shows from all over the U.S. and has put together a high energy show that will transport the audience back to music of the 40's, 50's, 60's, 70's, 80's or as Allan calls it, "The Great American Radio Songbook. This show is a Vegas Type Show that will appeal to all ages and all music genres. This music is timeless. My shows are always family friendly. I like to get the audience involved so the audience is just an extension of the stage!" His fully choreographed tribute to Motown is a must see! Allan is as equally at home with a 16 piece big band singing Sinatra or Buble' as he is with his seven piece show band singing Diamond or The Righteous Brothers. His Neil Diamond impression is considered one of the industries finest. Upon hearing Allan singing 'Sweet Caroline,' Wayne Newton remarked, "He sounds more like Neil than Neil!"
Allan is also one of the top "jingle singers" in the nation with his voice being featured on over 7,500 commercials worldwide! His voice has been on 25 Clio Award winning commercials. (The Clio Award is the Academy Award for commercials!) He also was the lead vocalist for the Billboard Magazine's award for "Best Radio Special Feature of the Year" and was the featured vocalist at the National Association of Broadcasters (NAB) convention in Las Vegas. Allan is also heard in Academy Award winning Writer-Director Oliver Stone's "Talk Radio," and "Natural Born Killers." His voice is truly one of the most recorded voices in history!
Allan's dynamic voice and great stage presence will captivate audiences of all ages. His 'Main Room' type shows make his act perfect for fairs, festivals, corporate events, conventions, casinos and city entertainment series.
RETRO NEVER SOUNDED SO NEW!